Dark and deep from a long, hard flogging, they were driven in by intermittent spanking. More than anything, they were a dramatic souvenir, a badge of courage I flashed to a few of my more open-minded friends.

The strange thing was that the bruises didn't hurt.

All of us, when we were children, learned about bruises. We fell off our bikes, took too-daring jumps, or were "punch-buggied" by our siblings. The next day, our skin had changed to black and blue, and when you poked it, it hurt.

Put simply, bruises are spots where capillaries beneath the skin are broken and blood seeps out. They usually go away after a week or two, depending on their severity.

It was more than two weeks before all my bruises were gone from that first beating. They turned from deep, berry-stain violet to light twilight purple to blue and yellow, like the sun rising. When they finally disappeared, my backside looked blank to me—like a canvas that needed to be painted with new pain. And so I set out to get painted, taking every different sort of corporal punishment I could, and relished the souvenirs.

There are spanking bruises, more diffuse contusions that, unfortunately, don't quite look like hand prints. of kink-aware health professionals.] They tend to be shallow, and in my experience go away rather quickly, maybe even in a couple days.

There are bite marks—effectively, purple dental records of the biter that look like two arcs that meet each other at the edges. The Kama Sutra has multiple names for bite marks, including "coral jewels" and the "boar-bite."

Bite marks are very indiscreet, because it's extremely obvious what caused them. On the other hand, I delight in being reminded of the mouth of a lover.

There are rope bruises that come from languishing in a tie for a long time. I'm not going to say for too long, because

I have proudly worn wrist bruises that look exactly like purple bracelets embossed by a rope. These tend to fade really quickly also, since the pressure is distributed across the skin.

There are punching bruises from thug play, schoolyard play, or just some loving punches thrown (consensually) into any play session. These look more like the bruises I remember from childhood—small blue circles that hurt when pressure is applied.

I find these the easiest to pass off on my clumsiness. "Oh, I just bumped into a low railing."

The most serious bruises I have ever received are from caning. Canes mark you right away—long, thin strips of raised purple. There is absolutely no way I can think of to explain these bruises away to an uninformed person. They are stick-straight and look exactly like someone was punishing you for being naughty in a harsh, calculated manner. I'm sure their presence has forced a person or two to come out of the kinky closet.

In fact, I have often heard that people came out to their parents about being kinky simply because they could no longer explain the perpetual stream of bruises.]
Angelic Dreams Spank Her Paddle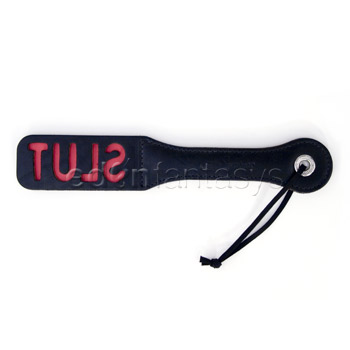 Impressions Paddle Slut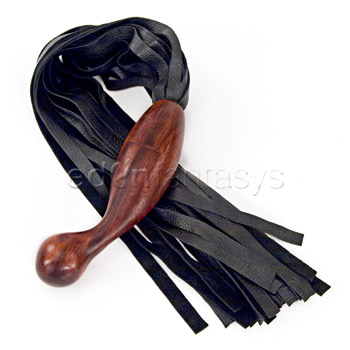 Large G-Spot Flogger Whip

(Click images for more info)] In "vanilla" life, bruises are associated with two things: clumsiness and domestic violence. It can be hard to explain such marks on your skin, especially when you are a woman and have a partner, and especially when that partner was the one hitting you…but in a good way.

So what to do, if you want to do impact, rope, or biting play? Communicate with your partner, of course. Ask that they restrict the area they hit to places that are easily hidden by clothes. (That's why hitting the ass is so popular. Well, it's one of the reasons.)

At a party I attended, a woman who was a porn performer announced that she absolutely could not be marked that night. When I knew that I had lifeguard training in a few weeks, I forbade anyone from marking me during play.

If you have a job that requires you to be bruise-free, there are many other forms of play you can experiment with, including candle dripping, hypnosis, light spanking, role play, sensory deprivation, humiliation, and the list goes on. Getting bruised is far from the only way to have fun.

Another course of action, if you have happen to get bruised and must hide it, is makeup. Instead of layering on gunk the color of your skin-tone, you're going to have to use corrective concealer. If it hurts to touch your bruise, take an aspirin before you start.

For dark, black-and-blue bruises, cover with yellow corrective concealer. If the bruise is more red, you'll want to use green concealer. (A caveat: I myself have and olive skin tone. Bruises may look different on people with darker and lighter skin tones than I, and may require different makeup).

There are certainly situations where bruises are not appropriate and these suggestions should help you stay bruise-free. But, situation permitting, I love to wear my bruises. They are like a keepsake from a scene. Like kinky jewelry, or temporary tattoos. A beneath-the-skin imprint of someone else's hands.

I love watching my body heal itself from play, going through the healing-bruise rainbow. Perhaps if kinky people had a flag it would be black, purple, blue, green, and yellow. I know that when I undress in front of a kink-aware lover, my bruises are admired as part of my beauty, complexity, sexiness, and bravery. So I say, let your kink flag fly.