Sportsheets 4 in 1 handgrip restraint kit - Restraints from Sportsheets

4 in 1 handgrip restraint kit videos
Product Details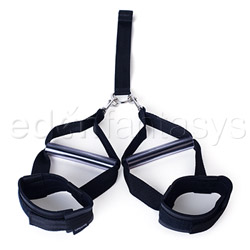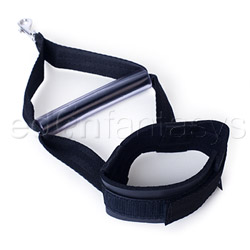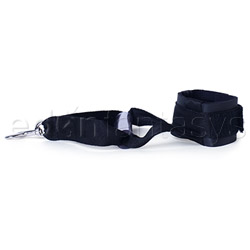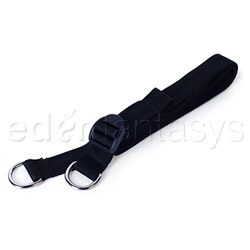 Summary:
These practical restraints will last a long time and can be used in a variety of ways. They are vegan-friendly nylon, neoprene, and metal and are super comfortable to wear and easy to use. They can be used with several different beds, standing near a door, or sitting in a chair, for example.
Pros:
Durable, long-lasting, very versatile, great for beginners or anyone desiring practicality.
Cons:
Not the sexiest looking restraints.
Best use:
These restraints come with four pieces: 2 hand cuffs with grips (that will also fit most ankles), an 8 foot maximum length adjustable connector that clips on, and a strap which can be placed at the top of a door (and secured by closing the door over it) and to which you can attach the handcuffs directly.

The pieces can be used as under the bed restraints (for Twin, Full, and some Queen mattresses only--not Kings), run under a chair, run around any headboard, the two cuffs can be connected for handcuffs, etc. And of course, there's the door option for having a person restrained with their hands above their heads. The possibilities are almost endless.
Design / Craftsmanship / Material / Size / Fit:

The straps are made of a strong, black, woven nylon material. Although they're not intrinsically sexy-looking, they're tough enough to last and do the job.

The cuffs are made of a soft neoprene-like material reinforced by the woven strap on the outside; they feel very comfortable while fastened. The grips attached to each cuff are a soft clear plastic and are also comfortable to hold. Some may find the grips distracting, but I personally enjoy the sensation of being able to grip something while restrained.

The cuffs will fit small or average ankles and pretty much all wrists. They secure with Velcro, which is not as secure as buckled leather but is hard for most people of all genders to break out of. The long length of the Velcro makes them very adjustable.

Material:

Metal

/

Neoprene

/

Nylon

Material safety

Color:

Black

Length:

96"

Width:

1"

Closure:

Snaps / Velcro

Weight:

17.5 oz

Performance:

These restraints are comfortable and durable, and can be put to a variety of uses. They fit almost all wrists and most ankles.

These are not designed to be full under the bed restraints which include both hand and ankle cuffs, fit any size bed, and are especially ideal for people without headboards but they do have some limited usage in this respect, depending on your bed size and mattress thickness. A note about bed sizes and using these particular restraints "under-the bed": The long, adjustable strap is a max of 8 feet, or 96 inches. Placed underneath a twin or full mattress, which are 39 and 54 inches wide and 8-12 inches thick, you can restrain someone without having to affix them to a headboard or any furniture, just by running the strap under a mattress. They might work on thinner Queen mattresses, which are 60 inches wide, with 18 inches on either side to run up the thickness of the mattress and up to the restrained person's hands. They cannot be used under any King mattresses, which are 76 inches wide.

They can easily be placed on the other side of a solid headboard, or wrapped around bars on either side of an iron headboard, regardless of bed size, even a King.

Packaging:

The packaging contains several photos illustrating some possibilities, which are better than written instructions, and cardboard meant to be thrown away.

Other

Size:

One size fits most

Safety features:

Food-grade material / Latex free / Non-porous / Phthalates free