Jimmyjane Afterglow special edition - Massage candles from Jimmyjane

Afterglow special edition videos
Product Details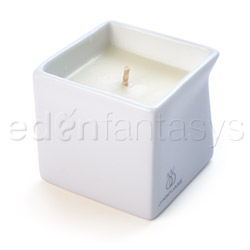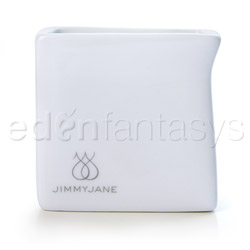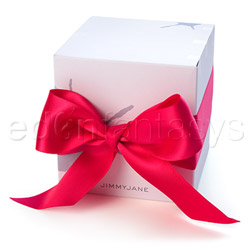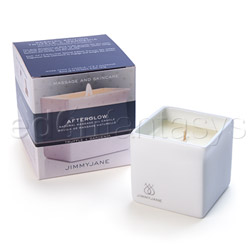 Summary:
This makes a wonderful gift, it even comes with a pretty red bow!

AFTERGLOW Special Edition features two unique fragrances that intertwine to engage and delight the senses, so this is the perfect item for romance. It sets the mood for hours of love making, and it moisturizes the skin perfectly. Every couple should try this at least once.

"Absinthe was long banned for its tendency to loosen morals (and undergarments), making it an irresistible muse for our latest confection." – Jimmyjane
Pros:
Candle lasts a long time, candle & massage oil, reusable holder.
Cons:
Didn't like the taste.
Best use:
JimmyJane is a design-centric brand founded on the belief that life is better with a sexy twist.

Set the tone with illumination, scent, and a tactile thrill. Burn AFTERGLOW as a candle, then snuff the flame and playfully drizzle the warm oil on your lucky accomplice. When heated, Jimmyjane's proprietary formulation liquefies into luxuriant massage oil that nourishes and hydrates the skin. JimmyJane's natural blend of spa-grade ingredients features a precise balance of Jojoba, Shea Butter, Vitamin E, Soy, Aloe and other botanical extracts to offer silky sensation at the perfect temperature.

Bonus: The porcelain container can be reused when the candle is finished!

Instructions:
If you want to use AFTERGLOW for massage, allow the oil to melt to the container's edge before pouring (about 30 minutes) so that the candle will continue to burn evenly with every use. Once candle is ready, blow out the flame and get started!

Drizzle the warm oil onto the body to excite the senses. Start with a small amount of oil (about the size of a quarter), as you can always add more.

You can use this candle and massage oil almost anywhere in your home, as it's not greasy or messy. The oil gets massaged into the skin, leaving it soft and silky to the touch. The good thing about this massage oil is that you don't have to wash it off. The fragrance, and texture of the massage oil truly help set the mood for romance.

You can use this product in the bedroom, and not worry about staining your sheets. You can use this in the bathroom, to set the mood for a nice long bubble bath... but not recommended during a shower or bubble bath! This is the perfect item if you're a fan of being pampered at a spa. It's top quality and it's good enough to use at a spa.
Texture / Consistency / Thickness / Viscosity:

Once applied, oil will remain slippery until it absorbs into the skin. Oil in the container will remain liquid for 30 minutes or more, so you'll have plenty of time to perfect your technique.

The massage oil drizzles nicely on the skin, since the porcelain holder has a spout. The oil is nice and smooth, and spreads on the skin with little effort. It's slippery in the beginning, but will absorb into the skin. You will want to re-apply the oil several times to enjoy a long session. The oil doesn't leave your skin greasy, but eventually gets thicker as it cools.

You will not want to use this on any sensitive areas of the body, as it is fragranced.

Taste / Aroma:

This Special Edition features a sleek, matte, white porcelain container with a handy spouted corner (for easy drizzling purposes), and of course, an intoxicating scent.

Each candle offers a unique pairing of aphrodisiac scents - a base note that leads the way, plus a charismatic top note to set the tone. JimmyJane's candles put sexy in the air.

Its aphrodisiac scent is alluringly bright and sweet, with just the slightest hint of earthiness. Top notes of fresh fennel and lemon tease, while base notes of anise, fig, and wormwood seduce.

The scent of the candle is stronger and more perfume like before it has been burned. Once it's melted into an oil, the fragrance intensifies, but the lemon flavor becomes more apparent. I did not enjoy the taste of the oil, but you are able to lick it since it's natural.

Performance:

JimmyJane massage candles are made w/ paraffin-free natural waxes and other plant extracts, making the wax blend a nourishing emollient for the skin. The wax is biodegradable and the wick is lead-free, leading to a clean and efficient burn and keeping the air free of pollutants and soot.

• More than 32 hours of burn time.
• Volume: 4.5 fl.oz.
• Weight: 13.5 oz
• Width: 2 1/2"
• Height: 2 1/2"
• Special Features: Scented, all natural.

You do not have to wash this massage oil off, as it will soak into the skin. Before putting AFTERGLOW away, re-center the wick while the oil is still liquid to ensure a clean burn the next time you use it. The candle will cool and re-solidify naturally. You will want to store it in a cool place, away from direct sunlight and heat.

For best results and to maximize burn time, you will want to trim the wick to 1/4 of an inch before each use. If you don't do this, you run the risk of having soot in your oil.

*** Always extinguish candle prior to play!

Packaging:

Comes in gift box with satin ribbon, which is perfect for the Holidays. You don't even have to gift wrap it... it looked so nice the packaging.

Volume:

4.5 fl.oz.

Weight:

13.5 oz

Other

Burn time:

32 hr

Width:

2 1/2"

Height:

2 1/2"

Special Features:

All natural
Disposable
Scented