Jimmyjane Afterglow - Massage candle from Jimmyjane

Product Details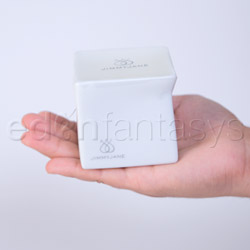 Summary:
The Afterglow massage candle by Jimmyjane is truly a luxurious indulgence with a practical twist. It smells wonderful, feels so sleek on the skin and leaves skin silky not greasy. It comes with everything you need in the box, and exudes quality and thoughtfulness that ensures the mood will be set once you light the candle. This would also make a lovely gift, as it's discreet and so tasteful packaged.
Pros:
Feels good on the skin, smells wonderful, very moisturizing, comes with brush and matches.
Best use:
This candle is best used for massage and moisturizing your skin in general. It's wonderful for an oily but not too wet massage and I personally love to use it as a moisturizer on my legs and arms. It will not likely cause any allergic reactions, as it is all natural and not so thick as to cause clogged pores. Once the lit candle has generated a puddle of oil, blow out the flame before pouring the melted wax or using the brush.
Texture / Consistency / Thickness / Viscosity:

The candle is a soft wax when not lit. It's not rock hard, you can actually somewhat use it without lighting it - but it's very thick. Once lit, it takes about 20 minutes to get a good size liquefied puddle of massage oil. The candle comes with a brush for applying the oil, or you can pour it from the corner of the square glass candle holder. I like using the brush or my fingers. It's really warm but not scalding hot when liquefied.

The oil is slick and a bit runny the hotter it is - so it's best to sweep the brush or your fingers across the rim of the glass to keep from dripping. Once on the skin though, that slippery oil is just fabulous. It soaks in a little then leaves a sheen that makes for great long massages, or luscious silky skin. It leaves my skin soft and really smooth for hours.

Base:

Oil

Ingredients:

Oil

Color:

Creamy white

Taste / Aroma:

I was wrong about this candle. I thought it would smell like oatmeal or sugar cookies or some such vanilla-ish baked good. I took a little sniff when I first got it and that is what the faint smell seemed to me.

So, when I lit the candle and the smell changed, I was very surprised - and pleased. It has the most heavenly scent - like a warm spicy vanilla. Not a sugary fake foods smell...this is a deeply layered smell and it gets better on the skin. Something in the all-natural ingredient make-up of Jimmyjane products seems to make the products smell better as they warm up and are rubbed in - like it activates the oils.

For me, it's a plus that the smell lingers on the skin for hours. If you like the scent, this would be a good thing; if not, you may want to shower afterward.

Performance:

The oil generated from burning the candle is long lasting. I was still shiny from using it over an hour later, so maybe try it sparingly at first. It rubs into the skin well, but the more you use, the longer it'll take to soak in. I think it is an excellent moisturizer too - I use the slightly cooled thickened wax on my elbows and heels almost daily now.

Packaging:

Jimmyjane packaging is a pleasure in itself. It's understated on the outside, just the necessary information. The inside of this cube-like box is adorable.It opens to the candle in the center, with a brush in a side compartment and a pink/white box of stick matches on top of the candle. To the side is a booklet of instructions about the candle and info about Jimmyjane. The instructions and ingredients are in English, French, Spanish, Dutch and Hollands. Wow.

The brush is a sturdy wide brush (about 2 inches wide) with soft black bristles and a good sized handle for your fingers - similar to a bronzer brush that comes with better bronzer compacts. The box of matches is fairly large and slides open to reveal about 50 adorable wooden black match sticks.

Volume:

4.5 fl.oz.

Weight:

13.5 oz

Special Features:

The usefulness and presentation of this candle makes it an excellent gift, in my opinion. Having the brush and matches included give it a classy and thoughtful feel.

Personal comments:

I have used this candle at least 7 or 8 times and it's barely put a dent in it. A little goes a long way!

Experience:

I love using this candle. The oil feels so good on my skin, especially on my legs right after I shave. It smells so wonderful. I use it more as a personal body product than as a massage oil but when we do have 'massage time', this is the one I want to use. I like the warmth of the smell more than the other massage candles we have. I felt that this one put my Shunga candles to shame.

Other

Burn time:

32 hr

Width:

3"

Height:

2 1/2"

Special Features:

All natural
Disposable
Scented