Pipedream Fetish Fantasy shock therapy pleasure probe - Probe from Pipedream

Fetish Fantasy shock therapy pleasure probe videos
Product Details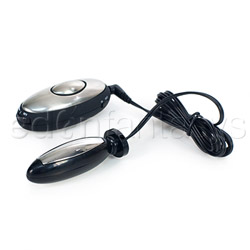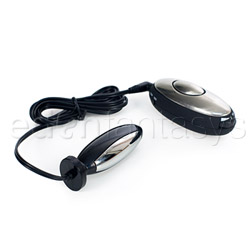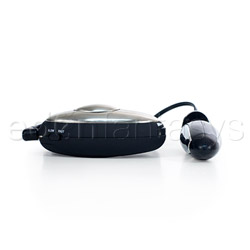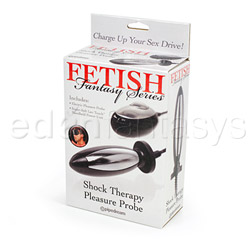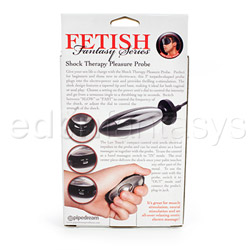 Summary:
Fetish Fantasy Series Shock Therapy Pleasure Probe is a wonderful way to start out playing with electricity in a safe way. It also has more powerful settings for those that want to push their bodies or their playmates harder.
Pros:
Low settings are good for beginners, small size.
Best use:
Fetish Fantasy Series Shock Therapy Pleasure Probe is for those that want to play with electrical play or shock play. It is even safe for those that have never done any kind of electrical play.

It works the best if both of the contacts are connected to the body, as in held in a hand or put in vaginally or anally. It creates a little pulsing shock when it's turned on. The shock can be set to different intensities. At the highest setting, I couldn't handle it personally, that felt like putting your finger in an electrical socket. You can also set it to different pulse patterns.

You can also set it so that the remote is actually the electrical probe with the shocks coming out of it.

It also has a bit of a flared base for anal play, but it's small so be very careful with it.
Material / Texture:

Fetish Fantasy Series Shock Therapy Pleasure Probe is made of plastic and metals. The whole thing is smooth to the touch. There is also a nylon cord that is attached to the remote to have something to hold onto when the remote is set to give out the shocks.

Material:

Metal

/

Plastic

Material safety

Texture:

Smooth

Safety features:

Food-grade material / Hypo-allergenic / Latex free / Non-porous / Phthalates free

Design / Shape / Size:

Fetish Fantasy Series Shock Therapy Pleasure Probe is on the smaller side so it would be fine for any anal play or vaginal play. But it's a bit harder to use on shoulders and the back because of the way it has to be held to get it to work and pulse the electricity though.

Length: 3"
Insertable length: 2 3/4"
Circumference: 3"
Diameter: 1"

Also the power cord that connects the probe and the remote is a bit over a foot long.

Color:

Black / Silver

Length:

3"

Insertable length:

2 3/4"

Circumference:

3"

Diameter:

1"

Weight:

8 oz

Performance:

As I said earlier, the higher settings are a bit too strong for me and for my playmates. But the lower settings are just right for anyone that has never done electrical play or someone that is an old vet. (I am still a bit new to it so lower levels for me, and I will work my way up to the higher settings.)

It also is about the right size for anyone that hasn't been anally trained. The probe is small enough that it is comfortable going in.

Functions:

Pulsating

Control type:

Control pack

Special Features:

Batteries included
Flared base
Kinky
Multifunction
Multispeed
Remote controlled
Tingling sensation

Care and Maintenance:

This is kind of a bitch to take care of. I am a bit leery of using water and soap on such an electrical toy. What I did was to take the battery out and very carefully use an antibacterial toy wipe on it to get it clean.

Personal comments:

The only other thing that I would say on this is that there is a big warning about not using it if you have any heart problems. There is also a warning not to put it into your mouth.