Aslan Leather Aslan silicone ball gag - Mouth gag from Aslan Leather

Product Details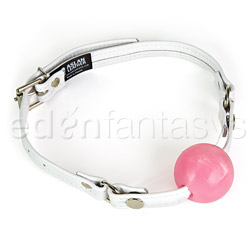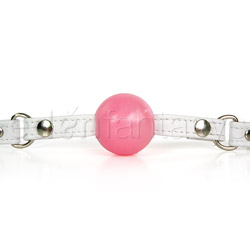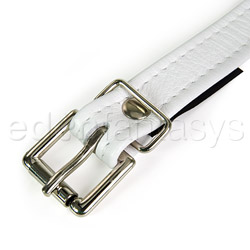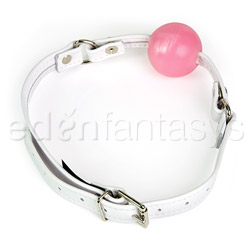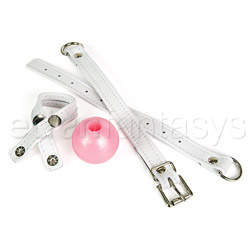 Summary:
The Aslan Silicone ball gag is easy to put on and remove. It's also comfortable to wear because the leather is quite flexible and soft. The best part though is that there are snaps on both sides of the silicone ball that not only help out with cleaning but also allow for a "panic" release in the event that you find yourself wanting it off quickly. Those snaps also allow for the ball to be removed for cleaning but it's possible that other balls/gags could be swapped out and interchanged.
Pros:
Cute, comfortable, snaps for quick removal and it's easy to care for.
Design / Craftsmanship / Material / Size / Fit:

The Aslan Silicone ball gag has got to be the most adorable ball gag on the market but it's totally functional too! As a matter of fact, there's even ten different adjustment holes to help you achieve the best possible fit. The sizes range from 18" all the way up to 24 1/2" long so it should fit a very wide variety of users comfortably.

This ball gag is made entirely of soft leather and all metal hardware as well as the silicone ball so it should easily hold up for a good long while. As a test, I pulled on the leather and bit down on the silicone ball as hard as I could to see what would happen. I'm happy to report that the leather held up wonderfully and there were no teeth marks left behind on the silicone ball. Because of that, I do believe this gag could hold up to some pretty extensive sessions without damage.

The silicone ball gag portion of this gag is soft yet firm so that you can actually compress the material when you squeeze it or bite down on it. That not only helps to make this gag comfortable to wear but also helps protect your teeth from damage. The 1 3/4" diameter does an excellent job of stuffing your mouth full too so the pliability of the silicone is a welcome addition!

There really are no scents put off by this ball gag other than a very faint leather scent. It's nothing strong or off-putting which is always a plus!

One feature about this toy that makes it great for beginners is that there is a snap on each side of the silicone ball. That means that you can reach up and unsnap this ball gag any time you feel panicked. Of course, your hands will have to be free in order to do this. This not only helps put fears at rest but is a wonderful addition to the design when it comes to cleaning as well.

Material:

Leather

/

Silicone

Material safety

Closure:

Buckle

Weight:

0.2 lb

Performance:

The Aslan Silicone ball gag worked marvelously for us and it exceeded our expectations. It's so comfortable to wear and easy to care for that it would be a wonderful addition to any dungeon. Your sub will thank you too because the snaps on both sides allow for quick removal in an emergency. Those snaps also help out by allowing the ball to be removed for cleaning. That may also allow for other balls/gags to be interchanged for more variety. We haven't personally tried doing this but I don't see why it wouldn't be possible.

Care and Maintenance:

The Aslan Silicone ball gag is fairly easy to care for because you can remove the silicone ball for cleaning. For normal, everyday cleaning when used by a single person, washing it off with antibacterial soap and water should do the trick. If you wish to share this gag with others, just remember that the leather portion cannot be sterilized but you can either wipe the silicone ball down with a 10% bleach solution followed up by a good rinse, boil it for a few minutes or run it through your dishwasher on the top rack with no soap. Either way, make sure to let it air dry until it's completely dry before storage.

As far as the leather portion goes, you can clean it with a leather cleaner but keep in mind that it may come in contact with your mouth at some point. Because of that, it might be a better idea to just wipe it off with a damp washcloth instead. Just use your own judgment and what would work best for you.

Packaging:

This ball gag comes packaged in a simple zip-lock type baggie and doesn't include any instructions. It's pretty straightforward though and there shouldn't be too many problems figuring out how to use this one. You just fasten it like you would a belt that has a buckle. Simple as that!

Experience:

I really enjoyed this ball gag and thought it was extremely comfortable to wear! It just adds a whole new dimension to our love making sessions because even without the use of other bdsm equipment, there's just something about the feel of a ball gag in your mouth during sex that's so sexy! It gives you an excuse to just lay back and enjoy what your partner is doing without having to concentrate on talking or moaning. I also liked the sensation of having something to bite down on when things got really hot! I'm not the only one who enjoyed it though because my partner got a thrill off of doing me doggie-style while reaching up and giving this gag a tug from behind. It was so hot!

Other

Size:

One size fits most

Safety features:

Food-grade material / Hypo-allergenic / Latex free / Non-porous / Phthalates free

Circumference:

5 1/2"

Diameter:

1 1/2"