Venus Body scrub - Scrub from Venus

Product Details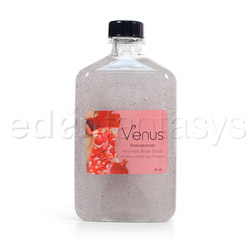 Summary:
This body scrub by Venus is a great option for those who like to feel smooth and also try new and pleasant scents. Anyone interested should give this a try, you don't have anything to lose.
Pros:
Great smell, exfoliates nicely, lasts fairly long.
Cons:
Isn't very moisturizing.
Best use:
The Venus Body Scrub, which is offered in different aromas, is a sea salt scrub that gently exfoliates your skin leaving you nice and smooth. This works best after you have been in the shower for a few minutes and are nice and wet. Anyone can use this, as long as you don't have any allergies to the ingredients which are: Dead Sea minerals, pumice, aqua, tea lauryl sulfate, propylene glycol, carbomer, oleth 20, glycetreth 26, benzophenone 4, methyl paraben, propyl paraben, imidiazolidinyl urea, triethanolamine, disodium edta.
Texture / Consistency / Thickness / Viscosity:

This scrub is about the same consistency as everyday body wash. It pours out easily, but at the same time it does not run down your hands too fast. The sea salts can be felt as you spread it around in your hands and on your body. The grittiness of the sea salts is not overwhelming because there is a good ratio of sea salts to liquid body wash. It rinses off easily, and doesn't have the problem like some other body scrubs where the sea salts are sometimes left behind.

Ingredients:

Dead Sea minerals (see above), pumice, aqua, tea lauryl sulfate, propylene glycol, carbomer, oleth 20, glycetreth 26, benzophenone 4, Methyl paraben, Propyl paraben, Imidiazolidinyl urea, Triethanolamine, disodium edta

Taste / Aroma:

The scent that I received is pomegranate which smells really nice. It is strong enough that you can really smell it for a good amount of time while in the shower. It also lingers on your skin somewhat, but not in a way that is overpowering. I don't own many pomegranate scented body products, but to me this one smells a little like cherries as well.

Performance:

I have had this bottle for a couple of weeks (I have not used it everyday) and there is still about 3/4 of the bottle left. When I use it I tend to use a good amount and use it on most of my body. It washes off very easily, which also means you might want to stay out of direct path of the water as you are lathering up with this one.

Packaging:

Volume:

8 fl.oz.

Weight:

0.6 lb

Personal comments:

My skin does feel smooth after I use this, but I wish it had a bit more of the sea salts in it. I guess I like my scrubs a little on the gritty side. Although I feel smooth after use, I don't feel as moisturized as I would like to be, but that might just be a personal issue. The smell is really great, as I wasn't sure if I would like it very much.

Other

Safety features:

No Phthalates / No Triclosan