Venus Body wash - Soap from Venus

Product Details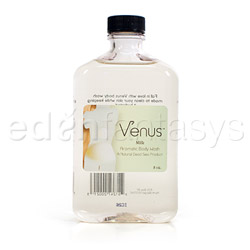 Summary:
This body wash makes me feel like a goddess when I step out of the shower. The milk scent is absolutely heavenly, and it blows many of my more expensive bath products literally out of the water!
Pros:
Smells good, no residue, washes off well, moisturizes, hydrates skin.
Cons:
Twist off cap means no one-handed use.
Best use:
The new Aromatic Body Wash from Venus is such a treat for your body. It's a Dead Sea product, and an amazing addition to any bath or shower. Everyone knows that there's no better feeling than getting all clean after lots of dirty fun, and this is my new favorite way to do it. All it takes is a quarter-sized amount on a poofy loofah to lather and rinse the whole body- and even your partner's body, too! It comes in 11 different scents, of which I have the Milk. I absolutely love it. I find it funny that one of the scents is simply, "Man".
Texture / Consistency / Thickness / Viscosity:

One thing that slightly baffles me is that even the Milk scent is a clear gel. Usually when I get Milk products at places like The Body Shop or Sephora, they try to make the soap emulate the milky look. It's cloudy, white and kind of runny. But Venus's product is just a little bit more unique. The gel is a clear yellow-ish color, and is very thick when it comes out of the bottle. It smells heavenly and goes on like a dream though, so I can definitely overlook the appearance! After washing it off, there is literally zero residue, but it does leave the skin moisturized and smelling deliciously.

Ingredients:

Aqua, Dead Sea minerals (see above), Cocoamide dea, Cocoamidopropyl betaine, Sodium lauryl sulfate, Glycerin, Carbomer, Triethanolamine, Methyl paraben, Propyl paraben, Imidiazolidinyl urea

Taste / Aroma:

While this product is definitely not meant for tasting, I did think it would be interesting to do a true residue test. After I washed myself with it and rinsed off the suds, I licked my arm to see if I could taste any leftover soap. I know that sounds weird, but with most products there usually is a gross soapy taste. Not with Venus body wash, though. I was truly impressed. I mean, of course it smells delicious, it's Aromatic Body Wash. The scent smells like a delicious blend of milk and honey, which is one of my favorites. You'll love it if you love vanilla scents, too.

Performance:

The body wash itself smells so good that it makes me want to pour some in my afternoon tea! So far I've managed to restrain myself, though. It came in an 8 oz. bottle, and so far I've used it every day for a week. I haven't even used an ounce yet though, so it will last me for awhile. I try to use a dime-to-quarter sized amount on a loofah to maximize it and make it last. I love how after use, my skin feels so moisturized and I don't have to put on lotion after my shower like I usually do. I think I'll have to invest in some of the other scents too, like the "Peach", and maybe even "Man"!

Packaging:

The 8 oz. bottle has a twist off cap and came wrapped in a plastic bag that is not resealable. It is clear plastic and can be stored in the shower without being ruined. It's pretty discreet, since it's only soap! The only thing that I don't really like about the bottle is that it can't be opened with one hand. I do love convenience in the shower, in case I get soap in my eyes and have to put it down or something.

Volume:

8 fl.oz.

Weight:

0.75 lb

Special Features:

Ingredients: Aqua, Dead Sea minerals (see above), Cocoamide dea, Cocoamidopropyl betaine, Sodium lauryl sulfate, Glycerin, Carbomer, Triethanolamine, Methyl paraben, Propyl paraben, Imidiazolidinyl urea

Personal comments:

I absolutely love this body wash. It makes me want the matching body scrub, so I can really smell like a milky dream! I've always liked Dead Sea Products, and now I'm a definite Venus fan, too!

Other

Safety features:

No Phthalates / No Triclosan