Not Soap Radio Bubbles and shower gel - Bath and shower gel from Not Soap Radio

Bubbles and shower gel videos
Product Details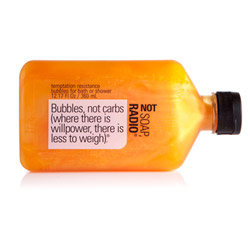 Summary:
Having trouble staying away from carbs? Indulge in a shower or bath with Not Soap Radio's Bubbles, Not Carbs. Let it put the potatoes, cake, and candy out of your mind while you wash or soak in orange-scented bubbles. The fragrance doesn't linger after it's washed off, so you don't have to worry about scent interactions.
Pros:
Generous size, good bubbles, nice scent, cute packaging, scent doesn't linger after washing.
Best use:
Not Soap Radio's Bubbles and Shower Gel can be used as a bath additive for a delightful bubble bath or in the shower as a bubbly body wash. It comes in six varieties with clever titles, instructions, and scents to suit your mood and make bathing a special occasion. Bubbles, Not Carbs (where there is willpower, there is less to weigh) plays up enjoying the fruity wash and abstaining from carbs with its front slogan of "temptation resistance bubbles" and also features motivational text on the back of the bottle.

The ingredients in Bubbles, Not Carbs are Sodium Laureth Sulfate, Deionized Water, Cocamidopropyl Betaine, Cocamide MEA, Fragrance, Phenoxyethanol, Glycol Distearate, Methylparaben, Propyleyne Glycol, Citrus sinensis (Orange) Peel Oil, Citrus aurantium dulcis (Orange) Fruit Extract, Hedera helix (Ivy) Extract, Aesculus hippocastanum (Horse Chestnut) Extract, Red 4, Yellow 5, Red 33.

The horse chestnut extract is supposed to help tone and firm skin. The product isn't tested on animals.

As with any bath product, avoid contact with eyes and rinse them under clear cool water if contact does occur. Those with allergies should check the ingredients before using.

Texture / Consistency / Thickness / Viscosity:

Bubbles, Not Carbs is somewhat thick, and pours easily out of the bottle. It has the standard smooth consistency of shower and bath washes. It doesn't run much when applied to a bath sponge and interacts easily with water to bubble up on your skin. In the tub, you will need to swish it around a bit with your hand to disperse the wash through the water.

This wash provides an abundance of bubbles, whether used for a bath (with a healthy squeeze, two to three cap-fulls), or used in the shower.


Ingredients:

Sodium Laureth Sulfate, Deionized Water, Cocamidopropyl Betaine, Cocamide MEA, Fragrance, Phenoxyethanol, Glycol Distearate, Methylparaben, Citrus Aurantium Bergamia (Bergamont) Fruit Oil

Taste / Aroma:

This body wash is a shimmery orange in color. In the bottle and in use, it smells very strongly of canned mandarin oranges with a bit of sharp tangerine due to the oils and extracts. It smells delightful in the shower or bath and doesn't linger on the skin after you've washed off and toweled dry.

Performance:

Bubbles, Not Carbs comes in a generous size that should last for quite a while, whether you use it in the shower or in the bath. The bubbles last a decent time. It washes easily and completely off of the skin. The scent doesn't linger, allowing you to use other scented lotions or perfumes afterwards with no worry about how the scents will mingle.

Packaging:

Bubbles, Not Carbs comes in a 12.17 fl. oz. (360 ml) clear plastic bottle with a black flip top cap. The plastic has some give to it, and the cap, when tightened securely, doesn't leak, making this suitable for travel (although it should travel inside a Ziploc bag just in case).

The front of the bottle has the product title highlighted on white plastic and the back has motivational tet to keep you away from carbing:

"Put down that cookie, step away from the refrigerator, and into warm bubbles…"

"Discover you are better than that potato. You have the inner reserve and strength to conquer anything, slay any dragon, resist any cake. Fortitude in the face of fries."

The back of the bottle features simple instructions as well, which amount to squeezing out the product under running water or lathering it onto the skin.


Volume:

12.17 fl.oz.

Weight:

0.75 lb

Personal comments:

Since we live a low carb lifestyle, I found the packaging to be cute and loved the little motivational quips on the back of the bottle. What better way to avoid carbs than take a shower or bath and indulge in scent and not taste?

This does smell pretty good to me. It doesn't match my current favorite in terms of scent (a delightful apricot bath gel), but it's invigorating and very citrusy. The amount of bubbles is quite nice and I like that the scent dissipates once the product is washed off.


Other

Safety features:

No Phthalates / No Triclosan