Not Soap Radio Sugared body polish - Scrub from Not Soap Radio

Product Details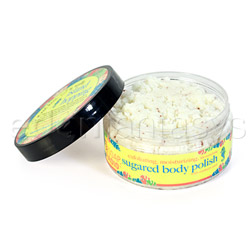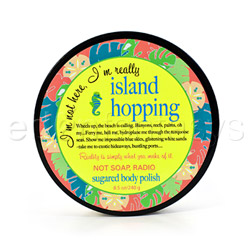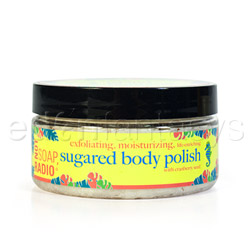 Summary:
If you want to exfoliate your skin in the shower while imagining yourself on an island paradise, this sugared body polish will do the trick. The scent may be overwhelming until the lesser notes come through, but the sugar and crushed cranberry seeds help make the skin smooth and soft after use.
Pros:
Good texture, works for exfoliation, leaves skin smooth.
Cons:
Can initially be hard to get out, lemon scent is overpowering at beginning.
Best use:
Not Soap, Radio's sugared body polish is best used in the shower or bath. It is an exfoliating scrub that is meant to remove dry and dead skin while moisturizing and then leave the remaining skin soft and smooth to the touch over multiple uses.

This body polish comes in a variety of scents, each with a slogan of "I'm not here, I'm really…". The I'm Not Here, I'm really Island Hopping body polish is made of Sucrose, Butyrospermum Parkii (Shea Butter) Fruit, Oryza Sativa (Rice) Bran Oil, Cetearyl Alcohol, Caprylic/Capric Triglyceride, Stearic Acid, Polysorate 20, Fragrance, Tocopheryl (Vitamin E), Vaccinium Macrocarpon (Cranberry) Seeds, Phenoxyethanol, Caprylyl Glycol.

As with any cosmetic product, if you have allergies be sure to check the ingredients for any you might have problems with.

Texture / Consistency / Thickness / Viscosity:

The body polish, when the jar is first opened, has a very hard and gritty texture and can be difficult to scoop out of the jar – you'll have to press very hard with your fingers to get any out.

Once you've used it in the shower a few times and a bit of water or moisture gets into the product, the texture changes to be almost sandlike – a paste that's finely gritty from the sugar granules with larger grains which come from the cranberry seed that's ground and mixed throughout. It's now easy to scoop the amount you want out with two or three fingers.

The sugar and ground cranberry seed can be felt on the skin, scrubbing and exfoliating as you massage the polish into your skin in a circular motion. Cranberry seed is an anti-oxidant; although, it's questionable how much this property works as a topical application.


Ingredients:

Sucrose, Butyrospermum Parkii (Shea Butter) Fruit, Oryza Sativa (Rice) Bran Oil, Cetearyl Alcohol, Caprylic/Capric Triglyceride, Stearic Acid, Polysorate 20, Fragrance, Tocopheryl (Vitamin E), Vaccinium Macrocarpon (Cranberry) Seeds, Phenoxyethanol, Caprylyl Glycol

Color:

White

Taste / Aroma:

I'm Not Here, I'm Really Island Hopping has a fragrance consisting of coconut, lemongrass, verbena, musk, and vanilla. When first applied, the lemongrass is amazingly strong and smells overwhelmingly lemony. Once the product is rubbed in and has sat on your skin for a while, the lemon dissipates and the coconut scent comes through. This is a much more pleasant smell. You can faintly smell the vanilla mingled with the coconut. When rinsed from your skin and is toweled dry, it will smell very, very lightly of vanilla. The scent isn't strong enough to interfere with lotion or perfume scents that you may choose to apply later.

Performance:

The sugared body polish comes in an 8.5 oz. (240g) jar and will last numerous applications. It washes off easily in the shower or bath with just a water spray or a washcloth, if desired. It seems to lightly exfoliate well; skin will feel softer and smoother after use. The package states that it's great to use before shaving. It can be used before or after applying other body washes as well.

Packaging:

The plastic jar this polish comes in is wide and short. The black lid and jar sides are covered with labels that are yellow and leafy, bringing to mind the islands you're supposed to feel like you're hopping through.

On the back of the jar are simple instructions for use.

The lid secures tightly, making this product ideal for travel, and shouldn't leak or otherwise come out of the jar; although, it's best to seal it in a plastic Ziploc bag in your luggage in case of damage during transport.


Volume:

8.5 fl.oz.

Weight:

0.75 lb

Personal comments:

This is the first sugared body polish I've ever tried - I liked it! The first time or two I used it, the product was hard to get out of the container, but once a bit of water got in the jar, it was much easier to use. I liked the feel of the sugar and cranberry seed pieces on my skin as I rubbed the product in. My skin did feel softer and smoother after several uses. I also liked that it rinsed cleanly from my skin after use.

The scent was interesting and a bit too lemony. Once the lemon faded, I liked the coconut/vanilla scent with just a hint of lemon that was left; but it initially smelled like I was going to rub Lemonheads all over my body.


Other

Safety features:

No Phthalates / No Sulfates / No Triclosan / Parabens free

Special Features: