Sportsheets Sex in the Shower knee pads - Position accessory from Sportsheets

Product Details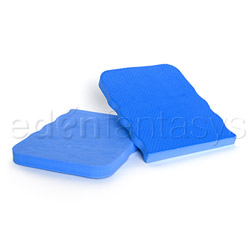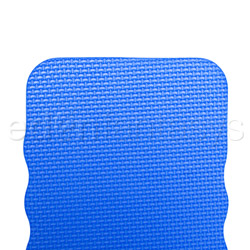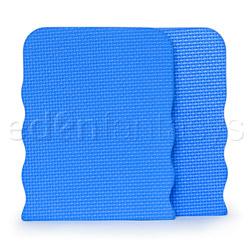 Summary:
Enjoy having sex in the shower? These easy to use and simple foam pads can take the pressure off your knees when kneeling on hard surfaces. They can be used in the shower or out, on the carpet or tile. They can slip in certain instances, but for the most part these pads will help you enjoy your sexual experience.
Pros:
Easy to use and clean, comfortable, multiple uses, nice size.
Cons:
Can slip, don't "lock together", initial smell.
Best use:
Like to get adventurous in the shower? These knee pads from Sportsheets are a simple sex aid that can help you or you and your partner have safer, more comfortable sex play in a shower, tub, or on other tiled surfaces. It has some other useful uses as well. The two, large, and textured pads stick well to slightly wet surfaces and take the pressure off knees. They can be used by anyone and are easy to use and maintain. Want to get on your knees for doggie style sex or giving oral? These pads will make it much more comfortable to do so! You don't even have to use them in the tub or shower. Take them to the kitchen or even that scratchy bedroom carpet.
Texture / Consistency / Thickness / Viscosity:

Performance:

Due to the package lacking instructions, it is unclear if the smooth side of the pads are meant to go face down on the surface of which they are being used on or not. However, there is one for each knee; plenty of room. They can be placed as far apart or as close together as needed, or as it is most comfortable for the user. In a standard tub, they fit nicely next to each other with room to spare. They can work on the floor of a stand alone shower or even a sauna. Their usage does not need to be limited to water play or the bathroom though. They can be used on any flat surface making sexual activity on your knees more comfortable.

Be cautious of the fact that they can slip! It is less likely if the pressure is direct and vertical (like a person kneeling on them while giving oral). If the pressure is from an angle, say during doggie style sex, they can slip here and there. It is smart to test them in the area they are going to be used in prior to actual use.

Packaging:

The packaging is very simple. The two pads tightly fit into a cardboard box with images of a naked couple using the product on all sides. One side features a few other products from the company and provides a link: www.sexintheshower.net. Since it is cardboard, it is not good for storage after use until they dry.

Personal comments:

These pads worked well for my partner and I. We used them most for giving oral in the shower. We both found them comfortable and easy to use. We love the simplicity!

Experience:

They are comfortable to kneel on and take the pressure off the knee caps. On a floor that is completely smooth, the texture side can stick better in some instances and the opposite is also true. It is best to try it out yourself so injuries do not occur during play. Keep in mind that they can slip! Direct, downward pressure (like when you are kneeling and giving oral) is the least likely position for slippage. Doggie style sex has a tendency to make the pads slip here and there.

Other

Material:

Foam

Length:

8 1/2"

Width:

6 1/2"

Sex sling and support special features:

Padded