Sportsheets Sex in the Shower shaving mirror with suction cup - Sensual bath from Sportsheets

Sex in the Shower shaving mirror with suction cup videos
Product Details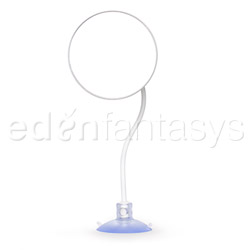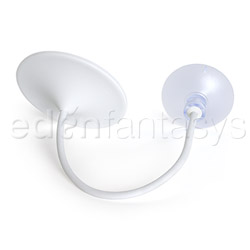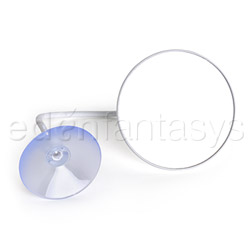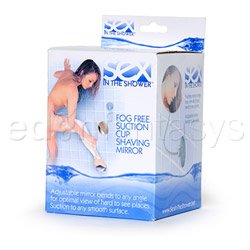 Summary:
If you hate shaving in the shower because you can't see what you're doing, this mirror may be the solution. It's fog free so you can shave in the hottest of showers, and the flexible neck lets you get the right angle you need, whether shaving facial hair or genitalia. The suction cup keeps the mirror in place.
Pros:
Easy to attach, can be used at any angle, fog free.
Cons:
No magnifying side.
Best use:
This mirror is best used when you want to shave in the shower. It suctions to smooth shower walls, and its fog-free mirror allows you to shave and see what you're doing even when your bathroom is filled with steam. The suction cup allows the mirror to be placed anywhere, whether up high for facial shaving, or lower down for the shaving of pubic areas that can be difficult to shave without seeing what you're doing.
Texture / Consistency / Thickness / Viscosity:

The mirror is lightweight, and seems to be put together well. The back of the mirror has a firm, lightly textured surface, while the flexible neck has ribs.

Taste / Aroma:

The mirror has a slight plastic scent out of the box which quickly dissipates when the mirror is exposed to air.

Performance:

This mirror works well for its intended purposes. It sticks well to shower walls and doesn't fog up during the steamiest of showers. It bends to any angle imaginable, allowing you to see exactly what you're trying to shave. The base can be placed in the suction cup either on top or through the side, which doesn't seem necessary due to the flexibility of the stem.

Packaging:

The mirror comes in a fairly square box, with a picture of a woman shaving on the front and a man shaving on the back. Inside the box are the mirror and a small booklet with information on other products in this line. The mirror is covered with a plastic lens to protect the glass during shipping which must be removed before use.

Special Features:

The fog free mirror is 5" in diameter and attached to an 11 1/2" flexible stem that can be bent and shaped as desired. The clear suction cup is large at 3 1/4" in diameter and adheres well to smooth shower walls. It stays attached to the wall when the neck is readjusted for the angle desired. If the suction cup comes loose, it is easy to reattach.

Experience:

We both really liked this mirror. Typically my husband shaves his face in the mirror over the sink, and he has to keep the door open if I'm taking a shower behind him. Since this mirror is fog free, he can now shave in the shower if he wants (he can even attach this to the bathroom mirror and shave away while I'm reveling in steamy water and soap).

I love the flexible neck on this mirror. The neck is long enough that I could position it down lower on the shower wall, and whether I stood up or sat on the tub edge I didn't have any trouble getting it into place to make sure I got a good clean shave.

Probably the only thing I wish this mirror had is a magnifying side, but the mirror isn't so small that I can't use it effectively.

Other

Material:

Plastic

Material safety

Length:

14 1/2"

Width:

5"

Safety features:

Food-grade material / Hypo-allergenic / Latex free / Phthalates free

Sex sling and support special features:

Adjustable