Sportsheets Sex in the Shower vibrating mesh sponge - Massage mitt from Sportsheets

Product Details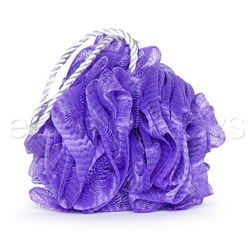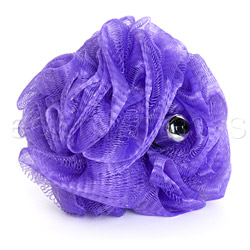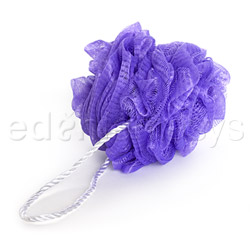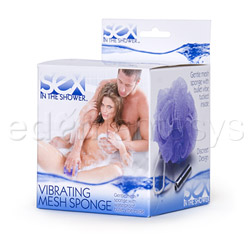 Summary:
While the idea of a sponge and a vibrating bullet rolled into one package sounds good, this didn't turn out very well. The sponge is pretty low quality and the vibrating bullet doesn't provide much in way of vibrations. I can't think of any redeeming qualities of this, with the exception of freaking people out by leaving it with the bullet showing. The bullet kind of looks like a tiny spy cam or something.
Pros:
Looks like a spy cam sponge, waterproof.
Cons:
Very low vibrations, needs to be tossed after 8 weeks, not enough mesh to hold a lather.
Best use:
The Sex in the Shower vibrating mesh sponge is basically a mesh sponge with a vibrating bullet inserted into it. The sponge is a pale purple and the bullet is silver. There is a cord loop on it that can be used to hang this up in the shower. This can be used to stimulate any external part of the body. It is not made for internal stimulation.

The waterproof bullet cannot be removed from the sponge, which kind of sucks, since that would have made this a multi purpose toy. As it is, this can be used in the shower, tub, pool, or hot tub. It is held in place by some cords and a thin plastic tube. The bullet measures about 3 inches long and 2 inches around. One side of the sponge has a rounded end of the vibrating bullet sticking out amidst the mesh, and the other side has both the power button and the battery compartment. I found the battery compartment a bit difficult to remove, since the mesh kept getting in the way of me taking it off and putting it back on. The battery, which is watch-size, is already inside, you just need to remove a small circle of paper from the battery compartment to get the battery to connect and power the bullet.

There is only one vibration level with this toy, which is very low. I felt next to no vibrations with this when I used it in the shower. The whole thing vibrates a little, though not nearly enough to be effective in foreplay or to get someone off.

After use, you can leave this hanging in the shower, or take it out and lay it in the sink or on a counter to dry before putting it away. If the battery needs to be changed out, I recommend drying this out completely before opening it. Water getting inside the battery compartment may ruin the toy.
Texture / Consistency / Thickness / Viscosity:

The texture of the mesh sponge is the same as many cheaper quality mesh sponges, like those found in gift baskets around Christmas time. It's a bit rough, though no where near as rough as my exfoliating mesh sponge. There's also not very much mesh to this product at all, so it doesn't hold too much soap. The vibrating bullet is just a plain, smooth silver one.

Taste / Aroma:

There's no scent to the sponge whatsoever when taken out of the box. After rinsing and laying mine out to dry, it does still smell like my body wash though.

Performance:

I do not feel this performed all too well. The battery has lasted well in it, but the vibrations are just too low. The lack of mesh used for the sponge makes it worse, since this thing doesn't hold soap well enough to work up a good lather.

To care for the vibrating mesh sponge, it should be wrung out after each use. Leaving water sitting in this and leaving it sitting in a warm area promotes the growth of mold or bacteria. Cleaning this every few days with a toy cleaner or hand sanitizing product can help discourage the growth of mold and bacteria. As with other mesh sponges, this should be tossed after about 8 weeks of use.

Packaging:

This comes packaged in a white cardboard box. The packaging shows a couple in the shower, playing with the mesh sponge. It's pretty cheesy looking. One side of the box gives very basic instructions on how to open the battery compartment and turn the bullet on. A paper insert inside of the box lists other Sex in the Shower products.

Since the packaging is covered in pictures of naked people and the word "sex," it's not discreet at all. The product itself is very discreet, unless someone comes over and feels compelled to examine your bath sponges. Most people wouldn't give this a second glance.

Traveling with this may be a bit difficult, since it needs to be either completely dried or put in a plastic bag. Other than that, I see no problems with taking this on your travels.

Personal comments:

For some reason this toy is filed under bath products, so I was required to fill out fields that didn't exactly relate very well to this.

Experience:

We gave the vibrating mesh sponge a try in the shower, which was unfortunately a very short, boring shower. The hot water actually ran out before we were done and this sponge didn't provide enough vibration to be stimulating to either of us at all. No matter which parts of our bodies we put this on, we felt next to nothing.

Other

Material:

Mesh

Length:

4 1/2"

Width:

4 1/2"

Texture:

Smooth

Control type:

Push button

Functions:

Vibrating

Powered By:

3 watch batteries

Special Features:

Batteries included
Removable bullet
Waterproof