Principessa Beauty Delizia mia creamy sugar polish - Body moisturizer from Principessa Beauty

Delizia mia creamy sugar polish videos
Product Details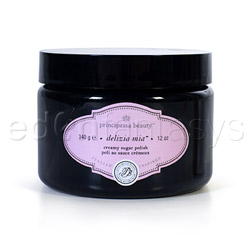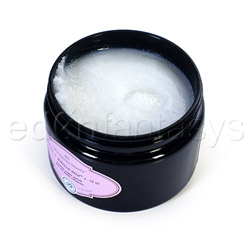 Summary:
The Delizia Mia Creamy Sugar Polish is a stellar two-for-one cream that exfoliates and moisturizes in one fell swoop. The abrasive granules linger on the skin just long enough to remove dry skin, but quickly melt into a creamy polish before skin becomes irritated. It's packed with a ton of natural and organic ingredients, too. So long as you are a fan of bold floral scents, this Sugar Polish will be a big hit for your knees, feet and elbows.
Pros:
Lots of natural and organic ingredients, exfoliates and moisturizes, a little goes a long way.
Cons:
Scent can be overpowering, may trigger headaches, expensive.
Best use:
The Delizia Mia Creamy Sugar Polish from Principessa Beauty Inc. is a uniquely textured body moisturizer. The granulated consistency scrubs away dry, dead skin, and the natural extracts, shea butter and sunflower seed oil hydrate new skin. This 12 oz. tub of "body polish" can be used all over, but it's best for those extra dry areas like elbows, feet and knees. Those with allergies to glycerin or any of the plant extracts listed in the ingredients, or those sensitive to very strong scents should not use this product. Principessa recommends massaging this product into wet skin, but never using on irritated or broken skin.
Texture / Consistency / Thickness / Viscosity:

The way that Delizia Mia Sugar Polish feels is one of its most compelling selling points. It has the thick, creamy consistency of a body mousse, with the crunchy texture of granulated sugar. When tipped upside down for 60 seconds, the open jar does not drip or run at all. This makes this substance easy to control so that it doesn't spill onto clothes or other surfaces when applying or storing. It also allows you have great control while applying the product; you can get it exactly where you want it and nowhere else. To remove from the jar, simply scoop a small amount out with your finger tips, or use a spoon or clean popsicle stick if you prefer.

When massaging into the skin, the product will initially feel coarse and gritty, a bit like rubbing sand against your skin. However, this only lasts for a few seconds. Within a moment, the granules melt into the cream. This process quickly removes dry skin, but doesn't exfoliate to the point of discomfort or irritation. The product will take a few moments to be fully massaged into the skin because it is very thick and has a lot of oils in it. It should not leave too much of an oily film on the skin if you take the time to fully rub it in; it just may take a while.

Ingredients:

Sucrose, Glycerin, Propanediol, Water, Cetearyl Alcohol, Ceteareth-20, Butyrospermum Parkii (Shea Butter), Aloe Barbadensis Leaf Juice, Helianthus Annuus (Sunflower) Seed Oil, Linum Usitatissimum (Linseed) Seed Extract, Punica Granatum (Pomegranate) Extract, Olea Euopaea (Olive) Fruit Extract, Laminaria Digitata Extract, Morinda Citrifolia Extract, Camellia Sinensis (Green Tea) Leaf Extract, Hydrastis Canadensis (Golden Seal) Extract, Glycyrrhiza Glabra (Licorice) Root Extract, Althaea Officinallis Root Extract, Verbascum Thapsus Extract, Trifolium Pratense (Clover) Flower Extract, Camellia Oleifera (Green Tea) Leaf Extract, Lonicera Japonica (Honeysuckle) Flower Extract, Arnica Montana Flower Extract, Citric Acid, Potassium Sorbate, Chlorphenesin, Phenoxyethanol, Parfum.

Taste / Aroma:

Unfortunately, though I really liked the way this product feels and works, the smell makes it virtually unusable for me. Its scent is very strong. The aroma is decidedly floral and decidedly pungent. If you like light, airy scents, this is not for you. In addition to being loaded with lots of plant extracts, the last ingredient listed is parfum. Though this is the last item listed, it's the first and nearly the only thing I notice once I open the jar. If I apply this to my skin in an unventilated room, it will smell strongly of the product for the next half hour or so. The scent is one of Principessa's signature scents, called isolina. The aroma is so powerful that it's difficult for me to evaluate the different elements working within it. The Principessa Beauty website describes it in the following terms:

"Top notes include violet leaves & mimosa (orange flower) blended with middle notes of rose petals & neroli. Heliotrope & precious woods round out this ultra feminine elixir that is best described as pureness in a bottle. It's an alluring blend of feminine, fresh, floral notes with hints of a powdery finish."

I can't handle it, personally. It triggers a bad headache for me about instantly, and if I don't wash it off quickly, it gives me a migraine. If you're sensitive to strong scents then I wouldn't recommend this. But? If you love strong and bold floral scents then you will love this. It's not necessarily just a bad scent. I am able to discern the powdery base, some woody notes, and a distinct rosey heart. Not bad scents, just far too powerful for my nose and brain to handle.

Performance:

I do think this product performs well, but I haven't been able to test it out more than a few times. Each time, I've had to wash it off after about twenty minutes because the smell is powerful and does linger. If the scent doesn't bother you, there should be no issues. It spreads smoothly, the sugar granules dissolve right on time, and it does moisturize well. Even after washing it off, enough of the oils had soaked into my skin to make it fairly soft. It's unfortunately just the scent that makes this product unusable for me.

Packaging:

Volume:

12 fl.oz.

Weight:

1 lb

Other

Safety features:

No Phthalates / No Sulfates / No Triclosan / Parabens free