Evolution of Smooth Revitalizing care hand and body lotion - Body moisturizer from Evolution of Smooth

Product Details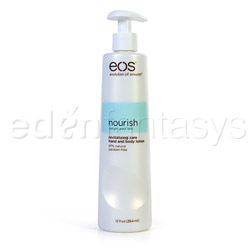 Summary:
Evolution of Smooth's (EOS) revitalizing care hand and body lotion is a lotion that can be used as your everyday moisturizer, even for those with sensitive skin. It comes in a 12 oz bottle that has a locking pump on it. The lotion has a wonderful smell to it that is very mild. However, the lotion tends to be greasy and leaves your skin feeling like you have coagulated lotion on it. There are some allergy causing ingredients that some should watch out for.
Pros:
Moisturizing, lockable pump, smells nice, and works for sensitive skin.
Cons:
Allergy causing ingredients, greasy, and coagulated feel.
Best use:
EOS (evolution of smooth) has come to Eden with a new line of beauty products that includes
lotions
and
lip balms
. The revitalizing care hand and body lotion will be covered in this review.
This lotion is meant to be nourishing to the skin. It is infused with shea butter and oat extract along with natural antioxidants, essential nutrients, and Vitamins C and E. These ingredients help leave your skin beautiful, soft, and give it a healthy, radiant shine. The directions of this lotion say to smooth on, touch your skin, and smile. This lotion is paraben free, lanolin free, phthalate free, and dye free. This is dermatologist tested, hypo-allergenic lotion that is not tested on animals. You will want to check the ingredients breakdown for a complete list of ingredients, some of which are allergy causing.
Texture / Consistency / Thickness / Viscosity:

EOS bottles are really nice. You get a 9" tall slender bottle with 12 oz of lotion inside; there is a pump top to dispense your lotion. They allow the pump top to be twisted open and then twisted shut. Once this is twisted shut the pump is locked, so no spillage or leakage is possible even when traveling. When you twist the cap closed it clicks to let you know it is locked into place. When you pump the top to get some lotion, it stops and doesn't allow you to pump until it pops back out. A single full pump gives you about a quarter sized amount of lotion. The lotion is white in color. This is a thick and creamy lotion that does not run all over the place unless the lotion touches something. Once it is rubbed into the skin, it feels watery and somewhat greasy. It feels as if you have coagulated lotion on your skin. It does leave your skin velvety smooth. This coagulated lotion feeling is like you have not rubbed it in all the way even though you have.



Ingredients:

Water (eau), Glycine soja (Soybean) oil, cocoglycerides, glyceryl stearate, dimethicone, glycerin, cetearyl alcohol, sodium stearoyl lactylate, helianthus annus (sunflower) seed oil, butyrospermum parkii (shea butter), macadamia ternifolia seed oil, aloe barbadensis leaf juice, avena sativa (oat) meal extract, tetrahexyldecyl ascorbate, tocopheryl acetate, retinyl palmitate, fragrance (parfum), carbomer, methylchloroisothiazolinone, methylisothiazolinone, dmdm hydantoin, sodium hydroxide.

Taste / Aroma:

There is no labeled scent to this lotion, but it does have a slight smell. This smell is very mild even fresh out of the bottle. The smell is light, clean, and lotiony. The smell will linger on your skin, but is only present to those who are directly smelling your skin. There is nothing unpleasant about the smell, and it will not overpower your usual perfumes.

You should not eat this lotion, but if you happen to lick your skin after it is applied, you will taste a creamy lotion taste. This is not overwhelming to the palette and it won't leave a bad taste in your mouth.

Performance:

For the best results with any lotion, you should apply it after you get out of the shower. Then you can reapply as needed. This lotion helps your skin feel moisturized for hours without reapplying. You might need to reapply this lotion, if you are in need of moisture due to dry or cracked skin, more often than someone with healthy skin. If you want to wash the lotion off you will need to at least rinse your skin off, but most likely you will need to shower depending on the area you have covered in lotion.

The best quality about this lotion is how moisturizing it is, but the worst part is that it feels greasy and coagulated on your skin. This tends to only last about 30 minutes. The locking pump is pretty sweet as well, since this means no lotion will get on your items during traveling.

Packaging:

Volume:

12 fl.oz.

Weight:

1 lb

Special Features:

Ingredients Breakdown: 97% natural

Water (EAU)- the most universal compound; it is tasteless, odorless, and colorless; therefore it's added to many products. It is possible to be allergic, but this is extremely rare.

Glycine Soja (Soybean) Oil- soybean oil is extracted form the Glycine soja plant which contains triglycerides of oleic, linoleic, linolenic and saturated acids. This ingredient is used as a conditioner.

Cocoglycerides- derived from coconuts oil, it is a mixture mono, di and triglycerides that are used as an emollient and conditioner.

Glyceryl Stearate- is a self emulsifying lipid.

Dimethicone- is a silicon based polymer that is used to condition.

Glycerin- a natural occurring alcohol compound that is derived from animals or vegetables. It is known to be allergy causing to some. It is used to condition.

Cetearyl Alcohol- a mixture of cetyl and stearyl alcohols from vegetables or synthetic sources that is used for viscosity control and foam boosting.

Sodium Stearoyl Lactylate- the sodium salt of stearic acid ester that is of lactyl lactate that is used as an emulsifier.

Helianthus Annus (sunflower) Seed Oil- extracted from the seeds of a sunflower, then is used as a conditioner and emollient.

Butyrospermum Parkii (Shea Butter)- is a vegetable fat that is from the fruit off the tree Butyrospermum parkii, which is native to Africa. It consists of fattys acids like stearic and oleic acids. This ingredient is used for conditioning and viscosity control.

Macadamia Ternifolia Seed Oil- oils from the Macadamia nut that is used as and emollient.

Aloe Barbadensis Leaf Juice- extracted from the Aloe Vera plant and used to condition.

Avena Sativa (Oat) Meal Extract- extracted from the meal of oats and used to condition.

Tetrahexyldecyl Ascorbate- ester of Hexyldecanol and Ascorbic Acid that is used to condition.

Tocopheryl Acetate- a chemical compound of acetic acid and tocopherol (vitamin E.) This is used to condition.

Retinyl Palmitate- composed of palmitic acid and retinol (Vitamin A.) This ingredient is FDA regulated because if exposed to UV light, retinol compounds can break down and the can produce toxic free radicals that can damage DNA, cause gene mutations, and lead to cancer. It is used to condition.

Fragrance (parfum)- what is added to give scent. This can be allergy causing to some with sensitive skin.

Carbomer-a polymeric compound made from acrylic acid monomers that is used a gel former and a viscosity controlling agent.

Methylchloroisothiazolinone- a preservative that is known to be allergy causing.

Methylisothiazolinone- a preservative that is known to be allergy causing. When studied on mammals' brain cells it was shown to be neurotoxic.

DMDM Hydantoin- an antimicrobial preservative that is known to be allergy causing to some. Studies show that American's are more sensitive than European's.

Sodium Hydroxide- is a highly caustic and reactive inorganic base that is used to adjust the pH and as a buffering agent.

Experience:

As I have mentioned before, I have suffered from Eczema my entire life, so I have tried a variety of lotions to help keep my skin hydrated. I find that more often than not, most lotions cause my rashes to break out more. I find that many soaps, lotions, detergents, deodorants, and many other products aren't good for my skin because of this. However, I am happy to report there has been no rash from this lotion on my skin. I recommend this lotion to anyone who is looking for a good hydrating lotion and won't mind the feeling it leaves on your skin afterwards.

Other

Safety features:

Hypoallergenic / No Phthalates / No Sulfates / No Synthetic Dyes / No Triclosan / Parabens free

Special features: