Cake Beauty Three wise cremes - Hand cream from Cake Beauty

Product Details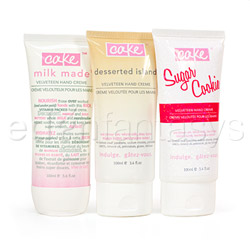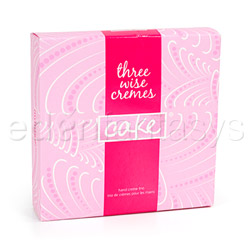 Summary:
Cake Beauty's set of Three Wise Cremes is a cute set. It contains a set of three hand cremes, all of which leave your skin feeling silky smooth and smelling deliciously sweet. The lotions are made up of good-for-you ingredients. Cake left out the bad ingredients, like parabens and phthalates. This set is perfect for gifting, either as it is or split apart into three gift baskets.
Pros:
Scents, softens skin, feels good on skin, great gift.
Cons:
Not much variety in products.
Best use:
Three Wise Cremes is an adorable set of three hand creams. The set would make a nice gift as it is, or it can be split up and given to three people. Each cream has a wonderfully sweet fragrance to it. The packaging is attractive and would work well for a holiday gift or a bridal gift.

This set is best used to lotion skin. While the packaging indicates it should be used to lotion your hands, you can use it on any external area of your body. It works wonderfully to restore moisture to dry skin, and is perfect to use after a shower or bath.

These cremes by Cake Beauty do not include many of the ingredients that cause concern for many users, like parabens, phthalates, and petroleum. Instead, it relies on moisturizing extracts and butters to nourish your skin. This product does contain glycerin and milk lipids.
Texture / Consistency / Thickness / Viscosity:

Each of the lotions included in this set have a consistency that is average compared to other lotions. When applied, they rub into skin very smoothly. Since these dispense through a flip-top opening on the bottom of each bottle, the lotion is thin enough to squirt out of there. Generally, hand cremes tend to come in little jars similar to body butter, and they feel kind of thick. This stuff is more like lotion in small bottles. It comes out of the bottle white in color; however, as it absorbs into skin, it becomes transparent.



Once applied, the lotion will begin absorbing into skin pretty quickly. On my skin, it's fully absorbed after about half an hour. It does not feel greasy or sticky on skin. None of the bottles leave any shimmer on my skin.

Ingredients:

Milk made: Water, Glycerin, Cetyl alcohol, glyceryl stearate, cetearyl alcohol, ceteareth-20, dimethicone, stearic acid, milk lipid, mangifera indica (mango) seed butter, butyrospermum parkii (shea butter), phenoxyethanol, caprylyl glycol, sorbic acid, parfum (fragrance), carbomer, sodium hydroxide, tetrasodium EDTA Desserted Island: Water/Aqua/Eau, Glycerin, cetyl alcohol, clyceryl stearate, cetearyl alcohol, ceteareth-20 , dimethicone, stearic acid, althaea officinalis (marshmallow) extract, milk lipid, mangifera indica (mango) seed butter, butyrospermum parkii (shea butter), phenoxyethanol, caprylyl glycol, sorbic acid, fragrance (parfum) carbomer, sodium hydroxide3, tetrasodium EDTA Sugar Cookie: Water/Aqua/Eau, cetyl alcohol, glyceryl stearate, cetearyl alcohol, ceteareth-20, dimethicone, stearic acid, althaea officinalis (marshmallow) extract, milk lipid, mangifera indica (mango) seed butter, butyrospermum parkii (shea butter), phenoxyehtanol, caprylyl glycol, sorbic acid, fr

Taste / Aroma:

Each lotion in this set has a different fragrance. Milk Made and Desserted Island are both available in lotion and body wash form in other sets and single products. Sugar Cookie seems to be a limited edition holiday fragrance.

While the fragrances are different, they're all the same kind of fragrance: those based on desserts. The fragrances are very pleasing to the nose and aren't very heavy at all. They're easy to smell from about 3 feet away, but they do not give me a headache when I wear any of the cremes. I love the sweetness of these fragrances; they smell like freshly made desserts!

Sugar Cookie: This one smells just like warm, fresh out of the oven sugar cookies. I can even kind of smell something like butter. This fragrance is very reminiscent of baking sugar cookies around the holidays.

Milk Made: To me, this smells like a raspberry dessert. It smells very sweet, much sweeter than the other two cremes.

Desserted Island: I think this one smells like what the bottle states as the fragrance: toasted coconut and vanilla. It reminds me of vanilla cake with buttercream on it, and some toasted coconut pressed into the buttercream.

Despite their delicious fragrances, these lotions are not edible. A taste test of it revealed the lotions actually taste very bitter and gross.

Fragrance:

Desserted island / Milk made / Sugar cookie

Performance:

As stated above, these are best used as a lotion for your hands or all over your body. When I applied them, it took about 30 minutes for the lotion to completely absorb into my skin. It did not feel sticky or greasy on my skin during that time. After a couple of applications, I noticed my skin felt much softer and looked healthier.

These are great for dry, chapped hands during the winter. My dry skin absolutely drank up the lotion and feels much better now that it's moisturized. After using it over a dry, slightly irritated fresh tattoo, I found the lotion to be pretty soothing to my skin.

If you decide to wash off the hand creme, soap and warm water will do the trick. I was able to get all of the fragrance off after washing my hands. My skin did still feel softer after applying. I did not notice any staining to my clothing.

Packaging:

Three Wise Cremes comes packaged in a paperboard box measuring approximately 6 inches x 6 inches. The box is pale pink with lots of hot pink details. The back displays mini versions of the contents. The ingredients are listed on the bottom. The packaging is very cute and would make a great gift. It does say that this set is limited edition.



The ingredients in each product are the exact same thing. The only thing that varies between each bottle is the fragrance, which is only listed as "fragrance" on each.

Cake's lotions do not include parabens, phthalates, gluten, GMOs, petroleum, or mineral oil. Many of these ingredients raise concerns for users. Instead, this lotion is based on healthy skin ingredients like shea butter, milk lipids, and mango seed butter. This does contain glycerin, which may be a concern for some users. There is no information on whether or not the milk lipids in this product will be a concern for those who are lactose intolerant.

Like all of Cake Beauty's products, this one says in no way that it came from a sex toy store. It resembles a winter time gift set you'd find at stores like Bath and Body works or Sephora.

Each bottle in the box is the same in design. They are all white bottles with the Cake logo on the front and the name of the fragrance. There is a description of the lotions and ingredients on each bottle. The back does have the ingredients listed on it, so the set can be split up and given as separate gifts. Each bottle contains 3.4 ounces of creme.

All three bottles have the traditional flip-open dispenser. In my set, the Sugar Cookie and Desserted Island bottles have the same dispenser, while the Milk Made lotion has a slightly different one.

Volume:

3.4 fl.oz.

Weight:

1 lb

Personal comments:

I really like this set of lotions. I don't think I personally would have bought the set for myself, since three bottles of lotion isn't as exciting as a gift set with a variety of products. I also currently have some Cake products with the Desserted Island scent and the Milk Made scent. I do like the Sugar Cookie fragrance a lot and would definitely have purchased a larger bottle of that if it were available.

I think this lotion worked out pretty well for my skin. I didn't have any reactions to it at all, not even on my very sensitive hip, which is where I just got a tattoo. Sometimes fragranced lotions irritate my skin when it's really dry and chapped. That was not the case with these.

I love the quality of Cake Beauty's products. They're all very high in quality and definitely worth the money. Every time I've gifted a Cake product to a friend, they've raved about how much they love it. I personally love the sweet fragrances, which improve my mood when I smell them.

Other

Safety features:

Gluten free / No GMOs / No Petrochemicals / No Phthalates / No Triclosan / Parabens free