Best use: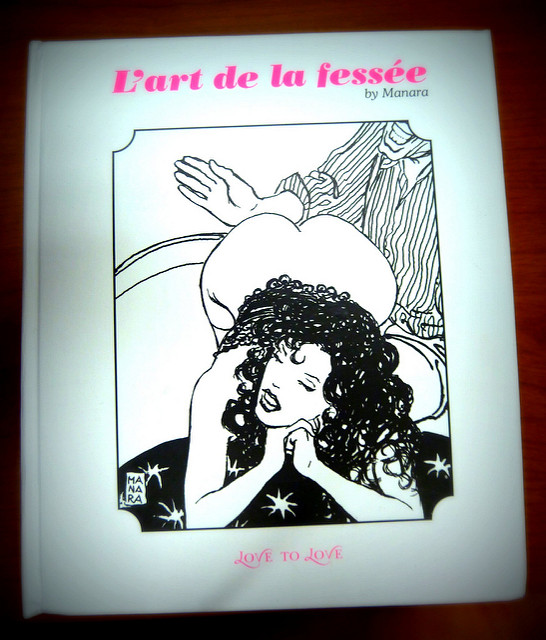 L'Art de la Fessee/The Art of Spanking sensual lover's game
Milo Manara
is an Italian comic book illustrator, and a pretty damn innovative one at that. His erotic works of art have gathered quite a following. The artist's official website can be found
here.
It displays a vast array of works, from early, unfinished projects to short documentaries following the production of selected projects. Manara was first inspired by the sensuality of Barbarella, and it shows through in his vivid, highly sexual, powerful female figurines.
One of his most famous illustrations accompanied the novel 'The Art of Spanking' written by Jean-Pierre Enard. The book features the same cover illustration as this box of erotic aids, which was inspired completely by the original.
This sensual play kit by the new product line
Love to Love
is great for any play partner, from the heterosexual to the pansexual, from the vanilla to the experienced spanker. It can be a nice segue from vanilla sex to the kinkier side of capital punishment, or a yummy addition to a BDSM scene.
The Art of Spanking set is made in France, and includes 2 'play and spank' dice (one illustrating six spanking positions, all by Manara's hand, the other featuring numbers), one 3.3 oz. bottle of body powder, a 1.6 oz jar of after-spanking shimmer cream, and an instruction booklet.
The instructions included in the enclosed booklet indicate simply to prep the spankee's bum with the powder, roll the dice and assume the indicated position, administer the amount of spanks indicated (3, 6 or 12 are the only options) and finish up by applying the cream sensually to soothe the skin. Instructions are written in English, French, Italian, Spanish, German and Dutch.
The kit is perfectly travel-friendly, as both bottles close tightly enough to assure against spills, and come in a travel-friendly box capable of holding other toys for your playtime.
The kit is perfect as a gag gift, bridal gift, or introduction to a fetish for you and a lover. The possibilities are wide open with this simple, yet effective kit.
The ingredients are listed on the included pamphlet as follows:
Spank Me Baby, luscious spanking powder, coconut variety
Corn Starch, Sucrose, Aspartame, Sodium Bicarbonate, Flavor
Girl's Don't Cry, sensual after-spanking cream, Tahitian gardenia variety
Water, Isopropyl Palmitate, Fragrance, Glycerin, Peg-40 Hydrogenated Castor Oil, Sweet Almond Oil, Sodium Polyacrylate, C18-21Alkane, Squalane, Wheat Starch, Synthetic Fluorphilogopite, Trideceth-6, Citric Acid, Titanium Dioxide, 1,2-Hexanediol, Caprylyl Glycol, Magnesium Nitrate, Plumeria Alba Flower Extract, Methylchoroiso-thiazolinone, Magnesium Chloride, Tropolone, Methylisothiazolinone, Cinnamyl Alcohol, Geraniol, Alpha Isomethyl Ionone, Amyl Cinamal, Citronellol, Hydroxycitronellal, Linalool, Benzyl Benzoate, Benzyl Alcohol
Due to the sucrose content in the spanking powder, it is advised to keep it away from the vaginal opening (as it may cause a yeast infection - yeast flora feed on sugar), as well as the after-spanking cream, which contains fragrance and glycerin - both of which are generally not friends with the vagina. Those with fragrance or alcohol allergies or sensitivities will want to skip the after-spanking cream and reach for a soothing balm or lotion that is compatible with their skin instead.
The body powder should be kept away from light and at room temperature. The cream must be kept out of reach of children. Both body products should not be put in contact with eyes.
A plus about the included body products are that they include no phthalates, no sulfates, no triclosan or parabens. We don't need any of those things in our body powders and creams anyhow!
Texture / Consistency / Thickness / Viscosity:

Spank Me Baby powder
This powder has the delightful consistency of corn starch, which is due to its main ingredient (corn starch!). It is smooth and feels dandy in the hands, soaking up any residual sweat you may be experiencing due to lover's nerves (don't worry, your partner will go easy on you! Perhaps...). It pours in a gentle cascade from the holes in the bottle's lid, or poofs into the air when squeezed. It feels just like baby powder - soothing and drying in a comfortable way.

Girls Don't Cry cream
This cream feels like a thin lotion. It spreads very easily, like nearly-melted butter. It feels smooth and seamless and melts into the skin, leaving it soft and moisturized. It leaves no sticky or greasy after-feel whatsoever.

The cream scoops out easily from the jar with a slide of the finger. It is almost reminiscent of a very thin pudding. Sexy!

Ingredients:

Powder: Zea Mays (Corn) Starch Sucrose Aspartame Sodium Bicarbonate Aroma (Flavor). Cream: Aqua (Water), Isopropyl Palmitate, Parfum (Fragrance), Glycerin, Peg-40 Hydrogenated Castor Oil, Prunus Amygdalus Dulcis (Sweet Almond) Oil, Sodium Polyacrylate, C18-21Alkane, Squalane, Triticum Vulgare (Wheat) Starch, Synthetic Fluorphilogopite, Trideceth-6, Citric Acid, CI 77891 (Titanium Dioxde), 1,2-Hexanediol, Caprylyl Glycol, Magnesium Nitrate, Plumeria Alba Flower Extract, Methylchoroiso-thiazolinone, Magnesium Chloride, Tropolone, Methylisothiazolinone, Cinnamyl Alcohol, Geraniol, Alpha Isomethyl Ionone, Amyl Cinamal, Citronellol, Hydroxycitronellal, Linalool, Benzyl Benzoate, Benzyl Alchol.

Taste / Aroma:

Spank Me Baby powder
One word: YUM! I don't know about coconut per se, but this is freakin' delicious. It tastes sweet, like honey. The flavor is light and leaves you wanting more. I'd pour this all over a wall and lick it off, and we wouldn't even need to exchange first names. This powder makes me loose and carefree. I'd lick it off a hog's back. Seriously. It's so yummy.

A slight tinge of aspartame sits in the back of the palette after gumming this, but even this hippy chick don't mind it.

The powder carries a barely, barely detectable sugary scent. If you aren't hunting for it like a bloodhound, however, you won't notice it. This is a plus for those allergic to fragrance!


Girls Don't Cry cream
The cream's list of ingredients is much longer and full of less-natural products than the powder. So, don't eat this. You wouldn't lick perfume off a bottle, would you? Then don't lick this.

The cream's fragrance is labeled 'Tahitian gardenia,' but it smells like baby powder. The scent is very strong and smells rather cheap. It may very well be up the alley of some, but many may find it disagreeable.

Performance:

Spank Me Baby powder
A lick of the powder off the curving buttocks of a partner will all but remove any trace of the taste or scent from the skin. It won't last more than an hour just sitting on one's skin, but that's no problem. An hour later you'll be so spanked out it won't stand a chance anyhow!

The powder is easily dispensed by inverting the bottle and gently tapping the bottom, applying it directly to the skin.

The 95 grams of powder should last you a couple dozen spanking sessions if used modestly.




Girls Don't Cry cream
This lotion is on the lower end of quality. It is thin, smells very strongly, and contains many factory-made chemicals and alcohol.

The amount supplied should last through at least 3 dozen spankings. It spreads easily and covers a large area before requiring more product. It does, however, leave the skin feeling lightly moisturized, and as a bonus adds shimmer to the skin. Your bum will be glistening in tiny sparkles! The cream is literally loaded with them.


Thin cream


Glittery skin


The Play and Spank Dice
The execution of the dice is a little off, as each of the faces features either a nondescript instruction or merely a different view of the same position. There are two illustrations with women bent over a knee, three with the spanker behind her, and one with her on all fours alone. The instructions are very vague and don't really evoke much in the mind, but are rather visual stimulants.

Hopefully they will invite you to create your own variations on the theme.

The number die features only the numbers 3, 6 and 12, each repeated twice. The idea is to roll the number die, and administer that amount of spankings to the 'victim' in the position rolled on the position die.


Each of the six images on the position die faces.

The set includes:

Spanking powder
after-spanking cream
and play & spank dice.

Packaging:

The Box
The cardboard/paper box the kit comes in is rather deliciously discreet. Resembling a book and coded in French, it can secretly hold a rather fair number of play items and tuck itself away on your bookshelf, undetected. Unless you have several French-speaking friends nosing around your house, no one will suspect that this 'book' titled 'L'art de la Fessee' is actually a sex toy box, holding dirty treasures inside!

Now, if it's sitting out on the coffee table, folks are going to poke around. It's got a picture of a nude gal being spanked on the front, for goodness sakes! But it's a famous picture. You're cultured. That's why you have this spanking kit modeled after a famous Italian comic book illustrator's works. Mmhmm...

The kit comes with a plastic insert custom made to hold each of the included pieces, as well as the instruction booklet. The insert can easily be removed to convert the box to a small storage unit.

The cardboard box does not latch, but that's only a problem if traveling with it not secured. The inner dimensions are around 7.5" x 6" x 2.5", so it can hold a decent amount of toys; I recommend condoms, lube, and/or small vibes. You could even throw a couple average-sized dildos in here, and they'd be protected from lint, discovery, and breakage.


The kit next to a computer mouse for scale.


Demonstration of size of box interior, with another product in the Love to Love line. The box will hold at least twice this amount of products.




Spank Me Baby powder
The powder came in a 4.5" x 2" plastic bottle with soft sides that make it easy to squeeze onto an awaiting fleshy bum. It features a small cap to keep the sweet insides from falling out, and is not recyclable.


Girls Don't Cry cream
The cream comes in a small 2" x 2.5" plastic jar with a secure twist-off lid. It is not recyclable.

Volume:

1.6 fl.oz. / 3.3 fl.oz.

Weight:

10.7 oz

Special Features:

Spank Me Baby powder
An extra bonus of the tasty powder is that it can be applied to sweaty smelly balls and make them dry, yummy balls lickety-split. No pun intended. Alright, pun was intended.


Girls Don't Cry cream
The cream does not have any special 'soothing' effects, certainly no more than a regular lotion. Its claim to fame, however, is the intense shimmer it gives to the skin. Your skin will be shiny and glowing - red from the beatings and golden from the cream. Now that's beautiful.

Personal comments:

Spank Me Baby powder
When this kit first arrived, my friends and I were celebrating St. Patrick's Day in the traditional sense. Therefore, we were drunk. And super excited about this stuff. My friend ended up pouring the powder all over the bare arms of me and two girl friends, and we licked it off each other, giggling and 'yum!'-ing all the way.


Girls Don't Cry cream
When the cream was applied, I was put off by the smell immediately. I think we tried licking it off each other too and found that to be a really bad idea. I won't be using the cream in the future at all. I don't like the smell in the least, though the shimmery effect is really beautiful on the skin.


The Two Dice
Personally, I like to scrap the dice and dive into the spanking armed with the delicious powder and the soothing sparkly cream. The dice are a bit useless for me, but could potentially evoke creativity in players.

Also of note: The cream and powder are also sold separately and found at the included links.



Other

Safety features:

No Phthalates / No Sulfates / No Triclosan / Parabens free