Kama Sutra Lovers body paint - Edible paint from Kama Sutra

Product Details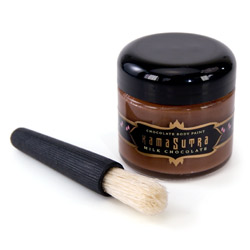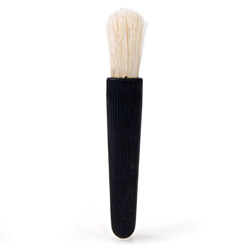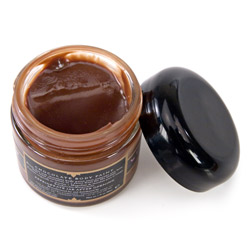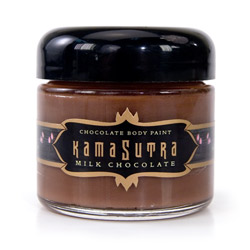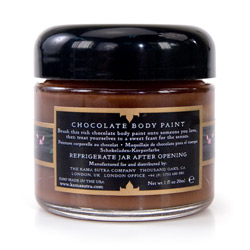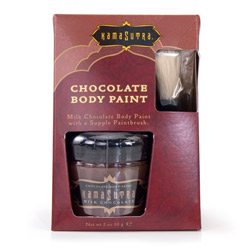 Summary:
Chocolate has long been considered an aphrodisiac so if you love chocolate you should bring this product into your bedroom. It is sweet, sensual and the overall experience is very intimate. Worth the purchase for yourself or a friend.
Pros:
Excellent paint brush, great consistency, good smell, nice packaging
Cons:
Flavor is less impressive
Best use:
Phenyl-Ethylamine (PEA), tryptophan and anandamide, these three chemicals are known as "love drugs". PEA hits peak levels when you have an orgasm, tryphtophan makes you feel sleepy and elated and anandamide binds to receptors in your brain that produce feelings of well-being, heightened sensitivity and euphoria. Other than being "love drugs" they all have something else important in common- all three are found in chocolate! Because of this chocolate has long been called an aphrodisiac, seducing men and women into the realms of sweet sexual surrender. Perfect for men or women you just can't go wrong with a chocolate body paint to incorporate into oral sex or foreplay. You should take precaution however for the following; this product contains a lot of sugar so it can lead to yeast infections in women if used for cunnilingus, and there is a risk of allergic reaction due to the contact with skin. Simply avoid if you are allergic to any ingredient listed otherwise, Kama Sutra does label this product as Hypoallergenic.
Texture / Consistency / Thickness / Viscosity:

When at room temperature the body paint is quite thick, like a store-bought can of frosting. When warmed up it is thinner and a little silkier though whichever consistency you prefer it is still easy to spread. Once on the soft bristled paintbrush it stays put at room temperature and drips only slightly when heated. If too cold it will be difficult to paint with and gets a sort of "fudgey" texture. The manufacturer recommends warming it with hot water or in the microwave to get it to the right consistency and then refrigerating after use. It will become sticky if you allow it to dry, or if you lick it off, but a damp cloth will easily take care of the problem.

Ingredients:

Corn Syrup, Palm Kernel Oil, Hydrogenated Palm Oil, Non-Fat dried Milk, Soya Lecithin, Vanillin, Ethyl Alcohol, Water, Cocoa Powder, Food Starch, Gelatin, Potassium Sorbate, Sodium Benzoate.

Taste / Aroma:

The flavor and scent of this product is almost identical to a Tootsie Roll, which is more of a chocolate candy taste and aroma than a true chocolate such as a chocolate bar.

Performance:

What really adds to the sensuous experience of this body paint is the soft, light bristles of the included paint brush. Based on the look I was expecting stiff and scratchy bristles but these felt wonderful on the skin and were just so very feathery. It was able to spread the chocolate well and I might even use it alone just for the delicate tickle it gives sensitive areas of skin. One of the only drawbacks is that whether you lick this off or let it dry you will need to wash off your skin to beat the stickiness. However, the clean up is quite easy, usually just needing a damp cloth, although if you don't use soap the chocolate scent will linger.

Packaging:

The small jar is easy to open but you do need two hands. The lid stays on very tight and doesn't leak so it would travel well.

Volume:

2 fl.oz.

Weight:

0.4 lb

Personal comments:

I personally hate Tootsie Rolls and, to me, that's exactly what this body paint tastes like so I did not enjoy tasting it and would not purchase it again for myself. However, my boyfriend loved this flavor so much that he actually dipped into the jar for non-sexy purposes. Luckily, Kama Sutra offers a variety of flavors so I may find a better match in Dark Chocolate or Caramel. Were the flavor different I would highly recommend it to everyone because it really does add a wonderful and sensual dimension to foreplay and fellatio. Though the flavor isn't my favorite, it's very sexy and interesting to paint my partner's penis with it before giving him a blow job to have that sweetness in my mouth and have it followed up with the saltiness of his ejaculate- it's sort of like having a chocolate covered pretzel.

Other