Bella Il Fiore Eye shadow palette - Eye shadow from Bella Il Fiore

Eye shadow palette videos
Product Details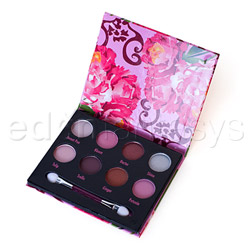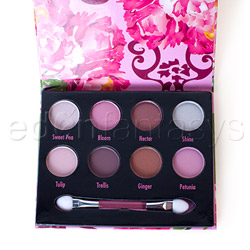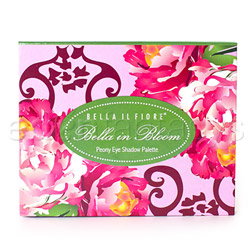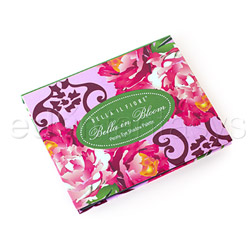 Summary:
The Bella in Bloom Shadow Palette is a lovely collection of eye shadows. It's perfect for travel and easy to carry around. The eight shades complement each other very well and are perfect for both day and night. This one eye palette can be used for fun and flirty looks as well as dark and sexy. It's the perfect addition to any romantic's makeup bag!
Pros:
Great colors, Convenient for travel, Lovely palette, Applicator brush included
Cons:
Not very long lasting
Best use:
The Bella in Bloom eye shadow palette is a lovely eye enhancing cosmetic. Each one comes with eight well paired, colorful shades. In the Peony Eye Shadow Palette that I received, each of the eight flower inspired shades felt smooth on the skin. This product is geared towards women who like a soft, floral eye palette. The shades are not intensely pigmented or very long lasting, but this would be wonderful for someone looking for an inexpensive eye palette with a complementary variety of shades.

This palette has enough shades so that different combinations would be soft enough for day, yet intense enough for a smoky night out look. It is a great palette for stashing in your purse or carry on when you're on the run.

This palette contains propylparaben and methylparaben. They are common preservatives found in many cosmetics and personal care productsand have been known to irritate skin for some users.
Texture / Consistency / Thickness / Viscosity:

The eye shadows in this palette very smooth. It applies smoothly without needing a primer. It's not a highly pigmented shadow so the colors are not exceptionally bright, but the colors are very even when applied. One application (without primer) does not last very long and begins to fade after two hours or so. But that is also dependent on the skin type of the person wearing it. Overall, it does not stay in place very well, but it does spread and blend very well.

Ingredients:

Mica, Magnesium Stearate, Hydrogenated Polyisobutene, Ethylhexyl Palmitate, Caprylic/capric Triglyceride, Isopropyl Myristate, Polybutene, Dimethicone, Tocopheryl Acetate, Phenoxyethanol, Propylparaben, Methylparaben. May Contain: Titanium Dioxide CI 77891, Black Iron Oxides CI 77499, Yellow Iron Oxides CI 77492, Red Iron Oxides CI 77491, Manganese Violet CI 77742, Ultramarine CI 77007, Carmine CI 75470, Chromium Oxide Green CI 77288, Mica CI 77019, Silica CI 77891, Tin Oxide CI 77861, Carmine CI 75470.

Taste / Aroma:

The palette is listed as unscented. There is no scent to the eye shadow itself. The product is not meant to be ingested, so I cannot comment on the taste.

Performance:

The Peony Eye Shadow Palette that I received has the following shades:

Sweet Pea: This one is a very very pale pink, bordering on white. It is a very shimmery color that actually goes on quite sheer. This one is very good for highlighting.

Bloom: This shade is a true, deep pink. This is the darkest pink shade of the bunch and is also quite shimmery. This one would be good for use on the eyelids.

Nectar: This shade is a dark, shimmery copper/purple. It looks almost brown with hints of red and purple in it. This shade is great for lining the eyes or for a smokey eye.

Shine: Shine is very shiny. It's a silvery white shade that has tons of sparkle. This one is perfect for the adding shimmer to the corners of eyes.

Tulip: Tulip is a pale pink shade. It's a delicate pink, but not very sheer. It's also very sparkly and compliments Trellis very well.

Trellis: This one is the only matte shade of the bunch and the darkest. It is a deep dark purple that's great for creating a smoky eye look. It would also be great for the creases of the eyes.

Ginger: Ginger is a sparkly shade of ginger! It's a warm, sparkly brown that's great for the eyelids.

Petunia: Petunia is a shade of pink that's slightly less red than Bloom and darker than Tulip. It has some shimmer, but is much less sparkly than most of the other shades. It's a dusky rose pink.

All of the shadows are easy to apply and easy to take off with some eye makeup remover. It is not very long lasting and does require reapplication. There are so many lovely colors that pair great with each other. With this palette it's easy to create a fun, flirty day time look and a sultry, smokey night time look. The combinations are endless.

Packaging:

The palette itself is a wonderful, floral cardboard case. It opens and shuts easily with a magnet closure. The cover is lovely with elegant font and a really nice floral design. It comes with it's own double sided applicator that's actually quite sturdy. The palette is designed for easy travel.

Personal comments:

Personally, I found this product quite nice. I liked experimenting with all of the different shades. This palette is heavy on pink which is great for me. The quality is nice, but overly special. For the price I feel that this is a good buy, but it can't compare to luxury brands. I personally really loved the shimmer, but I wish that there were more matte shades to play with. Overall, this is definitely a palette that's going in my makeup bag for when I travel!

Other