Not Soap Radio Cocoa butter lip balm - Lip balm from Not Soap Radio

Product Details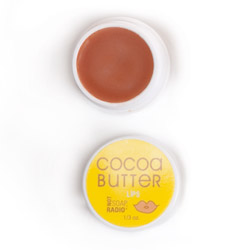 Summary:
If your lips are dry or chapped, look no further than Not Soap Radio's Cocoa Butter Lip Balm. Not only will it quench your lips, but it will wrap your senses in the warm scents of light chocolate and almond. The consistency is just right to feel light on the lips but still work. This will provide noticeable results in one or two uses.
Pros:
Smells great, lasts a long time, softens lips quickly.
Cons:
Cannot get a lot of product out of container at once.
Best use:
Not Soap Radio's Cocoa Butter Lip Balm is a luxurious, nicely scented balm. It hydrates the lips while managing not to feel heavy or sticky. While you could use this as needed, regular application of a balm will provide the best result and the softest lips. In winter time, lips can become chapped and damaged from cold weather and harsh winds. Balm can help to soothe this and repair the tender skin. During the summer, balm will keep your lips from drying out in the sun. No matter the season, lip balm is an essential in any beauty bag.

This balm can be used by men and women. The packaging is not overly feminine so guys should be able to throw this in a desk at work or drawer at home without being embarrassed about a girly, pink jar.

You should always check the ingredient list for possible allergies or sensitivities.
Texture / Consistency / Thickness / Viscosity:

This balm is very solid in the container. You cannot scoop it up, only swirl your finger on the top and get a light layer which is then applied to the lips. It is made of butters, waxes, and oils. It does not feel waxy. It is very lightweight, which may be partially because the hard consistency does not allow you to apply the product heavily. If you took a rich body butter and made it into a balm, this is what you would have. You can also feel the oil component to the balm. It is not overly oily where it feels like you have poured oil onto your lips, just a light, somewhat slick feel. It does not feel sticky on the lips. Hair will not stick to it.

Here you can see it in the container:



Here you can see it on my finger. This is the largest amount of product I am able to remove from the container at one time.



Ingredients:

Theobroma cacao, (Cocoa) Seed Butter, Prunus amygdalus dulcis (Sweet Almond) Oil, Persea gratissima (Avacado) Oil, Olea europaea (Olive) Fruit OIl, Beeswax, Tocopheryl (Vitamin E)

Taste / Aroma:

There are two distinct smells to this product. The first is the cocoa bean, which is a chocolate like smell. This is the most prominent smell. The second is an almond smell. This one is less noticeable. It will randomly break through and become strong but doesn't seem to be there all the time.

Since the product is applied directly under your nose, the smell seems quite strong. The aroma lasts for quite a while. I noticed the smell of this for about two hours after I applied it.

I thought this smelled like heaven, but then I like the smell of both chocolate and almonds. As soon as the smell would start to disappear, I would apply more even if the product didn't need to be reapplied just to smell it.

Performance:

This balm lasts for somewhere between one and three hours, depending on activity. If you eat, it will come off. If you talk a lot or otherwise use your mouth, it will take down the amount of time that the balm will last.

This product is amazing at softening the lips. After only one application, my lips were softer. Unlike some balms, this one does not leave a dry feeling after it wears off where you end up needing to constantly reapply the product.

Like other balm products, it is not the easiest to remove with simple soap and water as it is oil and butter based. You will have to scrub if you decide you want to remove this product.

The only bad thing about this balm is that you cannot get a heavy application if that happens to be your preference. You can only get a thin layer of the product from the container. You really will only need a thin layer, but for night treatment sometimes a thicker layer can be better.

Packaging:

The balm comes with simply the container. There is no additional packaging. The top is yellow and says "Cocoa Butter" and "Not Soap Radio" with a drawing of a pair of lips. The back has a sticker with the ingredients listed on it.





You get 1/3 oz. of product in this package. It is about the same size as you would find in every drugstore balm in this type of container.

Volume:

0.33 fl oz.

Weight:

0.8 oz

Special Features:

Let's take a look at the ingredients:

Theobroma cacao, (Cocoa) Seed Butter, Prunus amygdalus dulcis (Sweet Almond) Oil, Persea gratissima (Avacado) Oil, Olea europaea (Olive) Fruit Oil, Beeswax, Tocopheryl (Vitamin E)

These are all pretty self explanatory, so I won't go into any further detail on them. This is a nice ingredient list of oils, butters, and waxes. The one thing I would note is that it does contain beeswax, which may not make this Vegan friendly.

Experience:

I love this balm. It smells wonderful and feels great on my lips. I don't need to reapply it very often to get it to work. I've decided that this will be the balm that I'll carry in my purse from now on. Its small size makes it easy to tote around. The harder consistency also ensures that it will stay mess free.

I do wish I could get more product up, but it's not that big of a deal. I like to goop on balm at night. I can't do that with this product. I'll probably stick to another balm at night and use this one during the day because it's so simple to apply and not go overboard with.

Other

Safety features:

No Phthalates / No Sulfates / No Triclosan / Parabens free

Special Features: