Not Soap Radio Cocoa Nostra confectionery lip balm - Lip balm from Not Soap Radio

Cocoa Nostra confectionery lip balm videos
Product Details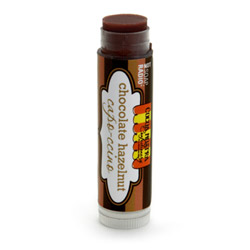 Summary:
Described by the manufacturer as a "Natural, Gourmet, Artisanal Lip Balm", this product provides a sweet chocolate-nut-coffee aroma and taste with high quality moisturizing and conditioning ingredients. The lip balm is not only tasty, but leaves a subtle sparkle and shine while treating the lips to a long lasting conditioning. It can be used simply alone or with lipstick for conditioning and shine.
Pros:
Softening, moisturizing, subtle sparkle.
Cons:
May contain allergens to those allergic to tree nuts, some may find flavor strong.
Best use:
Chocolate Hazelnut Confectionery Lip Balm, "capo chino" by Not Soap Radio is a luxurious, yet sweet and creamy smooth lip balm.

The product is intended to protect and soothe the lips and to moisturize and soften.

As there is no color left behind when applied, this balm is appropriate for either male or female users.

The ingredients do not say if actual tree nuts or their oils were used in the manufacture of this product, (the ingredient list simply says "flavor") but as the item has the word "Hazelnut" in the name, one may want to avoid this product if one has tree nut allergies.

Vegans who avoid beeswax may not want to use this product.
Texture / Consistency / Thickness / Viscosity:

This lip balm nourishes and moisturizes the lips. Although it adds no color to the lips it does leave a sparkling shine and a strong chocolate coffee flavor.

The balm goes on smoothly and is not greasy or oily at all. It stays on the lips well and hangs around to moisturize longer than many less expensive balms do. There is also no "waxy" feeling, like old fashioned "Chap Stick" type lip balms seem to leave behind on the lips. The feeling of this balm is smooth and natural without feeling too thick or heavy on the lips.

To use, one simply opens the tube and applies the balm directly from the end of the tube of product.

Ingredients:

Ricinus Communis (Castor) Seed Oil, Cetearyl, Alcohol, Lauryl Laurate, Olea Europaea (Olive) Fruit Oil, Hydrogenated Castor Oil, Beeswax, Copernicia Cerifera (Camauba) Wax, Hydrogenated Soyean Oil, Euphorbia Cerifera (Candelilla) Wax, Theobroma cacao (Cocoa) Extract, Flavor, Mica.

Taste / Aroma:

This balm leaves an aroma and taste reminiscent of a Mocha Latte coffee drink.

The chocolate coffee aroma and flavors are evident when first opening the tube, and it stays with the user for a long time during use.

When the cap is removed the mocha latte scent is obvious and the taste is very similar to the aroma.

Performance:

The moisturizing effects of this balm are very evident from the first usage. The lips are left soft and moist, ready for whatever may come next in your day or evening. The lips do tend to stay soft and supple for longer than some less expensive lip balms.

All in all, the product is a sweet and useful lip balm and many will find it useful, especially in the drying winter months ahead.

The mica in the product provides a gentle, subtle shine to the lips without adding color. This product could be used under or even over a coat of regular lipstick for additional protection and conditioning of the lips. I prefer to use lip balm under lipstick, but sometimes, especially when the balm leaves behind a pretty shine, as this one does, I do use it over my regular lip stick.

There are few other uses for this product other than lip balm and a subtle gloss, but it performs admirably in those respects.

Packaging:

This lip balm comes in a regular sized lip balm container which contains 0.15 fluid oz. by volume and 0.8 oz. by weight.

There is a small clear cap on the tube, sealed when first obtained. As soon as the cap is removed the chocolate aroma fills the air.

The tube is small enough to be carried in a purse or pocket and is appropriate for use by both male and female users.

Nothing about this product says "I bought this at a Sex Toy store" and it can be used in public by all, as well as given as a gift to nearly anyone, even one's prissy old aunt who would have no idea where the product was obtained.

Volume:

0.15 fl.oz.

Weight:

0.8 oz

Special Features:

The product has a fairly long ingredient list. Most are commonly used moisturizers and softeners used in the cosmetic industry.

Some those which stand out are:

Ricinus Communis (Castor) Seed Oil has been used in medicine and cosmetics for ages. In some studies the extract improved memory consolidation. Some studies also found antihistamine and anti-inflammatory properties from this ingredient.

Olea Europaea (Olive) Fruit Oil, commonly used as both a food and a cosmetic ingredient. Its emollient and softening properties have been used by humans for thousands of years. In Ancient Egypt, builders of the pyramids went on strike until their Olive Oil rations were increased. They used it for cooking, moisturizing their skin, and for lamp lighting.

Several other waxes are found in this lip balm, as in most balms, Beeswax, Camauba wax, Soybean Oil and Candelillia. The balm also contain Cocoa Extract which probably adds to the strong chocolate flavor, Flavorings some of which may be nut or coffee and Mica a mineral which shines and sparkles when light hits it. There are several other ingredients used in the manufacture of cosmetics and lip products.

Vegans who avoid beeswax may not want to use this product.

Other

Safety features:

No Phthalates / No Sulfates / No Triclosan / Parabens free

Special features:

Special Features: