Sensuous Beauty Facial cream - Moisturizer from Sensuous Beauty

Product Details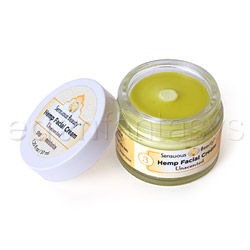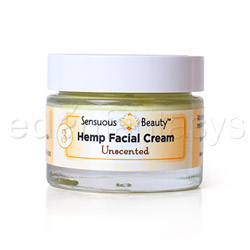 Summary:
If you are determined to use an "organic" or "natural" skin care program, then you might want to consider this. However, remember that it is designed to be used with the other products that Sensuous Beauty makes in their skin care line. I have used other facial creams that were cheaper and worked as well. I do not care for the small size of the container nor do I care for the smell. Because of this, I can only give this product 3 stars.
Pros:
Moisturizes as promised, skin feels soft hours later, does not need to be reapplied often.
Cons:
Only 1.25 ounces (a bit larger than a travel size jar), hemp smell, slightly greasy feel.
Best use:
This moisturizer is created by Sensuous Beauty and is part of their skin care line. Their complete line includes products to cleanse and exfoliate and those containers have a "1" on them. The products designed to tone and hydrate have a "2" on them. The Hemp Facial Cream has a "3" which signifies that it is the third product you would use in their skin care regimen. In fact, the lid states "Step 3 Moisturize" on it.

This is a facial moisturizer that is designed for several types of skin: normal, dry, mature and skin that has been damaged by the elements.
Texture / Consistency / Thickness / Viscosity:

The texture is the consistency of sunscreen. It feels slightly greasy and takes a few moments to be absorbed into the skin. It is fairly thick and does not pour. You will need to dip your finger into the jar to get the facial cream out.

Base:

Oil

Ingredients:

organic hemp oil, almond oil, distilled water, organic aloe vera gel, beeswax, citrus seed extract, vitamin E oil, shea butter, vegetable glycerine and pure essential oils of lavender, ylang ylang, rose geranium and sandalwood

Taste / Aroma:

Although this is considered "unscented", there is a noticeable odor of hemp oil. It is almost a nutty smell but close to a natural mild herb scent.

It tastes like it smells, which is basically hemp oil. It isn't delicious but it isn't nasty either.

Flavor:

Undefined

Fragrance:

Unscented

Performance:

It did soften and moisturize my skin. In fact, my skin was noticeably softer hours later. It did not seem to moisturize my skin any better than other products that I have used. However, it did do what it said it would do. It did not leave an itchy feeling later on like some products have.

Packaging:

This cream is packaged in a 1.25 oz. clear jar. The lid states that it is "Unscented" and is "Step 3 Moisturize". The description on the jar reads, "Rich in fatty acids and essential oils, Hemp Cream nourishes and deeply moisturizes normal, dry, mature and element damaged skin." It also lists all of the ingredients which I have listed below.

Volume:

1.25 fl.oz.

Weight:

0.3 lb

Special Features:

The company's webpage states that they only used ingredients that are plant and animal based. They don't use fragrance oils, artificial thickeners or parabens in their products. The only "testing" that they do of their products is with people who are willing to test them - no animals are involved. In addition, all of their products are created "from scratch" which means that they blend all of their ingredients by hand in small batches.

The ingredients in this are:
organic hemp oil
almond oil
distilled water
organic aloe vera gel
beeswax
citrus seed extract
vitamin E oil
shea butter
vegetable glycerine
and pure essential oils of lavender, ylang ylang, rose geranium and sandalwood.

You can find out more information about each ingredient in this product and others that they make when you visit their ingredients page.

Personal comments:

While this product is labeled "unscented", I would like to share what Consumer Reports states on their Greener Choices website about unscented cosmetic products.

The FDA (Food and Drug Administration) has no standards definition that regulates how this term is used. Products that state "unscented" on the label may actually have fragrances in them to cover up the chemical smells from other ingredients.

Cosmetics are required to list their ingredients: however, fragrances can be considered "trade secrets". Therefore, the government does not require the individual ingredients in a fragrance to be listed on labels.

I would also like to point out that the AAD (American Academy of Dermatology) states that fragrances are the number one cause of allergic reactions from cosmetics. There are over 5000 basic fragrances used in soaps, lotions, skin care products and other cosmetics that Americans used on a daily basis.

So while this product states that it is "unscented", please be aware that it does not mean that it has no smell. It simply means that it has no fragrances added to intentionally make it smell like something.