Not Soap Radio Lip care kit - Lip balm from Not Soap Radio

Product Details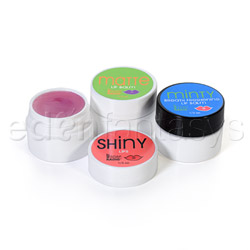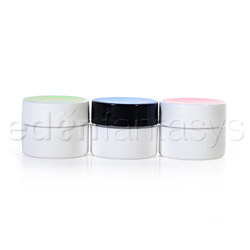 Summary:
This is a nice, simple lip care kit. Each product has a different function, and the container size makes them a great item for your purse or car. These do need more frequent applications than other products. This lip care set would make a nice, small gift for a girl or woman on your list.
Pros:
Great gifts for girls/women, minimal Ingredients, natural oils & butters in Matte.
Cons:
Last a short time, minty aroma, cheap looking tubs.
Best use:
This Lip Care Kit is made up of three different lip products manufactured by Not Soap Radio. These lip products are meant to be used for three separate conditions. They would not work well layered on each other to combine the beneficial properties due to the varying scents and aromas.

Minty -Breath Freshening Lip Balm: Minty freshens your breath with its peppermint aroma and flavor.

Shiny Lips: Shiny Lips is a basic, all-purpose, shiny lip gloss. It leaves a high gloss and shine on your lips.

Matte -Lip Balm: Matte rejuvenates and moisturizes your lips with natural plant oils and butters. This product leaves your lips smooth and kissable.

The Lip care set would make a great gift for any girl or woman on your list regardless of age. Due to the aromas and flavors, the only one I can see a man comfortably using would be the Minty.
Texture / Consistency / Thickness / Viscosity:

The Minty and Matte balms have the consistency and texture of Carmex or a thick, stiff Vaseline. They spread easily and stay in place when rubbed on your lips. Matte soaks in and leaves your lips soft and moisturized. Minty leaves your lips soft and very aromatic. It has a slight shine, but not much of one.

Shiny has the consistency and texture of soft, warm Vaseline. It glides onto your lips and remains on the surface to provide a shine. It has a greasy, slick feeling to it similar to other glosses.

All but the Minty can easily be washed off your lips with a damp rag. Minty is very difficult to remove completely, but most of it will come off with soap and water.

Ingredients:

Minty: Petrolatum, Cottonseed Oil, Flavoring. Shiny: Petrolatum, Cottonseed Oil, Flavoring. Matte: Amygdalus Dulcis (Almond) Oil, Cocos Nucifera (Coconut) Oil, Beeswax, Persea Gratissima (Avacado Oil), Ricinus Communis (Castor) Seed Oil, Mangifera Indica (Mango) Seed Butter, Theobroma Cacao (Cocoa) Seed Butter, Flavor

Taste / Aroma:

Minty -Breath Freshening Lip Balm:
The Minty starts out tasting like a peppermint candy cane, but the flavor is gone within 2-3 minutes after applying the balm to your lips. The taste is very light to begin with and just dissipates rapidly.

The aroma, on the other hand is a different matter. It starts out as a mild but potent candy cane scent. Within 2-3 minutes as well, it smells just like the Skoal Bandits Mint Chewing Tobacco. I was trying to figure out where in the heck the smell of chewing tobacco was coming from. It was me!! My lips!! I really dislike that feature of the Minty. My husband says this doesn't freshen your breath as much as it just lingers on the lips to give the illusion of fresher breath.

Shiny Lips:
Shiny has a very yummy flavor, for me: it has an artificial strawberry flavor with a slight aftertaste of a powdered sugar doughnut. This flavor lasts about 4-5 minutes and fades away. The aroma is very mild and also reminds me of strawberry and powdered sugar. The aroma lasts about 3-4 minutes and fades out.

Matte -Lip Balm:
The Matte tastes like artificial wild berry gum or candy. The flavor, again, dissipates rapidly, and in about 2-3 minutes there is no real flavor left. The smell of the artificial wild berry is a bit strong and lasts about 5 minutes.

Fragrance:

Grape / Mint / Undefined

Performance:

Minty -Breath Freshening Lip Balm:
This lip balm is very long lasting, but not in a pleasant way for me. I hated the final aroma and could not get it washed off my mouth completely. It took about an hour to completely go away. Remember, this is a personal preference, you may love this aroma and not get the association that I did. I did not find that this freshened breath; it does partially disguise it with the lip aroma.

Shiny Lips:
Shiny lips lasts about 45 minutes or until you eat or drink. I did enjoy this product - it is reminiscent of the flavored glosses from when I was a kid. This one is easily removed. I do wish it was a longer lasting product.

Matte -Lip Balm:
Matte soaked in within a minute and started smoothing my lips out. The moisturizing effects lingered for about an hour to an hour and a half before my lips felt dry again. My lips were soft and smooth without any greasy feeling. I wish this balm lasted a bit longer, but loved the smoothness of my lips when I was using it.

The set includes:

Matte lip balm
Shiny lip balm
and Minty lip balm.

Packaging:

My Lip Care Kit arrived in a clear, industrial zip lock bag that is the size of an index card. The only thing on the bag is a bar code decal.

The lip products are in small, white, plastic tubs that are 1" across and 3/4" tall, about the size of a Carmex tub. The Minty has a black screw on lid and the Matte and Shiny have white screw on lids. The lids are also plastic. They have round decals on the top that tell you the name of the product. The bottom has an ingredients list and manufacturing information on a small round decal.

Volume:

0.33 fl oz.

Weight:

2.5 oz

Special Features:

Minty and Shiny Ingredients: Petrolatum, Cottonseed Oil, Flavoring.

Matte Ingredients: Amygdalus Dulcis (Almond) Oil, Cocos Nucifera (Coconut) Oil, Beeswax, Persea Gratissima (Avacado Oil), Ricinus Communis (Castor) Seed Oil, Mangifera Indica (Mango) Seed Butter, Theobroma Cacao (Cocoa) Seed Butter, Flavor.

Other

Safety features:

No Phthalates / No Sulfates / No Triclosan / Parabens free