Evolution of Smooth Organic lip balm - Lip balm from Evolution of Smooth

Product Details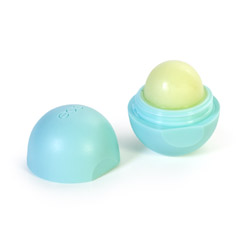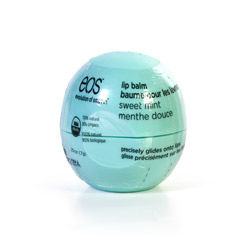 Summary:
Looking for a lip balm free of nasty chemicals, bad taste, or smell? Look no further. EOS has just what you're looking for: an organic balm that really works. And you'll be happy to wear it, too!
Pros:
Works very well, organic and safe, no bad taste.
Cons:
The egg shape container, maybe.
Best use:
EOS is a fairly new product line designed with natural, moisturizing, ingredients. If you are looking for a light tasting, ultra moisturizing lip balm, look no further. This is a product you can feel safe using on a baby, a senior citizen, and everyone in-between. I will say, this organic balm is very moisturizing. It's pleasant to the nose and taste buds as well. As a warning, the Lemon flavor does have sun block in it. If you have a problem with that, as I do, you'll want to choose a different flavor.
Texture / Consistency / Thickness / Viscosity:

EOS is creamy and rich, not waxy feeling at all. It glides on smoothly and has really nice staying power. I find I have to apply it less often than, let's say, Nivea's lip balm formulation. I find it comparable to a famous bee keeper's honey formula, maybe a touch thinner. It does have a little more flavor though.

Ingredients:

Olea Europaea (Olive) Fruit Oil*, Beeswax (Cire D'abeille)*, Cocos Nucifera (Coconut) Oil*, Simmondsia Chinensis (Jojoba) Seed Oil*, Natural Flavor, Butyrospermum Parkii (Shea Butter)*, Stevia Rebaudiana Leaf/Stem Extract*, Tocopherol, Helianthus Annuus (Sunflower) Seed Oil*, Vaccinium Angustifolium (Blueberry) Fruit Extract*, Fragaria Vesca (Strawberry) Fruit Extract*, Prunus Persica (Peach) Fruit Extract*, Linalool. * Organic. Certified Organic by Oregon Tilth.

Taste / Aroma:

This is where EOS balm shines in this reviewer's opinion. If a lip balm is too sweet or has a funny, chemical aftertaste, I won't wear it! Let me just tell you, you aren't going to get that with this balm. The flavors are mild and sweet, not overpowering. This is not as sweet as let's say, Bonnie Bell: it is much milder. The sweet mint flavor tastes like what the name implies. This sweet mint does not have the cooling mint tingle that some other mint balms offer. I have tried all the flavors offered here on Eden, sans the Lemon, and they all are ultra moisturizing and light in flavor. All flavors do taste and smell of their namesakes.

Performance:

Due to the rich nature of this product, I find I don't need to re-apply as often as, say, a thinner balm. I find the ingredients really do a wonderful job of moistening my lips and keeping them protected from harsh elements. With regular use this product keeps my lips soft and supple.

Packaging:

As the pictures show, this balm is in a egg shape or spherical container. What is not seen is the egg screws together. Yes, the egg shape is much bigger than a traditional balm container, but because it screws together it is far less likely to come apart and open in a purse. So there is what might be considered a flaw and a plus: I'll leave that to you to decide.

Volume:

0.25 fl.oz.

Weight:

1.4 oz

Personal comments:

Honestly I love this product. I can't find flaw with it!

Other

Safety features:

No Petrochemicals / No Phthalates / No Sulfates / No Triclosan / Parabens free

Special features:

All natural
Organic ingredients