Classic Erotica Flirty body mist - Mist from Classic Erotica

Product Details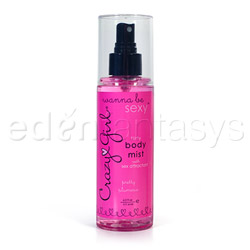 Summary:
This is a great product with a very feminine smell. While the pheromones weren't very effective from my experience, I would still highly suggest this body mist. If you are sensitive to smells I suggest looking for a bit of a lighter, more natural scent, but if you don't get headaches from scents I say go for it!
Pros:
Cute bottle, nice scent, easy to apply, long lasting, doesn't leave residue or stain.
Cons:
Leaky bottle, smell may give some headaches.
Best use:
This body spray is intended to be sprayed onto skin, clothes, linens, or wherever you need a scent to linger. When sprayed onto the skin it dries soft and doesn't leave a residue, and when sprayed onto clothes it doesn't stain and leaves just a hint of the pleasant scent.

It contains pheromones, which are natural chemical scents the human body puts off in order to attract the opposite sex. While naturally they are used in order to subconsciously identify whose genes yours are best mixed with, in perfumes and products they are intended to attract people in general.

While I may not find this mature enough to wear to a business meeting, it's a great spray for going to class or going out on the town.

There are only several listed ingredients in this spray, but companies aren't required to list what goes into their 'top secret' scents and simply list them as 'parfum.' I would recommend doing a spot test before spraying it on your body because of this. The ingredients are as follows;

SD Alcohol 40-B, Water (Eau), Fragrance (parfum), Camelia Sinensis (White Tea) Leaf Extract, Copulandrone (Parfum), Copuline-alike (Parfum), Reconstituted Andronone (Parfum), Red 33 (CI 17200)
Texture / Consistency / Thickness / Viscosity:

The liquid itself in this is very watery and thin, but the mister creates a very fine spray that covers a large area. It's very easy to apply: you just aim it at what you want to spray it at and then press the spray top down firmly. It's easy to press, but it has a wide, plastic lid that snaps on to keep it from spraying when you drop or carry it.

When on your sheets, clothes, skin, or hair this doesn't leave any color or residue behind. It's not noticeable which parts have the scent covering them and which parts do not, which is always a plus when you use it on your body.

I was skeptical at first of this staining my clothing because the liquid itself is actually hot pink. After spraying it from a ways back and spraying it in a concentrated area, this didn't leave any pink marks on my white towel.

Ingredients:

SD Alcohol 40-B, Water (Eau), Fragrance (parfum), Camelia Sinensis (White Tea) Leaf Extract, Copulandrone (Parfum), Copuline-alike (Parfum), Reconstituted Andronone (Parfum), Red 33 (CI 17200)

Taste / Aroma:

When I first smelled this, my thought was that it smelled exactly how it looked; bright pink. The scents listed are "a vibrant, sweet floral aromatically influenced with tropical fern & island breeze…an aphrodisiac medley that is almost sinful."

It's very sweet and floral, and when I wore it my dad commented that it smelled very 'vanilla'y, but he may have been talking about a different undertone because I don't smell any vanilla at all. It reminds me of a princess, if that makes any sense.

My boyfriend, on the other hand, felt like the alcohol base this perfume has lends it too much of a chemical-y scent for his liking. While I agree, the alcohol scent is overpowered by the sweet floral notes for me. While it's not very professional at all, it's a very 'girls night out' scent and is great for casual get togethers.

The one time I got this in my mouth I regretted it, and because of the ingredients this shouldn't be tasted or ingested.

Performance:

This product when sprayed onto my skin faded fairly quickly and was only subtly noticeable an hour after application. This would be the best way to wear it if you're scent sensitive or you don't like to wear strong perfumes.

When I sprayed this onto my scarf, it is still detectable and it's been 48 hours since I applied it. When worn on my scarf, it was much more powerful of a scent and was starting to give me a bit of a headache by the end of the day, possibly because it was so close to my nose.

If you really like the scent, you can also spray it on a dryer sheet to give your wardrobe a light scent of this. This may be the best way to have a constant but light scent linger on you all day.

I really enjoyed the mister that this came with because it helps to control how concentrated a dose whatever you're spraying gets. The longevity is also nice, but giving me a light headache was not very nice. To get it off of my scarves or clothes I just toss them into the wash and the scent comes off easily.

Packaging:

When I got this in the mail the bottle had leaked all over, so I can assume that you should try your hardest to keep it upright and the cap on tight. The bottle itself is made of firm, solid plastic. The cap is wide and fits on to the bottle very well, and the spray top is made of shiny, black plastic.

I really like the way that this sprays. It disperses the liquid very finely into the air, which makes it easy to get more concentrated areas of scent or to just get a light dusting of the scent everywhere. It's easy to aim and press, and feels very well made.

Volume:

6 fl.oz.

Weight:

0.6 lb

Experience:

While my first impression of this was having it leak all over the bag it was shipped in, I really like the smell and the appearance. My boyfriend said that he didn't notice 'feeling' any different because of the pheromones, and I didn't notice any more attention from people of either gender. While the pheromone angle may have been a bust for me, it may differ depending on your natural chemistry.

I am giving this product a 4 out of 5 stars because of the leaky bottle and because after prolonged exposure it did give me a bit of a headache. Overall, this is a great body mist for those looking for something more playful and feminine.

Other

Safety features:

No Phthalates / No Sulfates / Parabens free