Summary:
An incredibly warm, deliciously scented eau de parfum, Indulge is perfection in a snow-frosted bottle. Coming from a woman who doesn't wear perfume as a strict rule, this is certainly high recommendation. The tones of fresh-baked gingerbread, deep vanilla, and light floral and powder notes last for days. You'll love this perfume, I can just about guarantee it.
Best use: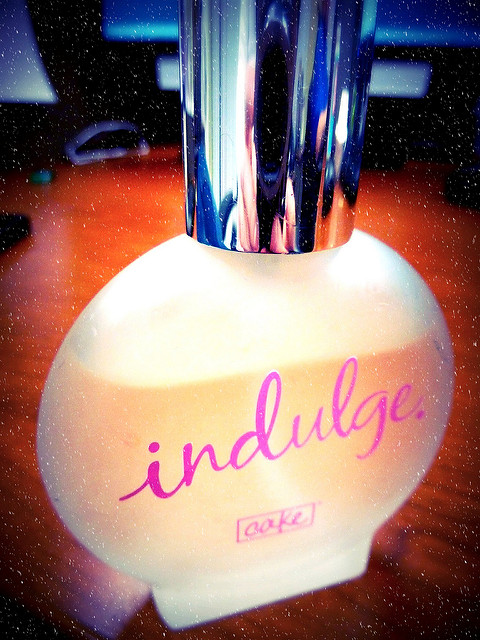 As a gal who doesn't even wear smelly deodorant, opting instead for the occasional swipe of a Thai Salt Crystal Stick, I hate perfume. As a teen, I found a couple of fragrances throughout the years that I stuck with for a short period of time. By a couple I mean literally two. I prefer my personal, natural scent to anything manufactured. It bugs me, too, when others have strong scents, and often when they have any scent at all. I have a very sensitive nose, and it's easily offended.
That being said, I pretty much adore
Indulge
. One of the first times I smelled it, I buried my nose in a scarf recently sprayed with its glorious celebratory scent, then went to snorgle my kitties. Normally, my kitties have a warm scent that I yearn for throughout the work day, and if I happen to catch a whiff of something similar while I'm gone from them, I'll miss them dearly. After smelling the intensely sweet, romantic blossom of
Indulge
, however, I recoiled from the scent of the kittens.
Indulge
makes everything else you smell seem repulsive in comparison! It smells
that good.
Texture / Consistency / Thickness / Viscosity:

As 'texture' doesn't really apply to fragrance, we'll dive into aromatic texture here.

It is neither an overpowering scent nor is it too light. It's just right. I can't imagine anyone finding this scent offensive.

If Indulge were a garment, it would be a cream silk chemise, mid-thigh length, with trimmings in velvet. A simple strand of pearls would be its perfect accessory.

In a word, 'smooth' can just about describe this fragrance. Without actually picking up a bottle yourself, however, you may never know how delightful it is! I recommend doing so. You'll thank me later.

Ingredients:

Alcohol Denat, Fragrance (Parfum), Water/Aqua/Eau

Taste / Aroma:

At first spray, the smell is nearly floral, with a top note of something akin to gingerbread carrying the fragrance through to its resting place on your skin and in your clothes.

The fragrance is quite complex. At the heart of it lies a warm, comforting scent. It is reminiscent of baked vanilla, with a slight hint of powder. Yes, even baby powder. As someone who personally dislikes baby powder, I can say that even the hint of that unloved scent in this fragrance did not deter me in the slightest. Instead it aroused my interests, deepening the mystery of this perfume.

Performance:

Days after showering myself in Indulge, a forgotten sweater aroused from the floor of my bedroom could be caught still wearing the warm vanilla scent. The base of this perfume is quite lingering. Reapplication is only necessary when you're as madly in love with it as I, and even then, reapplying once a day is plenty.

I prefer to spritz a single pump into the air and step under it, or hold the bottle at nearly full arm-length and spritz onto my chest. I hold my breath at this point, for while Indulge is utterly delicious to smell, to taste it is not.

Packaging:



Indulge is presented in a paisley pink and silver box, petite and quaint. The box completes the parfum, to make it a perfect gift. I personally plan to utilize it for this very purpose in the near future.

And at such a low price point, there's no reason not to.



An effectively feminine bottle was delicately selected by Cake to carry the eau de parfum of which we speak. A generous 1.7 fluid ounces of the luscious liquid are poured into every sugar-frosted bottle. The scroll across the bottle's face is elegant and simple.

The frosted finish of the bottle does tend to mar when thrown into a purse amidst keys and other unforgiving items, yet the bottle still looks beautiful. The silver cap shows no signs of wear. It's a very well-made bottle.

Volume:

1.7 fl.oz.

Weight:

0.3 lb

Personal comments:

I miss this perfume when I'm not wearing it. I'm that in love with it. I carry it in my purse at all times and spritz up about once a day.

This was great on vacation to squirt on my boyfriend who was creating noxious fumes as a result of beans for dinner. My nose was saved from the moment-ruining he was attempting, and the bed smelled heavenly of Indulge for days after. The liquid level in the photos of this perfume is so low because of how much I used just that one night, squirting his smelliness over and over as punishment for his butt-bombs. If your boyfriend is more polite than mine, Indulge will last you a very good long while.

Other

Safety features:

No GMOs / No Petrochemicals / No Phthalates / No Sulfates / No Triclosan / Parabens free