Principessa Beauty Mary Zilba roll on perfume oil - Perfume oil from Principessa Beauty

Mary Zilba roll on perfume oil videos
Product Details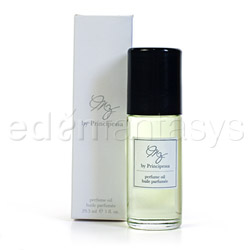 Summary:
You know you love high end perfume. Admit it: you want to smell as enticing as those people on the perfume ads. MZ, by Principessa, allows the wearer to be as alluring as she wants to be for up to 12 hours. Come on: roll on some MZ and get some attention from your partner.
Pros:
Long lasting, wonderful aroma.
Best use:
MZ, (Mary Zilba), is an exquisite roll on oil perfume that rivals that of the most expensive perfume shops in Beverly Hills. Roll on a little MZ and be transported to an aromatic world of citrus, jasmine, and riches. I wish I could put up some sultry video of a girl on the beach, rolling in the surf and looking sexy before whispering the initials "MZ", and then showing you the bottle, but you will have to use your imagination for this one. However, I would not be surprised if I turn on the TV one of these days and see something similar for MZ. It is that good.

Use MZ as an everyday perfume or a special occasion perfume.

Because it is oil based, it should not be used around any area of the body prone to acne.

The ingredients are simply listed as parfum. You know as well as I do that there is an oil base and essential oils but these are kept a deep secret. Therefore, if you are allergic to anything aromatic, you should not use this product.
Texture / Consistency / Thickness / Viscosity:

MZ is super thin and absorbs into the skin within seconds, leaving only its lusty aroma behind. A gentle swipe of the roll on provides the perfect amount, meaning that spills never happen. MZ is not sticky or greasy and does not need to be washed off.

Taste / Aroma:

MZ is marketed as a jasmine scent but it also has strong notes of citrus, which makes it one of the most alluring perfumes on the market. If you went into a perfume store, asked to smell the most expensive perfume, and then got rid of that overpowering twang, you would have MZ. It is the perfect combination of essential oils and fragrance. The smell is strong, but it is a delightful and non-overpowering aroma.

Performance:

MZ rolls right onto the skin, supplying the perfect amount of oil, and then absorbs into the skin. What is left is a luxurious fragrance that lasts 12 hours. There is no need to wash MZ away, it will slowly fade away on its own.

The oil can be used on dry skin; however, it should not be used as a moisturizer.

Packaging:

MZ comes in a simple white cardboard box with the MZ insignia.

The oil is in a clear glass bottle with a black plastic twist off lid. The roller is much like what you would find on a deodorant bottle. The bottle contains 1 fluid ounce of perfume oil.

MZ is small enough for travel; however, it should be in checked luggage. The fluid amount is not listed on the bottle.

Experience:

I enjoy high end perfumes, so I was excited to receive MZ. The perfume did not disappoint. In all, it is long lasting, smells great, and is super easy to apply, making it the best perfume I have had.