Principessa Beauty Bacio me tube lip balm - Lip balm from Principessa Beauty

Product Details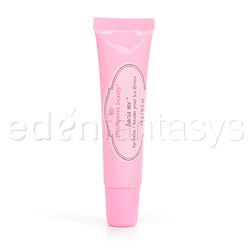 Summary:
The Bacio Me lip balm is the answer for dry and cracked lips, and also if you want softness with a light shine. The lip balm is not messy, nor does it wear off easily. The lip balm is well worth the price. The fact that it continues to work after it is gone is priceless.
Pros:
Glides on easily, leaves lips soft, heals and protects, worth every penny.
Cons:
The price may detour some.
Best use:
The Bacio Me lip balm by Principessa Beauty lives up to its claim to be a spa treatment for your lips. Lip balm differs from average gloss because its intention is to protect, heal, and treat your lips, especially in tough weather conditions and outside elements.

While some lip balms tend to be thick and have a medicine-like taste, the Bacio Me plays doctor with your lips without leaving behind a menthol type feel and taste.

The Bacio Me is perfect for your lips during the harsh winter months and the long heat-pounding summer days.

Your lover will be enticed to kiss you repeatedly after one brush of your Bacio Me coated lips against theirs.
Texture / Consistency / Thickness / Viscosity:

When one thinks of a balm, they are usually inclined to think thick or semi-hard against the lips. The Bacio Me lip balm appears on the thick side; however, it glides gently along the lips and instantly goes from thick to thin. When you think in terms of thin, think ointments that melt nicely into the skin. It still does its job without being clunky and messy.

Whether you are a cigarette smoker or find yourself constantly licking or fumbling with you lips, the lip balm still works its spa-like treatment magic. Your lips instantly feel soft, and the feeling stays behind even after you have wiped it off.

The lip balm does last long on your lips, and you will not find that you have to re-coat every minute. You will also notice that the more you use the lip balm, the softer your lips become.





Ingredients:

Polybutene, Octyldodecyl, Stearoyl Stearate, Simmondsia Chinensis (Jojoba) Seed Oil, Cera Alba, Copernicia Cerifera (Carnauba) Wax, Butyrospermum Parkii (Shea Butter), Ricinus Communis (Castor) Seed Oil, Ozokerite Wax, Tocopheryl Acetate, Phenoxyethanol, Aroma, Caprylyl Glycol, Sorbic Acid, May Contain (+/-) CI 15850:2, CI 15850:1

Color:

Clear

Taste / Aroma:

The beauty of the Bacio Me lip balm is that with all its wondrous properties, it has nearly no scent or taste. If you find yourself licking your lips, it will not leave a Vaseline type feel or taste in your mouth. There is an extremely light smell to the lip balm that doesn't linger after application.

Performance:

The Bacio Me lip balm continues to work even when it appears that it has left your lips. Once you apply the lip balm, it will remain one to two hours, depending on how active you are with your lips and how dry and chapped your lips may be. However, the softness that lingers behind continues to treat and nourish your lips, leaving them feeling regenerated and supple all day.

The lip balm appears pink when you squeeze it out, but once applied it appears clear on your lips. It doesn't give you a greasy look like some glosses, and doesn't look dull like some lip balms. You get a very nice look that falls in between both and compliments your smile greatly. The colorless lip balm will work against all skin tones.

Some tubes of lip balms are hard to press because of the thickness of the the lip balm. This is not the case with Bacio Me. It is easy to press, and gives you a small amount when pressed. But remember: the longer and harder you press, the more the lip balm comes out.

Simply wipe off to remove.


Packaging:

The Bacio Me lip balm comes in a soft pink tube with an angle tip. The size fits nicely into your make-up bag or pocket, and the angle helps to hit all of the curves and angles in your lips.




Volume:

0.5 fl.oz.

Weight:

0.8 oz

Other

Safety features:

No Phthalates / No Sulfates / No Triclosan / Parabens free