Booty Parlor Don't stop massage candle - Massage candles from Booty Parlor

Don't stop massage candle videos
Product Details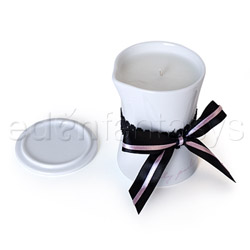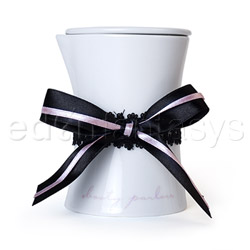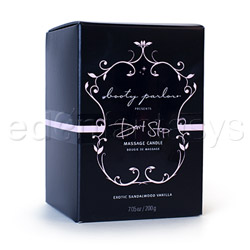 Summary:
For those who want ambiance and some hot massage lotion this is a very good item and it's presented well. Competitively priced to other massage candles, I find its definitely worth purchasing. It would also make for a friendly or romantic gift.
Pros:
Nice packaging, subtle yet pleasant aroma, not scolding coming out of decanter and burns well.
Cons:
The aroma could be closer to chocolate.
Best use:
The Don't Stop Massage Candle should be used externally for massage purposes, it also serves as a traditional scented candle for aromatherapy. It's a soy wax that has a very low melting point. Its wick is thick and provides an excellent heat source to provide a full puddle that extends to the edge of the candle. This massage candle is made of a blend of Shea butter, vitamins A & E, jojoba, olive and coconut oils. Soy wax has been known to burn cleanly, lessening indoor air pollution and leaving less soot.
Texture / Consistency / Thickness / Viscosity:

Its texture coming out of the decanter is very viscous, it quickly firms up as it cools but does not clump. Rather it forms a paste of sorts, that is very workable. It is slightly tacky as it dries, more wax should be applied for extended massage sessions.

Base:

Soy wax

Ingredients:

Shea butter, vitamins A & E, jojoba, olive and coconut oils and clean-burning natural soy wax.

Taste / Aroma:

The spicy chocolate cinnamon was very subtle for those with sensitivities to strong or overwhelming smells. I found it very pleasant.

Performance:

Research shows this candle should burn 46 hours, in my limited use (2 hrs of burning) it seems to be accurate. Burn times of course will be greatly affected by how much wax is poured for massage purposes. You should also keep in mind the manufacturer calls for the wick to be trimmed to 1/4", as such you may want to re trim the wick for later uses. I found the wax when poured (I did not extinguish the candle as suggested), to be warm, not scalding, as stated earlier; it was very workable hot, less so as it cooled. Clean up was simple, with soap and water; however, it is wax so expect that residue to linger. I believe this to be the case with most massage products, specifically wax products.

Packaging:

It arrived in a very sensuous package, the ceramic decanter has a functional lip for pouring, a lid and a black ribbon adorns it(my ribbon was broken on arrival). Overall it's very decorative, and you could leave it out on display.

Volume:

7.5 fl.oz.

Weight:

20 oz

Personal comments:

For the record, I work in the health field and employ massage therapist. We use massage creams, so I do have experience with these types of products. It would be an unfair comparison to subject this product to those.

Experience:

We used it for massage to the back, I will report back, as we will use it for hot wax play as well.

Other

Burn time:

46 hr

Width:

8 1/2"

Height:

4"

Special Features:

All natural
Disposable
Gifts
Massaging
Moisturizer
Scented