Love To Love Light my fire massage candle - Massage candles from Love To Love

Product Details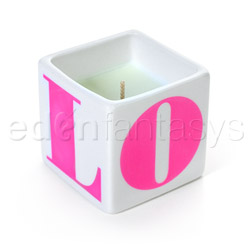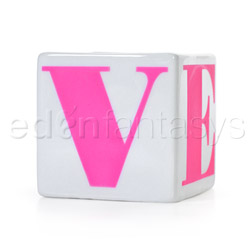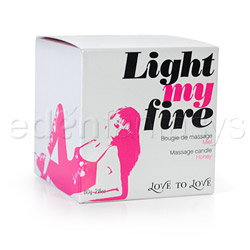 Summary:
Need to light a fire in the bedroom? Love to Love's Light my Fire Massage Candle does more than literally light a fire - it also provides a relaxing, sweet, and heavenly hot oil body massage experience, with the warmth of the oil and the aroma of honey tingling the senses and setting the mood.
Pros:
Safe, great honey scent, warm and comfortable, absorbs easily into skin.
Best use:
Love to Love has done it again, with an excellent product that lights that erotic spark in the bedroom (literally). The Light My Fire Massage candle is a honey scented massage oil candle that is perfect for a mood enhancer, foreplay, gift giving, romantic evenings, before or after sex, or for nights where you want to unwind to love making music and a soothing body massage. This product is made in France, and is 100% natural and preservative free.
Texture / Consistency / Thickness / Viscosity:

The texture of the candle before it's lit is very firm and waxy. However, the wax, being that it is essentially mostly made with oil, can easily be scooped up with a finger and rubbed on the skin like a very thick body butter. Once the candle is lit, the wax pools into a golden white oil that can easily be poured on the skin by slowly tipping it over any area of the body that you like. I would say it's easy to pour, but can be pretty messy with a lot of oil potentially dripping along the side of the container. The oil overall feels greasy, but that's what to expect for a product that's mostly made from oils (specifically cotton seed oil and jojoba oil). It's a very light oil, so it doesn't feel heavy on the skin and absorbs easily as well.

Base:

Oil

Ingredients:

Butyrospermum Parkii, Hydrogenated Cotton Seed Oil, Cetearyl Alcohol, Myristyl Myristate, Jojoba Oil, Fragrance, Cera Alba, Tocopherol, Butylphenyl Methylpropional, Coumarin.

Taste / Aroma:

The aroma of this candle is DIVINE. It really does smell very much like honey: it makes you want to eat it (unfortunately, it doesn't taste like honey!). The aroma is strong, but yet is not overwhelming. You can smell the honey aroma before it's lit, but even more so when it is lit. The scent is mostly honey but I suppose the aroma also reminds me of something like baby oil - but very vaguely; mostly all you smell is sweet and sexy honey. It's the perfect aroma to add to the mood, and when the oil is rubbed on the skin, you will faintly smell like honey for a good half hour or so.

Performance:

It takes a good ten minutes for the candle to pool into warm liquid. Unlike an actual candle, you won't be overwhelmed with too much heat when/if immediately poured over the skin. It feels warm and comfortable. When the oil is rubbed all over the body, it's not only relaxing but is really soothing and seductive. The warmth of the oil and the aroma of honey really does feel sexy and erotic. Although pouring the oil can potentially be messy, the oil easily absorbs into the skin and washes off easily if need be. The oil makes a great alternative to using lotion, if one wants to use it as such. It's uncertain how long this product will last; it depends in how often you use it and how much oil you use before it runs out. Admittedly, the jar is small - it would be nice if it came in a taller or larger jar so the product could last longer. Nonetheless, what you get out of this product is something that smells so sweet and feels heavenly, and, if used in moderation, can last for awhile.

Packaging:

Volume:

2.8 fl.oz.

Weight:

2.5 oz

Other

Burn time:

15 hr

Special Features: