Shunga Erotic Art Erotic massage oil organica - Oil from Shunga Erotic Art

Erotic massage oil organica videos
Product Details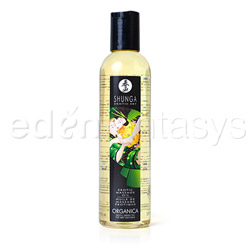 Summary:
This is the most amazing all around massage oil I have had the pleasure of testing to date. It works amazingly well for dry, sensitive, irritated skin and soothes just-shaved skin as well. While it's not recommended that you use an oil based product near the vagina it is great for legs and underarms. The aroma is what really sells the product for us: it is exotic and warm with hints of green tea and citrus depending on the unique chemical make up of your body.
Pros:
Quality organic ingredients, lovely aroma, great massage oil.
Cons:
Oil may break down in if bottle is stored in direct sunlight.
Best use:
As a massage oil the Shunga Erotic Massage Oil Organica is top notch. It spreads on the skin easily providing a gliding surface with very little drag or decrease in lubricity even after a long and deep tissue massage. The oils in this massage preparation are all high quality vegetable oils that are, in some cases, cold pressed to avoid over processing. The oil is light, naturally sweet smelling and won't clog pores. It absorbs easily but leaves a great slick surface that doesn't feel heavy and oily. It is perfect for dry skin and won't irritate extremely sensitive skin.

The ingredients are pretty simple and straight forward with little to arouse my suspicions about allergy concerns.

This is a great oil for deep tissue massage as well as the slower more erotic types of massage. It's great for use on dry skin or after shaving the legs/underarms.
Texture / Consistency / Thickness / Viscosity:

This is a light oil that is runny but the pop top type lid prevents it from being a big mess. For massage you would want to pour a small amount into the palm of the hand and warm it naturally or use a massage oil bottle warmer before pouring it directly on the skin.

It pours easily and warms to skin temperature quickly. Running or sitting the bottle in some warm water will gently heat the oil without making it too hot for use.

The oil doesn't break down quickly and leaves a beautiful surface for gliding the hands over the body. It doesn't feel sticky, or overly oily. It has a light feel and it's is ok to go to sleep without washing it off. It won't clog pores or stain sheets.

Use caution if you use the oil on the soles of the feet and then take a shower without a proper bath mat in the tub/shower stall. Sometimes the oil can be a bit slippery when water is added!

Ingredients:

Cold pressed sunflower oil (Helianthus Annuus Seed oil), Rapeseed Oil (Brasica Campastria Seed Oil), Grape Seed Oil (Vitis Vinifera Seed Oil), Sesame Oil (Sesamum Indicum Oil), Avacado Oil (Persea Gratissima Oil), Natural Vitamin E (Tocopherol), Flavor (Aroma)

Taste / Aroma:

How to describe the aroma of this oil? Let's start with 'heavenly'! When I first removed the foil seal on the bottle I was a bit underwhelmed by the fragrance. It smelled vaguely of sweet green tea but was sort of bland. Now I happen to love the smell of green tea so it wasn't all bad just a bit less than I expected from Shunga. Then I used it on Sigel's horribly dry skin and was blown away! The smell evolved as it warmed up and infused with the scent of his skin into a complex aroma rich with citrus over AND under tones. It smelled almost exactly like a Japanese garden at the height of sun exposure, rich and heady with subtle perfumes.

The best thing about the oil is the perfume doesn't fade with time but continues to evolve as it interacts with your own unique chemistry. It was very woodsy and masculine on Sigel but on me it was more spicy and the green tea smell was sweeter and higher pitched. On both of us the citrus smelled just like sun warmed fruit - if you have never had the opportunity to visit a fruit orchard at the height of summer you simply don't know what you have missed! This oil can give you a really good example of why you should make the pilgrimage if at all possible.

Shunga is not kidding when they say you will want to eat the oil! If you should decide to taste a bit you won't have a horrible, oily, icky taste on your tongue or coating your mouth. It is just as light as any virgin olive oil though it doesn't taste especially like green tea.

The aroma is subtle and very light. The kind of scent that makes you lean in to catch it, which is the best kind as far as I am concerned!

Performance:

For such a light and runny oil this provides a long lasting surface for massage without the need for constant reapplication. As you can see from the ingredient list it is all natural and well deserving of the organic label: Cold pressed sunflower oil (Helianthus Annuus Seed oil), Rapeseed Oil (Brasica Campastria Seed Oil), Grape Seed Oil (Vitis Vinifera Seed Oil), Sesame Oil (Sesamum Indicum Oil), Avacado Oil (Persea Gratissima Oil), Natural Vitamin E (Tocopherol), Flavor (Aroma)

I expected it to be fully absorbed into the skin but, while it does sink in, it never loses the lubricity needed to protect the skin from friction burn. The oil heats up on the hands of the massage giver providing a lovely heat that keep the hands flexible and the joints from seizing up after 20 minutes or so. After about an hour, Sigel was drowsing and I was still able to keep going without the usual muscle fatigue in my fingers and wrists.

I used a generous amount of the oil on Sigel's large muscle groups (back, thighs, lower leg) but I quickly realized that this isn't necessary. A small puddle in the palm of the hand will provide a large surface to work with. To moisturize the elbows, heels or legs after shaving a dime sized puddle is just about perfect.

Sigel decided to go to sleep without showering but when he got out of the shower the next morning his skin was clean but soft and moisturized rather than being flaky and dry. A very nice and welcome surprise for his winter crabby skin. The oil washes cleanly away with just warm water and mild soap and doesn't leave an oily residue on the porcelain of a bath tub or sink.

I think the best part for me was smelling the oil on his skin hours after it was applied. The fragrance was totally unique and I wanted to bury my nose in his skin for hours. He wasn't complaining and "authorized" me to purchase more when this runs out. It works like a charm for massage but for everything else combined it's a product I'll keep in my massage kit from now on.

Packaging:

The oil comes in a clear plastic bottle with a black plastic flip top lid. You get a generous 8 fl. ounces. The oil is a beautiful light amber color and the label doesn't hide but rather enhances the look of the oil. The label has a Japanese style picture of a man and a woman is a contorted but fully dressed state. It's oddly pretty and totally discreet.

The bottle is easily opened with one hand and even with oily fingers. It doesn't leak if it falls on its side but I don't recommend storing it on it's side in a drawer where it will be constantly getting jostled around. It looks very classy on a tray on the top of a dresser or bedside table or at the very least a pretty doily to soak up any excess oil and protect the wood surface of your furniture.

If you plan to take it with you on vacation I would recommend placing it in a large Ziploc style plastic bag just to be safe and packing it where it won't get crushed.

Volume:

8 fl.oz.

Weight:

0.5 lb

Personal comments:

I would expect to pay much more for this oil given its quality ingredients and the lovely surface it provides for massage. The way it instantly soothes dry, irritated skin makes me want to buy several bottles so that I will always have it on hand. The aroma alone is enough to make me recommend it to everyone!