LELO Flickering touch massage oil - Oil from LELO

Product Details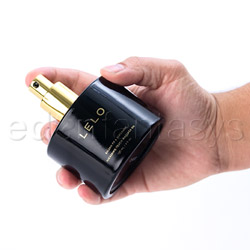 Summary:
Flickering Touch Massage Oil in Fresh Lily and Musk is everything you would to expect from LELO. Distinctive, yet discreet, packaging; luxurious attention to detail and user experience; uncomplicated quality that sets it apart from other products in its class.
Pros:
Tasteful. Decadent. Luxurious. Minimal, body-safe ingredients.
Cons:
Not everyone may respond to the scent favorably. The price will be too high for some.
Best use:
LELO Flickering Touch Massage Oil can be used as, obviously, a massage oil. But it also has a rich scent and absorbs well enough into the skin that it makes a lush post-shower moisturizer. The decadent luxury of 24 karat gold flakes means massaging it into bare shoulders before an evening out will leave your skin with a soft, subtle glow.

The information provided with this product indicates it is not designed for use as a personal lubricant. Its ingredients are simple and body safe, so should any oil come into contact with sensitive genital areas there should be little need for concern.
Texture / Consistency / Thickness / Viscosity:

This massage oil pours easily and spreads evenly across your skin. It absorbs well and leaves no greasy feeling, but enough moisture is left on the skin to comfortably massage the body for an extended period.

Base:

Oil

Ingredients:

Apricot kernel oil, grape seed oil, jojoba oil, perfume

Taste / Aroma:

The scent of this particular oil is Fresh Lily & Musk. True to its name, the scent is both earthy and floral, successfully creating an aroma that is neither distinctly masculine nor feminine. It is, however, rich and seductive, allowing you to relax and let your inhibitions melt away.

Performance:

Initially, some of the oil absorbs into the skin, leaving behind a soft, subtle layer of moisture that allows skin to glide against skin with minimal friction. When first applied, the glitter of the 24 karat gold is easily seen, but once the oil is spread thinly, the "glitter" dissolves into a subtle glowing sheen. After the oil has been worked into the skin or allowed to absorb, there is no heavy greasy feeling that demands a shower to remove it.

Packaging:

LELO is known for their distinctive and discreet packaging. Their massage oil has been packaged with this tradition in mind, arriving in an unassuming minimalist black box and a lovely, deep purple bottle vaguely reminiscent of the popular 80s perfume, Poison.

Volume:

4 fl.oz.

Weight:

13.5 oz

Experience:

I really love the scent of this oil and have been using it almost constantly as a post-shower moisturizer since it arrived. My partner and I both used it to perform massages on each other and found the oil very well suited to massage and the scent intoxicating and erotic. If there's any left next time we are together, I definitely plan to make use of it.

I am very pleased that the ingredients are minimal, just Apricot Kernel Oil, Grape Seed Oil, Jojoba Oil, Perfume and gold powder. I am often sensitive to fragrance, particularly artificial fragrance and I had no signs of irritation or allergic reaction which indicates that the scent is likely a high quality one derived from essential oils.

Other