Sliquid LLC Sliquid organics tranquility - Oil from Sliquid LLC

Product Details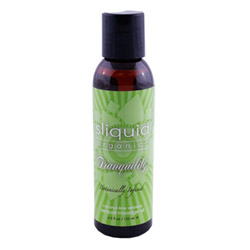 Summary:
This massage oil is fantastic! No issues with it whatsoever. I thought I was going to have a reaction to the coconut smell, but being the aroma was not overpowering, I had no problems.
Pros:
Smells great!, absorbs into skin well
Cons:
Can get messy if not careful
Best use:
Sliquid Organics Tranquility is a massage oil. It is best used for foreplay, to relax and unwind. I used it on my feet after a long day of walking and not only did my feet feel better, I felt a lot more relaxed.
Texture / Consistency / Thickness / Viscosity:

This massage oil is VERY runny. I would exercise caution while using it. While it is easy to pour, it will not stay in place and will become a mess very quickly if you are not careful. As with any massage oil, it feels oily to the touch, but not so much that it was an unpleasant oily feeling.

Base:

Oil

Ingredients:

Sweet Almond Oil (Prunus Amygdalus), Coconut Oil (Cocos Nucifera), Grape Seed Oil (Vitus Vinifera), Sunflower Seed Oil (Helianthus Annuus), Macadamia Nut Oil (Macadamia Ternifolia), Jojoba Seed Oil (Simmondsia Chinesis), Mango & Shea Butter (Butyrosperum Parkii), Vitamin E (Tocopherol Acetate), Certified Organics Extracts of Flax, Alfalfa, Green Tea, Hibiscus & Aloe Barbadensis, Natural Essence of Lime (Citrus Aurantifolia)

Taste / Aroma:

I wouldn't advise consuming this.

The aroma reminded me of Australian Gold tanning lotion, or any tanning lotion for that matter. It was pleasant and not overpowering.

Flavor:

Unflavored

Fragrance:

Coconut / Lime

Performance:

Sliquid Organics Tranquility absorbed nicely into my skin. It didn't feel oily or sticky then. If you don't like lingering scents, I wouldn't suggest trying this. It washed off easily in my shower and did not hang around.

Safety features:

Glycerin free / Hypoallergenic / L-Arginine free / Paraben free / Petro-chemicals free

Special features:

All natural
Organic
Vegan

Packaging:

This massage oil comes in a brown, 4.2 fl bottle with a black flip-top lid. A green label has the product name and other product information on it in a white font. It is very discreet and of a small size for travel. It's even perfectly fine for gift-giving as it displays nothing horribly explicit.



Volume:

4.2 fl.oz.

Weight:

0.3 lb

Personal comments:

The ingredients list are as follows:

Sweet Almond Oil (Prunus Amygdalus), Coconut Oil (Cocoa Nucifera) Grape Seed Oil (Vitis Vinifera), Sunflower Seed Oil (Helianthus Annuus), Macadamia Nut Oil (Macadamia Ternifolia), Jojoba Seed Oil (Simmondsia Chinesis), Mango and Shea Butter (Butyrospermum Parkii), (Vitamin E), (Tocopheryl Acetate), Certified Organic Extracts of: Alfalfa, Green Tea, Hibiscus & Aloe Barbadensis, Natural Essence of Lime (Citrus Aurantifolia)

There's a lot of nut oils in this product, so those with allergies should pass up this product.

As with all of Sliquid products, this massage oil is 100% vegan friendly. (Yay for me!)