Swede Global Swede fruity love - Lotion from Swede Global

Product Details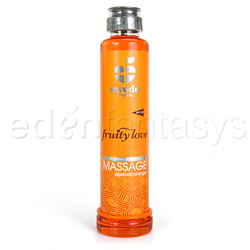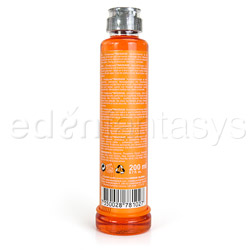 Summary:
This massage lotion seems like an ideal product. It isn't a huge problem if it comes in contact with your intimate regions due to the ingredients, it won't damage latex condoms, and it won't interfere with any toys or stain your sheets. When put to actual use though this massage lotion falls short. With minimal scents and a very slight sweet taste, this massage oil doesn't warm any more than your hands and becomes tacky and must be rinsed off after use.
Pros:
Doesn't contain oil or preservatives, edible, won't stain sheets.
Cons:
Minimal taste, minimal scent, warming feature so subtle it wasn't noticed.
Best use:
Massage lotions can add an exciting element to any love life. Take a massage oil and make it preservative free, edible, and oil free and suddenly the possibilities are endless. Because this doesn't contain oil, I had no problem with it staining my sheets. As it doesn't contain oil, I also wasn't concerned when his massage lotion covered hands found their way to my sweet spots. Add in the fact it's edible and I'll let your mind figure out the possibilities.

Ingredients are (in order) glycerol (a sugar alcohol), propylene glycol (another alcohol with sweet properties), deionized water, citric acid, aroma, and a few dyes. Some women and men are more sensitive than others, so any time using any sort of lotion/lubricant/massage oil- if you know you are someone that has sensitive skin, do a spot check. Most of the ingredients in this are fairly common and I didn't have any complications, even when a bit of this came in contact with my vulva. This is designed as a massage oil, so therefore I wouldn't recommend it for use as a lubricant.
Texture / Consistency / Thickness / Viscosity:

Fruity love is thin, but not as thin as previous oil based lubricants I've tried. Add a small pool to your lover's lower back and if they'd turn, the massage lotion would surely follow gravity. The flip top bottle, while annoying for lubricants, is ideal in my opinion for massage lotion as you tend to need more. And pouring too much just means a longer massage for your partner. It glides on nicely, but as it starts to dry, it does feel a bit sticky. It is supposed to have a warming quality that gets warmer if you blow on it, but it didn't seem any different than my other non-warming massage lotions.

Base:

Water

Ingredients:

Glycerol, Propylene glycol, Deionized aqua, Citric acid, Arome, May Contain Coloures: FD&C Blue No. 1 (E 133), FD&C Red No. 40 (E 129), FD&C Yellow No. 5 (E 102), No preservatives.

Taste / Aroma:

The particular kind of Fruity Love I got to try is one that is labeled as raspberry/grapefruit. I was certainly intrigued to try this interesting combination of two fruits I definitely love. The scent is very faint, and it smells sweet to me with just a hint of raspberries.

I ran my tongue along my partners spine and it did taste sweet and again I could detect a very subtle hint of raspberries, but not enough that I would have known that was what I was tasting if I had not read the bottle. It was so subtle that I may be willing myself to taste something besides sweet. I cannot detect any presence of grapefruit. The aftertaste is slightly artificial, but quickly dissipates. The aftertaste is better than most previous flavored massage lotions and lubricants that I have tried.,

Performance:

This massage lotion did not last as long as my other (oil based) massage oils simply as it has a water base. It became tacky after the product was rubbed in, thus ending the massage unless I wanted to apply more product. This is one lotion I can't imagine falling asleep covered in. It does rinse off very easily with water though. And while it doesn't stain my sheets, it does leave a residue that comes off during a run in the washer.
While this product has a very faint pleasant aroma and a barely sweet taste that doesn't linger in your mouth after, it is just mediocre to me. The scent nor flavor were strong enough for either of us to distinguish what it was supposed to be, the warming effect really didn't stand out, and the fact this product must be rinsed off after use makes it more of a annoyance than a sexy turn on. It is nice that it didn't stain my sheets and that I wasn't concerned about his (or my own) hands being covered in this and still finding their ways to my sensitive areas, but that isn't enough of a draw to make this a good choice for a massage lotion.

Safety features:

Paraben free

Special features:

All natural
Edible
Warming

Packaging:

There is a peel off label underneath of the cap on this, which assures no one else has used this previously. And, to my shock, this is one of the few massage lotions I own that actually has an expiration date (January 10, 2011 for those that are curious).
The flip top is convenient for use, though I don't tend to trust these containers to not leak after time while lying on their side in a drawer. I tend to store them upright and would not necessarily trust this in my luggage.

Volume:

6.75 fl.oz.

Weight:

0.5 lb