System JO Dona shave gel - Shaving gel from System JO

Product Details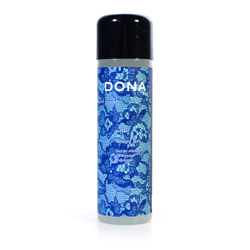 Summary:
The entire experience of using this shave gel is luxurious, from the first whiff of its pleasant scent, to the feel of a razor gliding over your skin, to the softness and smoothness of your skin afterward. Whether it has the aphrodisiac properties mentioned on the label or not, it is a high quality shave gel.
Pros:
Smells terrific, quite slippery, leaves skin soft.
Best use:
Dona Shave Gel is a terrific gel that works well not only for its designed purpose - shaving your intimate areas - but for anywhere on your body.

This would be the perfect shave gel to use right before meeting a lover. The scent might just linger long enough for your partner to enjoy. The aphrodisiac properties may provide additional benefit.
Texture / Consistency / Thickness / Viscosity:

Dona Shave Gel is thinner than the average hand cream or liquid soap. It is about the thickness of olive oil. It will pour about as easily, although it does not feel at all oily.

It is easy to pour the desired amount. As it is rubbed onto wet skin, it begins to form a thin foam. While it doesn't expand like a shaving foam, it will remain incredibly slippery. Once it is rubbed in and becomes slightly foamy, it will stay in place as long as needed.

The gel itself is colorless and cloudy. It is reminiscent of aloe vera juice, although much thicker.

When it is rubbed into skin it will become slightly foamy and will appear white.

Ingredients:

Purified Water (Aqua), Sodium Lauryl Ether Sulfate, Glycerin, Isopropyl Alcohol, Polysorbate 20, Aloe Barbadensis Leaf Extract, Carbomer, Hydroxyethyl Cellulose, Phenoxyethanol, Fragrance

Taste / Aroma:

Dona Shave Gel smells fruity, slightly tangy, citrus-like and very pleasant. Its scent is moderately strong, but it is quite pleasant. After using the gel and washing it off, there will still be a lingering scent for a few minutes. It is available in two scents - Acai and Goji Berry. The Acai scent is described here.

After it is washed off, there is no taste on your skin whatsoever, only its wonderful, subtle scent.

Performance:

Shaving with this gel is a fun, luxurious experience. While it doesn't make the process go faster, it smells delightful during the whole process. You will be pleased with how easily a razor glides over skin when this product is used. It is a vast improvement over soap. When you're done shaving, your skin will be remarkably soft and smooth. The quality of the results and the smoothness of your skin may surprise you.

After shaving is complete, this product must be washed off. It seemed to take longer than expected to do this in areas where you are leaving some hair in place. This would not be a problem at all in the shower.

The label states that it contains ingredients that inhibit hair growth. You may not need to shave as often with this gel.

Packaging:

Dona Shave Gel is packaged in a sturdy, cylindrical plastic bottle with a black plastic cap. The label is blue with a darker blue lace image. The placement of the words on the front of the label is both subtle and attractive. You notice the word "Dona" but others who notice this on your bathroom counter will not immediately know what it is. The words that describe what it is, "Shave Gel" and "an aphrodisiac infused ritual," do not stand out.

The back of the label has small white text on a black background describing the product further. Use instructions are provided in multiple languages.

The bottle itself comes inside a plastic bag tied with a knot. There is a seal which must be removed before use, although this was only lightly adhered.

Volume:

9.5 fl.oz.

Weight:

0.75 lb

Other

Safety features:

No Phthalates / No Triclosan / Parabens free