Evolution of Smooth Ultra moisturizing shave cream - Shaving foam from Evolution of Smooth

Ultra moisturizing shave cream videos
Product Details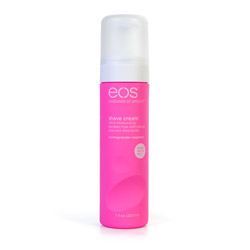 Summary:
I am surprised by how much I like this shaving cream. It makes shaving easy on a number of levels, helps create a smoother shave (so says my partner -- hard for me to tell), and is great for travel. I've gone from someone who never used shaving cream to someone who will be sad when this bottle is empty.
Pros:
Travel friendly, great bottle, smooth shave, long-lasting.
Cons:
Scent could be overbearing, potentially pricey.
Best use:
I don't typically use shaving cream -- I don't like gels at all, and I find that no matter what I buy, the product tends to leave my legs overly dry and itchy. Also, I travel a lot and it's hard to find a size of shaving cream that travels well (the regular size is too big; the small size is too small (and makes me feel bad about all the metal I'm wasting with those tiny containers).

This shaving cream really is more of a 'cream' than any other I've used, which in my opinion is one of its benefits. It's great for legs and underarms, it smells nice, and you can travel with it easily.

The ingredients are mostly natural, as you'd expect from EOS, but there are a few things to be concerned about. The smell is very strong, so if you have allergies to scented things, I might advise against this. It also contains Propylene Glycol, which is know is bothersome to many people.
Texture / Consistency / Thickness / Viscosity:

This has a very creamy texture. It feels soft and smooth when it goes on, and doesn't wash away overly fast if you're trying to shave in the shower. The pump bottle works well -- putting out just enough cream without wasting it.

It seems slightly thicker than regular shaving creams in term of shaving it off, but that may be the same reason that it feels somehow like it's protecting my skin from the actual razor.

Ingredients:

Water (Eau), Mineral Oil (Huile Minerale), Glycerin, Stearic Acid, Glycol Stearate, Triethanolamine, Cetyl Alcohol, Petrolatum, Glucono Delta Lactone, Sodium Benzoate, Dimethicone, Glyceryl Stearate, Titanium Dioxide (CI77891), Magnesium Aluminum Silicate, Carbomer, Fragrance (Parfum), Disodium EDTA, Butyrospermum Parkii (Shea Butter(, Avena Sativa (Oat) Kernel Extract, Aloe Barbadensis Leaf Extract, Ascorbyl Palmitate, Tocopheryl Acetate, Propylene Glycol, Hexyl Cinnamal, Linalool, Butylphenyl Methylpropional

Taste / Aroma:

The scent is pomegranate and, as I mentioned, it's very strong. It isn't bad, but it's super fruity, and it definitely lingers for a while. I usually wear a lotion that smells sort of like cocoa and the combination of the two was overwhelming, so that's something to think about if you typically wear a lot of scents.

Performance:

This turned out to be a great shaving cream. Here's why:

1. It doesn't seem to leave my legs dry and itchy. Which is unusual and kind of awesome.
2. My legs feel 'protected' by the light coating of cream while I'm shaving, which isn't true of regular shaving cream for me (they tend to feel watery and/or wash off too easily).
3. I asked my partner to give a feel and smell test and he was a definite thumb-ups on both counts.

The one thing I'm not sure of is how much this will end up costing. Because I have only used it a dozen times or so, it's hard to know how many shaves I'll get out of the bottle. For eight bucks a pop, it could turn out to be fairly pricey, but at this point it's hard to tell.

Packaging:

The packaging for this might be one of my favorite elements.

Here's why:

1. The bottle is recyclable. Oh my god, yes. I've been waiting for that kind of thing forever.
2. The bottle is mid-sized between overly large and overly small. It's also very lightweight and comes with a lid that stays tight. This makes it PERFECT for traveling. (Except, perhaps, for the scent, if you're going to use it and then get onto something like an airplane right away).
3. The bottle is really easy to hold -- I think it's a combination of the little finger grooves plus the fact that the material is kind of textured. I haven't dropped it on my foot yet.

Volume:

7 fl.oz.

Weight:

0.75 lb

Other

Safety features:

No Phthalates / No Sulfates / No Triclosan / Parabens free