OhMiBod Bedroom Kandi hold on to me - Vaginal balls from OhMiBod

Bedroom Kandi hold on to me videos
Product Details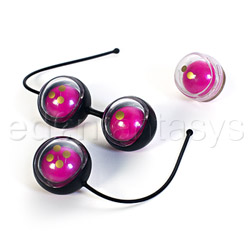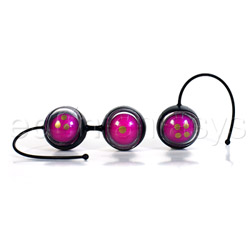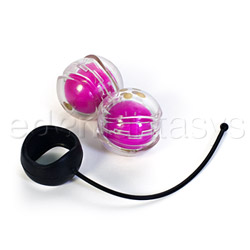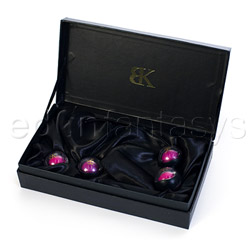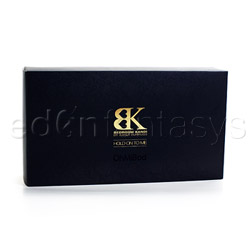 Summary:
Ever wanted to exercise your vagina, especially on the go or in the comfort of your bedroom? The Bedroom Kandi "Hold On To Meet" set is designed for just that: to perform kegel exercises to strengthen the PC muscle, improve the hold on your partner during intercourse, and much more! It should be an essential tool to have in your sex toy collection, for pleasure as well as for your health.
Pros:
Well-designed, great benefits, varied weights.
Cons:
Seam on the sphere holder, the string could be a bit tougher, stronger, and longer.
Best use:
Some may wonder what all the fuss is about with kegel exercises. Some may have never even thought of doing them at all. Why should we be doing them? When we think of exercising, we may not think about exercising with and for our vagina. Truth be told, the vagina needs some work out loving too, and for good reasons:

- It strengthens the "PC" (or Pubococcygeus) muscle which stretches from the inside of the vagina to the spinal cord. This PC muscle is what keeps everything in check: our urinary tract, bladder, uterus, and other internal organs. This muscle also assists in controlling the opening and closing of the urethra.

- It improves the grip on your partner during intercourse

- It results in stronger, more intense G-spot orgasms (if that's not a good enough reason to do frequent kegel exercises, I don't know what is!)

- It increases bladder control and vaginal lubrication

- It aids in pregnancy preparation, childbirth, and recovery (especially beneficial for those sexy mommies-to-be out there)

So look at the Bedroom Kandi as work out weights for the vaginal muscles. It's not so much a toy as it is a tool that can and should be a regular part of your pussy-care routine, best suited to utilize while sitting down be it in your car, on the train or bus, or in the comfort of your bedroom. Use it on your way to work, during work, any place where you have the time to sit and work out. Be aware that this is not an ANAL WORK OUT TOY. As tempting as it may be, do NOT use it for anal pleasure.
Material / Texture:

The Kegel Spheres are made out of plastic, held in holders made in silicone. The holders have a rubbery feel to them, but the spheres are made out of hard plastic with fuchsia weights inside them. It's entirely firm, which is perfectly suitable for ensuring that you are getting the most out of your kegel exercises. The texture of the spheres is very smooth. The silicone holders do have a seam in them though, which truthfully, can feel intrusive and uncomfortable, but with plenty of lubricant you can hardly notice it internally.

Material:

Plastic

/

Silicone

Material safety

Texture:

Smooth

Safety features:

Food-grade material / Hypo-allergenic / Latex free / Non-porous / Phthalates free

Design / Shape / Size:

These vaginal workout weights are designed as like what you would do if you were working out with dumbbells: you start from the smallest weight first and then work and build your way up to the maximum weight as your muscles grow stronger. The weights are marked by the number of "dots" on the kegel sphere. 1 dot = 25g. 2 dots= 30 g. 3 dots = 35g. 4 dots =40g. You can mix the weights to achieve an even greater total weight. For example, using the 2 sphere holder with the 3-dot kegel sphere and the 4-dot kegel sphere will equal 75g. You can change the weights on the sphere holders easily by swapping the weights out while they are dry and non-lubricated.

The wonderful thing about the Bedroom Kandi is that it is one of those very few sex toys that you don't have to feel shy or embarrassed for when/if somebody finds that you have them. They can even be a great conversation starter with your girlfriends. It's not a toy that is designed to get you off (though it certainly can), it's a toy that's for your vaginal health (so don't be shy to show them off if need be!). The design is basically that of round balls attached to silicone holders, looking very similar to anal beads. The string attached to the holders is meant to make pulling the spheres out of the vagina much easier and stress-free. The size is so small that you could fit each sphere in your pocket; all of them could easily fit in the palms of your hands. The balls are no more than 1 1/2 inches and 30mm, so they shouldn't feel overwhelming or underwhelming to anyone. For your privacy, the Bedroom Kandi can be stored in a box with satin lining inside, so it can make every kegel exercise routine feel more like a luxury than a chore.

Color:

Black / Fuchsia

Length:

6 1/4"

Insertable length:

2 3/4"

Circumference:

3 3/4"

Diameter:

1 1/8"

Weight:

0.75 lb

Performance:

Just like any type of exercise, especially if you are a novice or beginner, it takes some work and practice to master kegel exercising and to try and fit it into your lifestyle. Don't fret, it may be difficult to get used to at first, but with all the benefits that kegel exercises do for you, it's well worth the effort. Let the benefits be a motivator and use them to your advantage.

The first time you use the Kandi, use just one sphere, preferably the 1 dot/25g sphere. While sitting, tightly squeeze your pelvic floor muscles. Relax, and continue repeating the squeezing motion to get acquainted with your pelvic muscles. If you have difficulty trying to be at one with your pelvic muscles, don't be afraid to lie on your back or on your side just to get a feel of the sensation of lifting and squeezing. Remember, each body is different, so don't be overwhelmed in thinking you aren't "doing it right." Once you've found that sensation of squeezing and lifting (a similar sensation to when you stop yourself from peeing), try keeping your pelvic muscles tense for 5 seconds (it can be harder than it sounds!). Relax for 5 seconds, then repeat. Don't be discouraged if you can't handle holding it for 5 seconds. That's the goal, it may take time to achieve that, or it may not. Part of the fun is knowing what your body is capable of handling from the start!

As you find that your pelvic muscles are getting stronger and are more accustomed to doing more repetitions, change the weight to a higher level, and hold it for 10 SECONDS, following with a 10 second relaxation. The doctor recommended routine is try for at least 3 sets of 10 repetitions, and try increasing to a maximum of 15 reps. Keep in mind that is the RECOMMENDED route. There's no pressure to have to meet those standards. Work out at your own pace and gradually graduate to the next weight level, when you feel you are comfortable enough to take on more of a challenge.

This set performs just as it was designed to. It's comfortable to wear anywhere, when sitting there is no discomfort or awkwardness, and with regular use you will definitely feel results (and so will your partner!).

Care and Maintenance:

Clean after every use with mild soap and water. Dry thoroughly. Only use water based lubricants. Use the spheres with silicone holders (don't ever use the spheres sans sphere holder, they could get stuck up there!). Stop using if you feel any pain or discomfort. Store in the silicone lining storage box (included, of course!).

Care and cleaning:

Soap and water