Sportsheets Beginner's dominatrix kit - BDSM kit from Sportsheets

Product Details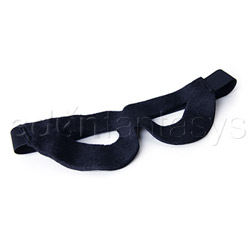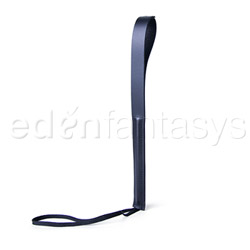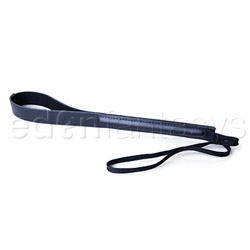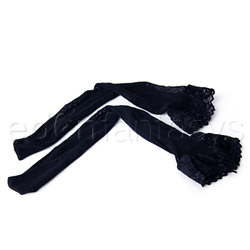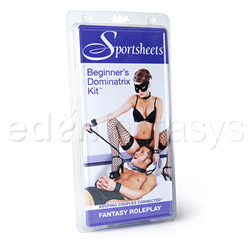 Summary:
Are you looking for a quaint little kit to begin your exploration into the wonderful world of dominance and submission? The Beginner's Dominatrix Kit might be the gentle start you are looking for. The kit contains a soft mask, sexy thigh high fishnet stockings and a cute little crop with more bark than bite. Perfect for a sexy anniversary or an erotic birthday gift!
Pros:
Well constructed and sturdy pieces, fun idea, great little crop.
Cons:
Stockings might bind and pinch.
Best use:
The Beginners Bondage Dominatrix Kit is a great little introduction to the world of S&M play as well as costume play. It is great for those couples looking to spice up their alone time in a pseudo-serious way. Nothing in this kit is scary or over the top, it's just sort of cute. This kit would be amazing as an anniversary present or even an erotic birthday ensemble!
Design / Craftsmanship / Material / Size / Fit:

The Beginner's Dominatrix Kit is well made and built to last through quite a few uses. While I had to giggle at Sportsheets' take on what a Domme looks like, I did admit it is a cute kit for what it's worth.

The mask is made from a very soft material that feels pleasant on the skin of the face. Unlike some masks made of leather or other harsher materials it won't cause you to sweat or feel uncomfortable unless you have a larger sized head. The elastic is firm and rests on the brow line, so if you dislike tight masks this might be a bit of a bother until it stretches out a bit. The eye holes are cut large enough that almost anyone will be able to see clearly out of them. The nose area is cut both wide enough and deep enough to rest comfortably on the bridge of the nose. The edges of the mask are unstitched but have a finished feel to them: they are unlikely to ravel or come apart in the future.

The elastic band is firm and wide for a more comfortable and tighter fit than most blindfolds but it might be a bit tight for some users - this is definitely made for a woman or a very small man. It is firmly attached at the temples of the eye mask just before the up-tilted point of the eyes with a row of stitching. The edges are finished and there are no dangling strings to catch and ravel later.

The stockings are meant to be worn as thigh-highs and are made of soft nylon in a fishnet style. They do not come with a garter nor do they have a garter gusset for adding your own. The top is a 2 inch strip of lace after a tight elastic gather. They are even and should last through a few wearings and washings with care. They will fit an average user with average thickness to their thighs.

The crop is a simple loop of leather attached to a handle that is reinforced with a wooden dowel. The strips of leather are evenly stitched around the dowel and the nylon wrist strap is firmly stitched to the end of the crop. The crop is pleasing to look at and surprisingly well made. The loop is where the two strips of leather meet and are stitched firmly together. The stitching is even and there are no raw edges left to possibly ravel later. The crop smells lightly of leather, which is a nice touch in my book.

Material:

Fishnet

/

Nylon

Color:

Black

Weight:

4 oz

Performance:

The mask was a bit tight on my head but I am very sensitive around my brow line. My friend who's head is similar sized to mine said it fit comfortably and she appreciated the way it didn't slide around. The eye holes were wide enough to be able to see through them easily and they were wide enough that I could blink easily without catching my longer than average eyelashes. The mask looked better if I put my hair up first and did change the look of my face, highlighting my eyes nicely.

The stockings fit my legs great on the lower leg but were a bit too tight for comfort on my upper thighs. Now my upper thighs measure approximately 21.5 inches around where the stockings should sit. The lace and elastic wanted to roll up on me and they pinched. They did manage to stay up and in place after some fiddling with them but I doubt a fuller figured woman would be comfortable in them at all. You could wear them lower on the leg to avoid this problem. I have a very short leg, I only measure 5 foot barely, so the fishnets were more opaque and less open. On a taller woman the stockings should stretch and look equally amazing. The stockings included in my kit had a smaller weave than the ones pictured on the inset. The package does warn that the stockings might vary from kit to kit. They looked amazing with high heel pumps (fuck me heels) or a low bootie type heel. They cold easily be worn with a skirt for a flirty night out before the evening's entertainment.

The crop is fairly small measuring in at approximately 10 inches from loop to end of handle. It's cute! The wrist strap measures approximately 7 inches from the end of the crop handle where it is sewn in to the loop at the end. This makes it perfect for hanging on a belt at a play party. It fits my smaller hand nicely and feels balanced in use. It can deliver quite a nice little sting with an amazing sounding slap. In some ways the sound is worse with this little crop than the actual strike, making it perfect for the scared novice. It doesn't offer much in terms of a thump, it's mostly a stingy type crop. It can leave really lovely marks and welts in the right hands.

Care and Maintenance:

The stockings should be hand washed and allowed to drip dry. The material the stockings are made of snags easily but with some gentle care these can last through a few cleanings. A lingerie bag and gentle cycle in the washing machine could also work for cleaning but I have found it is best to allow them to air dry rather than trying to use a dryer.

The mask can be gently hand washed with a mild detergent and allowed to drip dry as well to preserve the soft velour finish and not overly twist and stretch the elastic band.

While it is doubtful this crop could break the skin and require cleaning, it can be rubbed clean with some saddle soap if the user believes it needs it.

I store the stockings in my lingerie drawer rolled up carefully to prevent snagging or pulling. They could also be stored in the closet if you have a lingerie hanger.

The mask I store with my blindfolds in my bedside table though you could easily place it in your lingerie drawer or even under your pillow!

The crop has a lovely nylon wrist strap that is perfect for storing hung up in the closet, on a bedpost, or in a specially made case for whipping implements. It could just as easily be tossed in a bedside table or lingerie drawer. Be sure to keep it out of direct sunlight as this can bleach the leather or cause it to crack and peel.

Packaging:

This three piece set is packaged in a medium eight plastic clam shell with a paper insert showing a woman wearing the mask, stockings and holding the crop. Also pictured is a man in a collar and leash with cuffs on his wrists possibly leading the buyer to assume that more than a mask, stockings and crop are included in the kit. Either way it is certainly not discreet packaging, though it is still rather tame.

The packaging could be used to store the kit and the insert can be recycled if the user needs a bit more discretion.

Personal comments:

I knew the stockings were probably going to be the difficult part of this kit as I rarely wear them and usually find them to be tight and uncomfortable. I did find these uncomfortable and they did want to roll up on me. Still when all is said and sifted, they DID stay up during use and I loved the way they felt on my lower leg. They looked different and arousing so it was a good experiment.

The mask highlighted the intensity of my eyes according to Arch. I thought it looked rather silly but it was fun. It was comfortable for sort term use but I am very sensitive to tight bands around my forehead so after a while I had to take it off.

I LOVE the crop though. It smells fantastic and sounds horrifying when in use! It really sounds frightening but the sting is pretty moderate for the most part. It can be wielded by a totally wicked person and leave some pretty intense welts but it's built for the more moderate user. It looks amazing attached to a belt by the handle.

I wasn't quite sure what I was getting myself into when I accepted this assignment but I quite liked this little kit despite the problems with the stockings. I think it might be just what a couple might be looking for when they begin their journey into the world of bondage and discipline.

Other

Texture:

Smooth

Kit includes:

Fishnet Stockings, Mini Crop, Eye Mask