Sportsheets Bitch impressions paddle - Paddle from Sportsheets

Product Details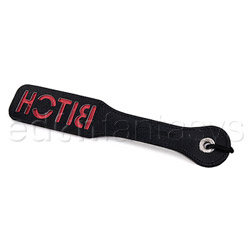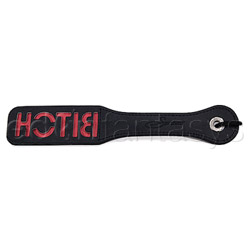 Summary:
This is an absolute dream of a paddle that doubles as a slapper. I would recommend this to anyone looking for a good impressions paddle in a heartbeat. The marks on your sub's buttocks will definitely make you smile once you see them and you will NOT be disappointed with this product at all.
Pros:
Can be used with beginners to advanced users, sturdy, lightweight
Best use:
The bitch impressions paddle is meant to leave impressions on your partners behind when put to use. Many find a derogatory word imprinted on their lover's body a very stimulating and pleasing sight and this paddle sure delivers in that department. The paddle left marks on my lover's buttocks within a few swift hits. I am inmensely pleased with my choice to try out this paddle. It also delivers a fierce blow that will have your sub whimpering in a few seconds. The paddle also doubles as a slapper which is an added bonus.
Design / Craftsmanship / Size / Material / Features:

I was very happy with the craftsmanship of this particular paddle. I will definitely be purchasing the rest of the impressions paddles by this brand simply because of my experience with this product. When I took my paddle out of the EF box, I was very excited. I have other impressions paddles that aren't made by this brand and they've served me fairly well but not quite how I wanted, so I had very high hopes for this one and I wasn't let down. When I removed it from the box, I was initially puzzled due to the fact that I hadn't been aware that the paddle was actually a slapper as well. It's basically two pieces of leather with a red piece of paper in the middle to highlight the 'BITCH' markings which are cut into the leather. The paddle itself is very sturdy, well made, and surprisingly lightweight for how durable it is.


Material:

Leather

Material safety

Color:

Black

Length:

12"

Width:

2 1/2"

Weight:

0.4 lb

Performance:

The paddle worked surprisingly well for how lightweight it is. It's very sturdy and had my sub whimpering and imprinted within less than a minute of some hard testing. I bought this paddle with very high expectations and it actually blew me out of the water as it went BEYOND my expectations. The paddle doubles as a slapper and makes an extra added noise when used. I find it to be a wonderful tool for intimidation in a submissive. Slap it in the air and scare your submissive into thinking he/she is about to get punished. I'm absolutely thrilled and in love with this paddle. GREAT investment and recommended to anyone-beginners, intermediate and advanced users.

Care and Maintenance:

As with most paddles, maintenance of the product isn't really required unless your sub is oiled up beforehand or in some way sticky. I usually just put my paddle away after use without otherwise washing or doing any maintenance on it. If it does happen to get dirty, a damp washcloth with water would be advised.

Packaging:

The paddle did not come with any packaging. It came in the EF box that was mailed to me. The only 'packaging' of any sort was a small tag that was attached to the cord hanging from the handle of the paddle. There were no instructions on the tag that I saw.

Other

Safety features:

Phthalates free