Doc Johnson Black Rose four way foreplay - Restraints from Doc Johnson

Product Details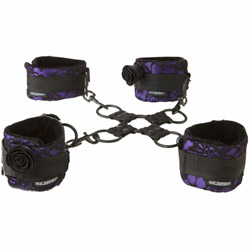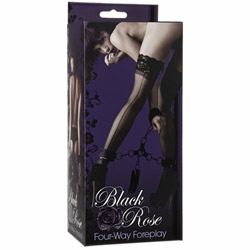 Summary:
The Black Rose bondage set is easy to put on. It's very sturdy, so you can't pull your ankles or wrists out of it. The only way to get out is by taking off the Velcro. The cuffs and anklets detach to use on their own. The anklets and cuffs are padded and very comfortable.
Pros:
Easy to put on, hard to struggle out of, fits a variety of sizes, comfortable, padded.
Cons:
Some people might not like the design of the material.
Best use:
Black Rose is a basic bondage set made by Doc Johnson. There are detachable padded anklets and cuffs. You can wear them as a set, with your hands and feet behind you, sitting on your knees or lying on your stomach (hogtied, basically). You can also wear them with your hands in front and bent over. The cuffs and anklets are not metal (just padded material with Velcro). If you're wanting all metal cuffs or anklets, then you will have to find a different bondage set. I think since there is comfy padding to this set, it would be great for any woman that's curious about bondage. I think it would be good for an advanced user, because you won't be going anywhere unless you or your partner removes the Velcro strap.
Since you can separate the cuffs and the anklets from the metal chain connecting them, you can vary what you are doing by just having the anklets only or cuffs only. When you separate the cuffs or anklets, you can remove the metal chain too, and just clip the cuff or anklet to the metal circlet of the other - the chain won't be in the way. There are a lot of different positions to get into once you have these on, but that's up to you and your partner. Just remember the metal chain the cuffs and anklets are connected to is short!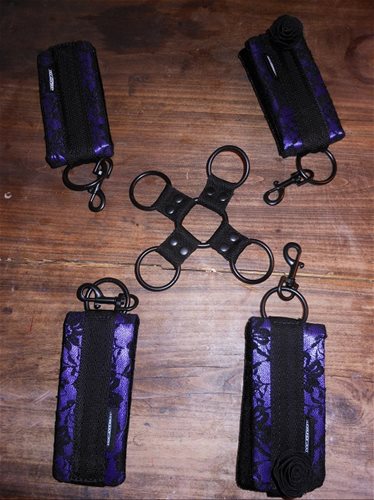 Design / Craftsmanship / Material / Size / Fit:

I like this set because I can pull at the restraints, and I'm not going anywhere. That being said, all I have to do is pull at the Velcro strap and they come off (unless my hands are restrained behind me). The padding is really nice, and I feel very comfortable, even though I'm basically tied up. I think this set will last a long time, because it's pretty sturdy. Material wise, it's purple silk with a black lace overlay. Be careful with the Velcro, because I snagged the lace on it a few times. That's only a worry when you or your partner is initially putting it on, though.

The inside of the cuffs and anklets are lined with a soft, velvet type material. There's no real smell to the material aside from a new material smell. My wrists are 6 inches around, and my ankles are almost 9 inches around. On my wrists, the Velcro had to be pulled tight to keep my wrists from slipping out because of their size (I have small to average wrists). After that, my wrists never slid out no matter how hard I pulled, so don't worry about your wrists being too small for this set - the Velcro can fit many different wrist sizes. This set only comes in one size fits most, and I think it will fit most sizes because of how long the Velcro is. Special feature-wise, this set is detachable. The cuffs and anklets come off to be used on their own. The padded part of the cuffs or anklets is ten inches.


Material:

Lace

/

Metal

/

Silk

Material safety

Color:

Black / Purple

Length:

11"

Closure:

Velcro

Weight:

1 lb

Performance:

I really like this set - it's very comfortable and secure. You can feel comfy and cuffed up, so that's just awesome. You can yank on the chains, and they won't break because they're metal. The only way to get out is to undo the Velcro, which is super simple. I think this would be a fun, sexy set for any woman, or anyone who wants to be chained up with purple material, black lace, and a lovely black rose motif. I also love that the set is detachable! There was no chaffing on my wrists or ankles. If I had the set on where my hands were set in front, I could put it on myself. However, with my hands and ankles behind me, I needed some help. It's a fun, sturdy, simple set!

Care and Maintenance:

If you want to wash the cuffs or anklets, I would hand wash them, because the material will snag and there are metal wrings on the cuffs and anklets, even if you separate them from the chain. Storage-wise, I keep mine in the box they came in and hide it. The box has some racy images that you don't want someone happening on.

Packaging:

This set came in a purple box, with a lady bent over wearing the product. There were no directions with this set at all: just a description of what it was, and a picture of the woman wearing it in two different positions.



Other

Size:

One size fits most

Safety features:

Food-grade material / Latex free / Non-porous / Phthalates free