Doc Johnson Black Rose sultry spanker - Paddle from Doc Johnson

Product Details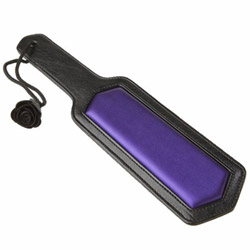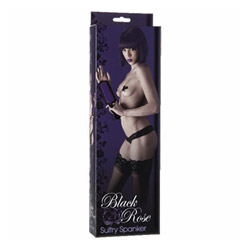 Summary:
The Black Rose Sultry Spanker really is a great beginner toy. It's beautiful to look at and would work well with different role play. The problem I have though is that it doesn't actually hurt, not even a little, so to me it isn't worth the price.
Pros:
Looks nice, great for beginners
Cons:
Doesn't sting, expensive,
Best use:
This Black rose sultry spanker is perfect for beginner BDSM play. Along with nipple clamps and blindfolds, spankers like these are great for starting out in BDSM. However, they can be used outside of the common BDSM play. In role play though, the person using the spanker is normally the dominant one, while the one being spanked is normally the submissive one.

The Black Rose Sultry Spanker is for beginners. Although it is made out of similar materials to more advanced or hardcore BDSM, it doesn't deliver quite the punch of those spankers. With the rose detail, pretty colors combination and cushioned front, it's more for looks.
Design / Craftsmanship / Size / Material / Features:

I consider the Black Rose Sultry Spanker to be fairly well-made. Its 100% vegan, being made out of pleather which takes on wear and tear well. I think even with rough use, it will last a long time. The only problem I did have with it being made of pleather is the terrible smell it had when I first removed it from the box; this dissipated within a few hours though.

The design of the spanker is beautiful. The purple and black color combination is great to look at and the rose detail on the bottom is a nice detail. The cushioned middle is a nice addition, as well, especially since this is more of a light BDSM piece. I wouldn't say that the Black Rose Sultry Spanker is worth its current price though. I was a little disappointed with it, although I'm not sure why, because I can't think of anything that it's missing. I guess it just doesn't have that special something.


\



Material:

Leather

Material safety

Color:

Black / Purple

Length:

13"

Width:

3 1/2"

Weight:

1.5 oz

Performance:

Even though I really like the padded middle on the Black Rose Sultry Spanker, the whole thing is just too soft for me. I can't hit hard at all with it, because even the handle is made out of the same pleather material and it's in a rectangle shape. I think if it were a round handle, then this would be great. For a beginner though, I think this might be just what to get for that exact reason. It's a good toy to use when you want to work up to something a little more extreme. It doesn't leave any marks, welts or even a stinging sensation.

Other

Special Features:

Safety features:

Phthalates free