Bijoux Indiscrets Blind passion mask - Blindfold from Bijoux Indiscrets

Product Details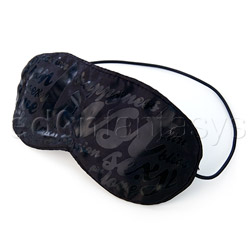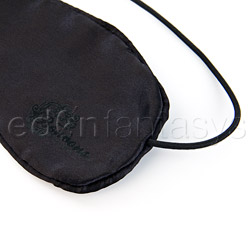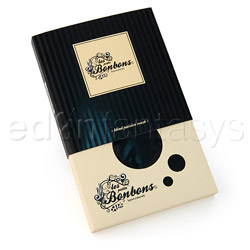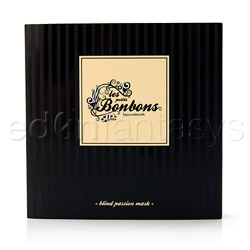 Summary:
The Blind Passion Mask is a stylish black blindfold from the Les Petits Bonbons line by Bijoux Indiscrets. The elastic strap should fit average to larger heads, but if your head is less than 20 inches in circumference, the blindfold may be too loose for you. The interior of the blindfold is satiny and comfortable, while the external face is decorated with inspiring words such as "bliss" and "fantasy". While the blindfold fails to block out all light, it is functional in that it impedes vision.
Pros:
Sturdy construction, soft and comfortable
Cons:
Does not block out all light, may be too loose for some
Best use:
The Blind Passion Mask is a device you strap onto your face to block out your vision. This enables your partner to do all sorts of wicked and not-so-wicked things to you while you are unable to see them. This particular blindfold by Bijoux Indiscrets is very soft and comfortable while fitting well and blocking out most (but not all) light. This makes it a good blindfold for couples venturing into light bondage. It can even double as a sleep mask, if need be. Couples looking for high quality blindfolds which block out all light and have a sturdier fit, however, may find their ideal blindfold elsewhere.
Design / Craftsmanship / Material / Size / Fit:

The blindfold is pure black and constructed from 100% polyester. The elastic band which holds it in position on your head is thin and rope-like, kind of like a really long hair tie. This band is quite stretchy, and will accommodate average to larger heads. Heads with circumferences less than 20 inches, however, may be disappointed with this blindfold. So, please, if you suspect that your head is too small, please measure your noggin before buying.

The blindfold itself has two sides: the interior, which is in contact with your face when it is worn, and the exterior, which is what your lover sees when he or she is teasing/torturing you. The interior is soft and satiny, with a "Bonbons" logo emblazoned on the lower right hand side. It feels pleasant against even the sensitive skin of the eyelids. The exterior is a bit more flashy. Glossy words like "lust", "happyness" (yes, spelled with a 'y'), and "fun" are scrawled in cursive over the same satiny material as the interior. The words have a different texture(less soft and more stiff and smooth) as if they were heat transferred, which may well be the case. Fairly decent stitching holds the whole blindfold together.

Technically, this blindfold can be worn reversed, but the external side is less comfortable against your eyes than the interior. When worn, the blindfold covers most of the top half of the face, from midway down the forehead to the bottom of the cheekbones. It wraps gently around the face without applying too much pressure to the sides of the eyes, which can be uncomfortable.

The blindfold doesn't smell like much out of the package, just plain old polyester. If you press your nose right up against it and take a huge whiff, though, you may be treated to some less-than-pleasant fumes. The lesson here is "Don't sniff your blindfold like you're searching for drugs". You won't like it.

Material:

Polyester

Color:

Black

Length:

7"

Width:

3"

Weight:

0.1 lb

Performance:

Once on, the blindfold blocked out nearly all of my vision. I could, however, see light coming in from tiny gaps next to my nose. No matter how I adjusted the blindfold, a tiny sliver of light continued to intrude upon my darkness. I was still unable to visually perceive my surroundings and what my partner was doing, so the blindfold is still considered successful.

I was able to wear the blindfold for long periods of time without feeling discomfort. With other blindfolds, I have felt unwanted pressure on my eyes or temples. This was not a problem with the Blind Passion Mask. Be aware, however, that taking off any blindfold after a significant amount of time spent wearing it will result in temporary pain/discomfort if you are doing so in a well-lit area. Don't freak out; let your eyes adjust. This just means that your blindfold works.

Packaging:

The Blind Passion Mask comes neatly folded in a square, yellow box with circular cutouts through which the satiny material of the blindfold may be felt. The box is further outfitted in a pinstriped sheath which displays the name of the product line, company, and product. The back of the petite package briefly describes the contents in ten different languages. The English equivalent is "Satin eyemask".

Thus packaged, I believe the Blind Passion Mask is well-dressed to be given as a gift, either to a friend, lover, or yourself.

Other