Aslan Leather Blue jaguar wrist cuffs - Wrist cuffs from Aslan Leather

Blue jaguar wrist cuffs videos
Product Details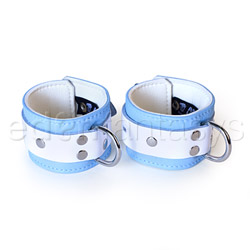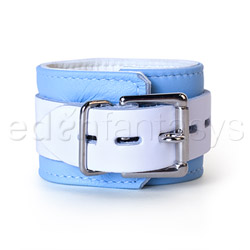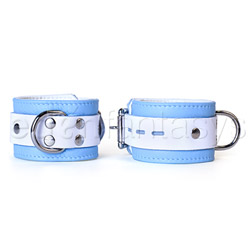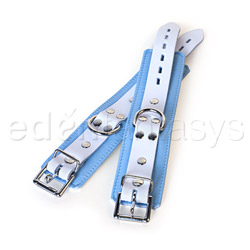 Summary:
If you're looking for a pair of stylish cuffs -- perhaps to match your own baby blues -- look no further than the Jaguar wrist cuffs from Aslan leather. They're ideal for leathers lovers as well as anyone who wants a secure and versatile cuff set. If you prefer flexibility, softness or the ability to quickly put on or remove your cuffs (with a single hand), then you might want to look for a less serious pair of cuffs.
Pros:
Leather, plush, adjustable, securely made, attractive.
Cons:
Not as flexible as some cuffs, a little high maintenance, lining could be a bit softer.
Best use:
Whether you and your partner are just venturing into BDSM or you need some high quality gear to stuff your BDSM box, you can't go wrong with the Jaguar wrist cuffs. The easy-to-use design of the Jaguar cuffs make them ideal for beginners but the ability to lock them and their sturdy constructions are equally suitable for the pros.
Design / Craftsmanship / Material / Size / Fit:

The Jaguar cuffs are not your bargain value leather cuffs. They come in a plush leather. The blue pair features a light blue leather for the cuff itself and a white strap. There is an extra layer of white beneath the blue that makes it feel more luxurious than your basic cuffs. The layers are stitched together quite well. The white strap is attached by multiple rivets that also lend an industrial feel to the Jaguar cuffs. The strap features metal fasteners and a single D-ring and there are 6 holes for fastening around your wrist. The holes are punched so that the top edges are finished.

The back of the strap is unfinished, with a feel like suede. However, you probably won't feel that in use. The part of the cuff that touches your skin is a finished white leather and, on the inside of the cuff, Aslan has attached a tag with their logo and website on it. It's a fabric tag that you could cut off but that I can't imagine getting in the way.

Unlike some faux-leather cuffs, these have the delicious leather scent that some people love.

The cuffs measure 8 3/4" long while the strap extends another 2 1/2" from the end of the cuff. This makes them ideal for use on the wrist and smaller ankles but you'll probably want to purchase a dedicated set of Jaguar ankle cuffs to complete the set. The cuffs are exactly 2" wide.

Material:

Leather

Material safety

Color:

Blue / White

Length:

12"

Width:

2"

Closure:

Buckle

Hook style:

O-ring

Weight:

0.3 lb

Performance:

Because of the layers of leather, these cuffs do feel a bit stiff and you may want to work the leather with your hands a bit. I'll be honest, the inside of the cuffs aren't as soft as I'm used to. This may be a drawback for some consumers. The leather will become more supple over time but this can make it a bit difficult to use the first few times, especially if you're trying to buckle them with a single hand. This isn't the super soft leather of a leather coat. They're definitely not as pliable as neoprene cuffs with Velcro closures, for example. The width also restricts movement of the wrist so they're not practical to wear as bracelets, really. The Jaguar cuffs do feel bulkier than many styles I have tried so I prefer to use them a little loosely for comfort and you may, too.

However, once on, the leather sits comfortably and the cuffs are quite secure. There is no worry that anything will rip or break or do anything but stay in place. While the buckle is secure, it also uses the locking style so you can slip a small lock through the loop at the end of prong to prevent it from slipping back through the hole in the strap. This is unlikely but I find that lockable cuffs also add a mental element.

The D-ring on each cuff also adds function. It's just under 1" tall and over 1" wide so you can connect the cuffs to your favorite restraints or, if you like, connect the cuffs together with the hardware of your choice. The ring is not so small that you should have to worry about finding tiny hardware.

Care and Maintenance:

Leather requires a little more maintenance than some materials. The tag on the cuffs instructs to wipe with a bit of dish soap and water or leather cleaner. You should completely dry your Aslan leather products before storing in a cool, dry place and never hang dry. You can apply clear nail polish to metal rivets to keep them looking shiny and new. Treat your leather with a leather conditioner if it begins to look dry.

Packaging:

These cuffs came with no packaging at all. Each end was buckled to the other, so that they created a loop. There is a small paperboard tag on one cuff with instructions.

Other

Size:

One size fits most

Lining:

Leather

Texture:

Smooth

Circumference:

8"

Fits up to:

8"

Safety features:

Phthalates free