Sportsheets Blush blindfold - Blindfold from Sportsheets

Product Details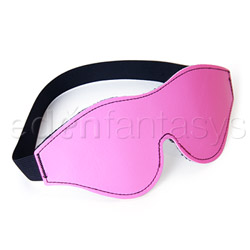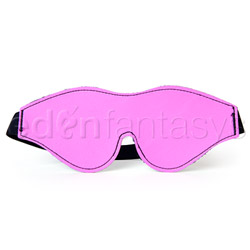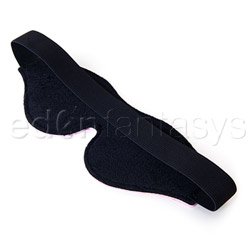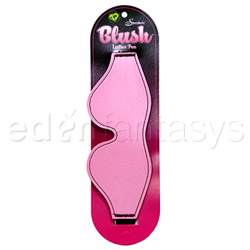 Summary:
If you are looking for a simple but effective mask that is comfortable to wear and will block out all light, the Blush mask by Sportsheets is ideal. It also comes with many matching accessories to further add the BDSM scene.
Pros:
Water-resistant, fits most, has many matching accessories, comfortable.
Cons:
Stitching not perfect, not suitable for sleeping in.
Best use:
The Blush Blindfold by Sportsheets is perfect for sensory deprivation, light bondage, or just to spice things up by trying something new. The elastic strap will fit most, and the sizing of the mask is pretty universal. However, due to the large amount of pink that this mask is made from, not all men will enjoy wearing it. And while it is very comfortable for the duration of most playtime (an hour give or take), it may be too hot and/or thick for sleeping in.
Design / Craftsmanship / Material / Size / Fit:



The front of the mask is medium-pink faux-leather, with a black elastic band and black stitching. The stitching also goes completely around the mask and adds not only to the durability but also to the overall look. Unfortunately, the stitching on my mask was not completely even, which may be somewhat distracting if you are the type to notice these types of things.



The elastic is attached on the inside of the mask with tight zigzag stitching that holds the elastic firmly in place. However, it may irritate sensitive skin, as the elastic is not placed in between the two types of material.

The faux-leather is soft, matte, and is textured just enough to resemble real leather. Not quite pliable enough to feel authentic; it feels somewhat like a soft plastic. The reverse side (the side that goes against your face) is a velvety-soft fleece type material in black. It feels very different from the front of the mask and makes it soft and comfortable to wear.



Because it is faux-leather, it is not made from animals. It is actually synthetic fibers derived from the polyurethane group. It has no discernible smell and is phthalates-free and body-safe. Another advantage of the faux-leather is that is adds durability to the mask, making it resistant to water and decreases risk of tearing. With proper care, this mask will last for many, many years.

The Blush mask will be suitable in size for most users. The elastic (combined with the mask itself) is 20 3/4" unstretched, but will fit up to 30 3/4" if fully stretched. The mask itself measures 8 3/4" long and is 3 1/2" wide around the eye and gently tapers towards the sides. Because the material is a bit more on the sturdy side it forms well to the face and is less prone to gapping than softer materials.

Material:

Faux-leather

Color:

Pink

Length:

9"

Weight:

0.2 lb

Performance:

For its intended purpose, the mask works great. The combination of materials creates a complete black-out condition. Not even a bit of light can shine through. The elastic sits naturally above the ears and the mask stays put pretty well, even over long hair.

The mask fits comfortably, but not too tightly. For those seeking a mask that can be tightened extra snug for s/m, this won't fit your needs. While the mask didn't actually seem be so heavy as to cause sweating, the material doesn't breath at all, and, if it is hot, it will trap in heat and moisture. For this reason it is not suitable as a mask for sleeping in.

Care and Maintenance:

The front of the mask is water-resistant and is usually able to be wiped clean easily with a dry cloth. The best way to wash your blindfold is by hand-washing with a cloth and cold/warm water and mild (detergent-free) soap for larger messes. Hang and allow to line dry; never place in a dryer or use heat to dry.

Packaging:

The packaging that the Blush Blindfold arrived in was simple and tasteful. The mask came attached to a cardboard backing that keeps the mask from being folded or twisted during shipping. The front of the package features the product name is playful pink while the background color scheme fades from black to deep pink… sans a naked person or suggestive word to be seen. There were no instructions included on the package at all. So, while it is tasteful, it is still not discreet. Nor could it be reused, although you can be eco-conscious and recycle with other paper products.



Personal comments:

This is the second blindfold I have reviewed from Sportsheets (Soft Blindfold). They both look similar in color and design, but this one is much higher in quality. This one I will recommend if you are looking for something that is simple and effective to add a bit of the erotic to any encounter. But its not just for beginners, the quality and effectiveness would prove it also useful for bondage experts. Well.. that, and that it comes with a whole line of matching accessories, such as a collar, leash, cuffs, and strap-on harness (just to mention a few!).

Other

Size:

One size fits most

Safety features:

Phthalates free