Sportsheets Blush collar - Collar from Sportsheets

Product Details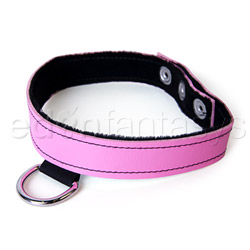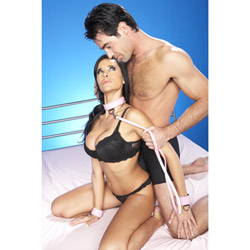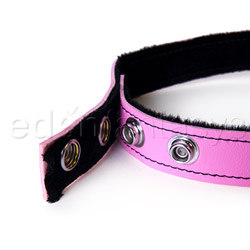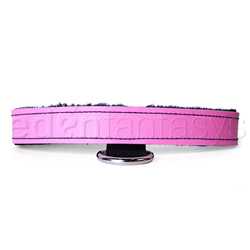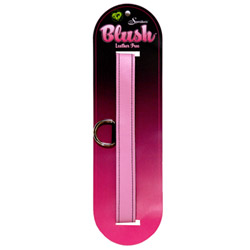 Summary:
For beginners or the more advanced, this collar can withstand light to heavy play. It can be worn by many sizes and is even able to be reversed. The D ring in the front can be left alone or used to attach a leash or a pair of cuffs to. Don't let the cheap price fool you. This collar is top notch.
Pros:
Vegan, comfortable, fits large necks/men, reversible, $, easy to put on and take off.
Best use:
A collar that's soft, comfortable, flexible, and accommodating? The Blush collar is all of the above and super affordable! This soft core BDSM accessory from Sportsheets can be paired or mixed and matched with many other new items from their line. It can also be paired with a leash of your own or worn without for looks. The soft inner lining makes it comfortable to wear for long periods of time, and the snap closure makes it speedy to put on and take off. The Blush Collar can fit a lot of different neck sizes too, so it is suitable for guys and gals. Play it up however you would like!
Design / Craftsmanship / Material / Size / Fit:

The Blush Collar is vegan friendly and made of faux leather and fur. The faux leather is a textured baby pink color that is as feminine as it gets. The color compliments any skin tone and looks great paired with black lingerie. But even if it is the only thing you are wearing, it can look really sexy. The inside of the collar is black faux fur that is very soft. It slides against the skin easily and does not irritate. The metal accents are silver in color, but it is not clear what they are actually made of. If you have an allergic reaction to nickle, take caution.

Unsnapped the collar is about 19" long and one inch wide. There are three snap closures making the smallest fit about 12" and the largest about 17". This should fit pretty much any one and be comfortable for many. If anything, this collar is sized on the larger side. The snaps fasten securely and are not too difficult to put together or pull apart. They do stay together when tugged on and stand up to a good amount of pulling.

Even though this collar has a cheap price tag, the quality at hand is very good.

Material:

Faux-leather

Color:

Pink

Length:

19"

Width:

1 1/4"

Closure:

Snaps

Weight:

1.7 oz

Performance:

The Blush collar can be worn as a simple fashion accessory if you like chokers. It can be worn to a roleplay or fetish party, or used exclusively for the bedroom. In any instance, it does not require a leash to look great. It is not bulky, so it can be worn for long periods of time. It does not chafe either. Wear it as long as you want without discomfort.

This collar provides the comfort of light BDSM gear while providing the performance of heavier gear. Although, there may be a bit of an issue if you are trying to have this fit snugly if you have an average or smaller sized neck. If tightness is what you want, this collar may be too large for you or some adjustments may need to be made. The D ring in the center front of the collar is a good size and can be used to add a leash to (not included). The D ring is securely affixed and won't come undone from the collar during play or otherwise. It is also very sturdy and won't bend with pulling or tugging.

Just be careful when you put the collar on. If you have long hair, it can get pinched in the snaps and pull during wear. It helps if you have a second pair of hands to assist you, but it is not too hard to put on by yourself.

Care and Maintenance:

To care for the materials, they can be wiped down with a damp cloth. Do not attempt to put this collar through the wash. If bodily fluids or sweat gets on the faux fur, a little bit of soap and a wet cloth can be used to rub the fur. Let it air dry. If you don't want the collar to develop a permanent bend or curve, store it flat instead of snapped together.

Packaging:

The collar comes attached to a simple cardboard piece with the name of the product and maker. It can be recycled or thrown out since it does not do much for storage.

Experience:

Being that this was my first collar, I was not sure how I would feel about using this product. My partner likes my chokers and has had me wear my thicker ones in the bedroom before, so I was excited to see how he would react to this.

When putting it on I immediately noticed that my long hair easily can get stuck in the snaps. This is only a minor annoyance. What was more annoying is that the collar fits me nicely only if I put it on the smallest fit possible. This means that only one snap is attached. This does not give the collar as secure of a fit and leaves a few inches of collar and snaps just flapping about. This looks silly and can be annoying when it hits a pony tail. Again, this aside, I found this collar to be really comfortable! It was not bulky and did not make me feel silly.

While I was not too excited about seeing my partner in a collar, a pink one for that matter, I had him try it on anyways. He was able to wear it as it comes, with all three snaps attached. That being said, this will likely be too loose for most females and still be able to be worn by many males if they so choose. This is perfect for male subs who like to be dominated. It can even be reversed if you prefer the black fuzzy side. The faux leather can stick to the skin if things get a bit steamy though.

We had fun using the collar by attaching a pair of cuffs I have to it. The cuffs I have use spring clips to attach to each other, so it was easy to just attach them to the D ring instead. While we do not have a leash to attach to this collar, we did tug on the D ring a fair amount and decided that the collar is very sturdy and holds up to play well, even if it is only fastened on one snap.

Other

Size:

One size fits most

Safety features:

Phthalates free