Sportsheets Blush tethers & leash set - Leash from Sportsheets

Blush tethers & leash set videos
Product Details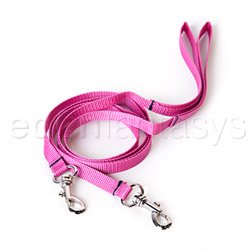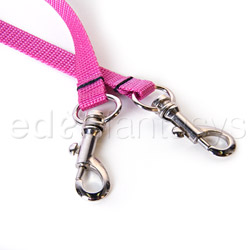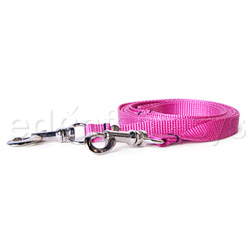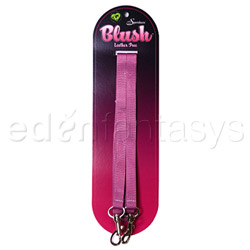 Summary:
The Blush Tethers and Leash set by Sportsheets is nothing short of a great introduction to some light to moderate BDSM play. Made of Neoprene, they are vegan, easy to care for, and will stand up to quite a bit of use. Because of their length, all you need is some inspiration and some naughty thoughts to get you going on a wild adventure full of blushing and coy smiles.
Pros:
Sturdy, well-made, multipurpose, decent length, easy to use, inexpensive, vegan, great introduction.
Cons:
Not adjustable, clasps may fail in the future.
Design / Craftsmanship / Material / Size / Fit:

Let's start with the clasp end. It's a swivel clip, kind of like what you find on a dog leash. Because this can rotate freely, the tether won't get tangly or twisty. Sometimes, the part you push down on to open the clip can wiggle, which makes it not line up with the hook. Not a major problem at the moment, but it could lead to failure down the road with some abuse. The hook itself is decent sized, and, depending on the size of the O or D ring you use on wrist restraints (or collar, or ankle restraints), it may be able to hook them together to create a handcuff effect. This works on the Blush cuffs, but only just so. Their D ring diameter is about 3/16", so, if you're wanting these for this purpose, measure your rings. Below the clasp is black stitching, which seems really strong and will hold up. A nice expanse of 26" of Neoprene comes next, then another black seam. At the opposite of the clasp is a 6.5" long loop that can accommodate even the largest hands. I can fit my foot in it (stirrup-style and all the way to the ankle) easily, as well, and I have large feet. It will fit most everyone.

The Neoprene is definitively long-lasting, and vegan to boot! It feels like it will last a long time, as long as it's not utterly abused. The Neoprene is about 1/16" thick, and half an inch wide. It's not as strong as your average dog leash, but it's strong enough.

Material:

Neoprene

Color:

Pink

Length:

38"

Width:

1/2"

Closure:

Swivel clip

Weight:

0.2 lb

Performance:

It's remarkable how many ways the Tethers and Leash set can be used with just a collar and wrist restraints. Some ideas:

- Clip both to collar, use loops around feet
- Clip both to collar, thread through wrist rings (tie in if you like!), attach to bedpost
- Attach loop to collar, clip to wrist restraints (or thread clip through restraints, loop around a bedpost, then clip to the remaining loop on the collar)
...

Honestly, there's so much creativity that's possible here. Use your imagination and try it out!

Using the Tethers and Leash set was my first foray into any sort of BDSM. I'm very pleased with this introduction, and have enjoyed it heartily. No matter what I do to the leash, like, tying it into knots, twisting it, bending it... it always bounces back. This stuff is awesome.

Neoprene is super easy to clean and store. In fact, you really don't have to clean it. If anything gets on it, a damp cloth will work just fine. Folding it up or tossing it into a drawer will work for storage, or even leaving it out on a hook or bedpost. It stays dust-free.

Personal comments:

My only complaint about the tethers is they're not easily adjustable. I wish they had a slide adjuster/tri-glide to make them so. This, however, is a very minor complaint. I would like to note that the entire Blush line is fantastic for a beginner, and that they're animal- and cruelty-free.

I now own both the collar and the wrist restraints, as a result of the tethers.