Sportsheets Blush xoxo paddle - Paddle from Sportsheets

Product Details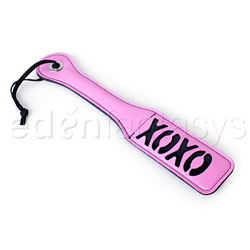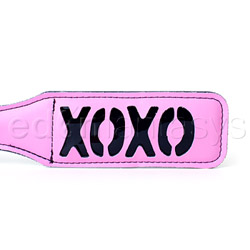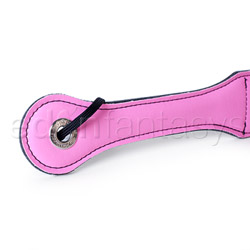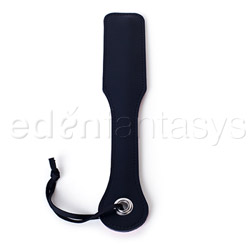 Summary:
This is a great toy for an entry level beginner, but if you're looking for something that will truly "leave a mark" then you may want to keep up your search.
Pros:
Perfect for beginners, cute, impossible to hurt anyone seriously.
Cons:
Doesn't give me enough sting, no XOXO made it a bit disappointing.
Best use:
The Blush XOXO Paddle is a spanking tool, meant as an entry toy for BDSM play. This one is definitely geared towards beginners, and those who are looking for an occasional foray into spanking, flogging and sensation play. It's perfect for those who are nervous about trying BDSM or who are trying to get their toes wet without falling into the water.
Design / Craftsmanship / Size / Material / Features:

Made of faux leather, this is one paddle that PETA won't flog YOU for having. There's another material used that I suspect as being vinyl or even plastic, but that's not listed in the description or on any of the info provided by Sportsheets (it's the black under the pink, which gives the XOXO its colour). It's vegan approved and phthalates free, so it's definitely safe for bodies. The manufacturing and craftsmanship is okay, but could definitely use some improvement. The stitches all look clean (and the black on pink is a nice look) but the letters aren't all glued together properly, so the v of each X is flapping free. In line with that, the spaces between letters aren't glued together, so they can be moved and pulled. The faux leather is nice, and feels like pleather, rather than a better imitation of real leather. The handle is very lightly padded so it's comfortable to hold.

It also feels like there's a plastic rod running from the handle all the way to the end of the paddle, providing stability. It can be bent, so it won't crack with pressure, but I wouldn't try to fold it in two.

Material:

Faux-leather

Length:

12 1/2"

Width:

2"

Weight:

0.1 lb

Performance:

I came into this toy with open expectations, and what I got was a little disappointing for that. I literally could NOT make this toy hurt with any intensity; the most it provided was a sting that lasted two or three seconds. Even more disappointing (and perhaps for the same reason) I was unable to get the XOXO impression to show up on skin. However, for use on sensitive skin (breasts, testicles, etc.) this is the perfect flogger, since you won't ever go TOO far with it, so it's not a lost cause.



Care and Maintenance:

The faux leather of this toy means it's super easy to clean; a quick wipe with soap and water will get daily residue off with ease. Toy wipes or baby wipes are also perfect for a quick clean, and will work for all but the sternest stains. You shouldn't do any deep cleaning, nor should you submerse it in water, but the low price tag means that if you spill your soda on it, you won't be bereft at having to purchase a new one.

Packaging:

This one doesn't come with any packaging, but does include a tag with the name of the paddle (Blush XOXO Paddle) and some info about the manufacturer.

This one is easy to store; since it's only 12.5" long you can stick it in a drawer with ease and forget about it. You can even put it in some knee high socks for extra protection against snoops!


Other

Texture:

Ribbed / Smooth

Circumference:

4 1/2"

Special Features:

Safety features:

Phthalates free