Doc Johnson Black rose silky surrender - Restraints from Doc Johnson

Product Details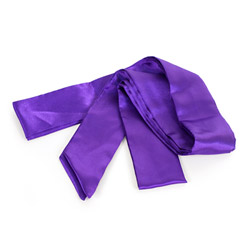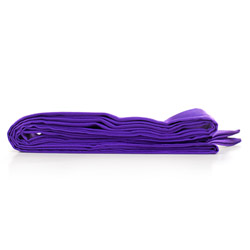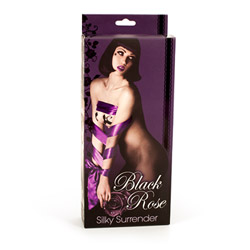 Summary:
If regular rope isn't pretty enough, Doc Johnson has a solution for you. The silk tie will work for a variety of bondage positions and ties. You won't want to cut it, it's not the most restrictive and it won't be long enough for some bondage. However, it's an attractive addition to your BDSM routine.
Pros:
Pretty, silky, long, angled edges
Cons:
Didn't come with instructional book as described, requires some planning and thoughtfulness, nonadju
Best use:
The Silky Surrender ties exist to attract your gaze. Whether you use them in light bondage or for a photo shoot, this sash has aesthetic appeal. The silk is cool to the touch and not intimidating for bondage newbies.
Design / Craftsmanship / Material / Size / Fit:

What is there to say about this piece? It's a 10-foot piece of silk. It's a single piece that is folded over, so there's a crease on one long edge and a hem on the other side. The thread matches the silk exactly. There might be a stray thread on the hem, but it is very secure otherwise.

Both sides feel silky smooth, so there's no side that should be used on the exterior or exterior. If it flips against someone's body, it's the same color and texture. The silk feels not unlike a thin tie because of the layers. It's not so thin, however, that you can see through it, which makes it useable as a blindfold as well. The material isn't as prone to scratching as you might expect.

The edges aren't cut at 90-degrees angles, rather they are angled. This makes them a little easier to slip into knots. The silk tie is just over 2" wide, which makes it ideal for ankle or wrist cuffs. You can fold it in half for thinner restraints, of course.

The color of this is a frosty purple that is a little darker than the promo pictures show. The photo below shows the cool purple against the more subdued purple of the Liberator shag Throe.



Material:

Silk

Color:

Purple

Length:

10'

Width:

2 1/4"

Weight:

0.2 lb

Performance:

If you're interested in bondage but unfamiliar with knots, you might want to Google it, if yours also does not include a book. Eden also sells a rope-tying book that you might pick up with this tie. Some review packages didn't come with the guide pamphlet. The manufacturer will send you one, if yours don't. (See personal comments for more on the book).

The box shoes a thin model's arms bound in front of her, topped with a bow. You'll get less use out of it if you're trying to bind more body parts or working with a larger body. The distance between knots is all up to you, so this piece might not be ideal for someone who would rather clip it and leave it. The ties do require a little more effort and planning to come up with a design that is pleasing and/or functional, especially to avoid the silk slipping while tying. If the price is right, you could add a second tie. However, regular rope is much cheaper and more resilient, while cuffs are simply easier to deal with.

The angled ends are easier to slip into a knot than a 90-degree angle. Because it is fabric, those knots will tighten to a certain extent. It seems like the double layers prevents it from tightening too much. You should be careful when using these in areas where tightening may cause circulation to cut off.

If you're more skilled at knots than I, then you might know one that slips easily out. However, the tightening may require a bit of fussing with the ties to remove the knots. On the bright side, this tie cuts easily with a regular pair of scissors.

Of course, the purple silk is not intimidating in the least. You can use it more for decorative bondage than restrictive bondage to become accustomed to restraint; however, a skill knotter will be able to come up with more intricate designs.

Care and Maintenance:

The manufacturer advertises this as washable but also says you shouldn't machine wash it. Because it's all fabric, you can hand wash it in your sink or a bucket and hang it to dry.

If you leave it knotted, the silk could wrinkle. Carefully fold or roll it before storing to prevent this from happening. You could potentially iron it on low heat with a towel to protect the silk. There were no permanent creases in the silk tie from the package, but it was folded very loosely.

Packaging:

This comes in a box that features a picture of a model in the ties. It's recyclable cardboard and probably a bit bulky for storage.

Personal comments:

I would have liked to experiment more with this piece, but the lack of instructional booklet was a bummer. I've been surfing the Net and there's plenty of tutorials on YouTube and BDSM websites, but this specific length of material seems a little limited. I wouldn't want to cut it, so rope would work better for fancy knotwork. It seems like this is mostly for show, and I bet that book I was supposed to get would have given me some better ideas for this specific piece.

ETA: I finally received the book and it's.. not super helpful. See for yourself:



There's only three positions, and one of them requires other pieces from this set. There's no visual step-by-step instructions, which some people need.

Other