Best use: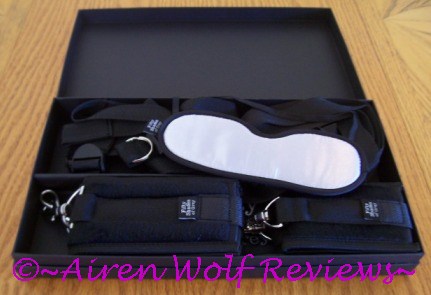 Imagine, for a second, that you don't own a bed that has four posters or a sturdy headboard you don't mind scarring up with ropes or other tethers. You still want to tie your partner into all those lovely poses and such, don't you? Of course you do! So what is an enterprising couple supposed to do?
You simply use an under the mattress restraint kit like this one. You can restrain your partner in many different poses and when you are done the cuffs and straps can stay between the mattress and boxspring. No need to have separate storage!
Honestly, this set is sturdy enough to be used by even the most hardcore players and intuitive (user friendly) enough to be used by a complete novice couple. There's no learning curve with this set!
Design / Craftsmanship / Material / Size / Fit:

This set has a very simple design. There are long strips of material that slide under the mattress and attach to comfortable but sturdy cuffs. The straps are adjustable and this set will fit a twin size bed up to a king size bed easily. The straps are made of neoprene and nylon so they are washing machine compatible, though I doubt you'll need to wash the set! They are stitched securely and should last for many years.

The cuffs are separate from the straps so you can use them independently. They have thumb hooks on them so they can be hooked together to form a pair of comfortable handcuffs or to attach to a tether leash. They are comfortably padded without being bulky and will fit everyone from the smallest wrists to the largest. The ankle cuffs are larger than the wrist cuffs so they will also fit a wide range of limbs. I didn't find any loose threads or uneven stitching.

There is a light smell to the whole assembly but it isn't objectionable and it fades very quickly.

This set is obviously designed with comfort in mind and that comes through loud and clear. Even the blindfold is comfortable, though it's not a complete blackout design. Since this set is marketed toward less intense players this feature actually fits. A bit of light sneaking through can be a comfort to new players and it can also intensify the sensations when you can sort of see it coming!

The hardware on this set is heavy plastic and metal. It's built to last!


Material:

Faux-leather

/

Neoprene

/

Nylon

/

Satin

Color:

Black

Length:

6"

Closure:

Buckle / Velcro

Weight:

1.3 lb

Performance:

This set slides easily into place and can be done by one person. It's easier if you have help, though! There is no need to unmake the bed but if you tuck your covers in at the end of the bed you might find it's easier to remove the sheet and blankets, pull the straps to where you want them and then remake the bed. If you want to use the restraints on top of the blankets with a throe or other waterproof cover beneath your victim simply make the bed and then slide the straps into place.

After play you can detach the cuffs and store in the heavy cardboard box provided. Simple slide the straps under the mattress and you are set for next time! This is so simple to set up it's almost silly.

The set is comfortable and can be lengthened to allow players with problems being stretched out a bit more comfortable while holding them secure. The cuffs are velcro so they come off easily in case of an emergency but they are a bitch to try to take off if they are on your wrists! The sides of the bed can be used in place of a spreader bar and you can achieve some really great poses with the use of a few different types of additional restraints.

Care and Maintenance:

This set shouldn't need much in terms of cleaning. You can wash them in a lingerie bag and air or drip dry them. I wouldn't do this unless sweat is making the cuffs a bit stiff and icky feeling.

I store the cuffs in the box provided and the straps under the mattress on my bed. The box can slide under the bed and be within reach at all times. Beautiful!

Packaging:

The set comes in a light cardboard sleeve with the 50 Shades logo emblazoned on it. The set, itself, Is packaged in a nice heavy cardboard box perfect for storing the set in.

Personal comments:

We gave this set a real workout and I could not escape nor could I make the hardware show any wear and tear. Believe me I tried to find any downside or problems with this set but I was left only wishing it didn't have the logo on it.

Experience:

When Stormy asked if I would be interested in reviewing the 50 Shades of Grey Hard Limits kit by LoveHoney I admit I rolled my eyes and sighed. Still I have reviewed some weirder stuff over the years so I decided to give it a try. I am not a fan of the book set and I think the books send a terrible message about BDSM relationships. Also I really detest fan fiction...

So I was primed and ready to get a cheap set of tie downs better suited to a couple that is titillated by tying each other up. What I actually got changed my mind entirely about this line! This is no lightweight gag type gift. This is a tie down set that is worthy of a special spot in any BDSM toy box. Heck, for once, I even like the included blindfold!

I am very happy with the set but I wish it wasn't emblazoned with the 50 Shades of Idiocy logo. The logo is on tags so it's fairly easy to remove them when all is said and sifted. I left mine, because my guys know my thoughts on the series but this set is so well made I can't see not using it!

Other

Size:

One size fits most

Safety features:

Phthalates free