EdenFantasys Calf leather flogger with metal handle - Whip from EdenFantasys

Product Details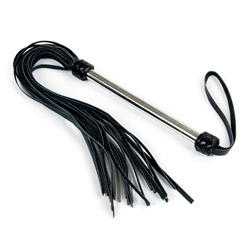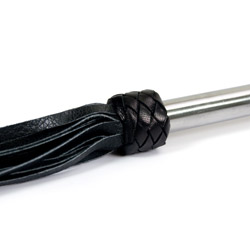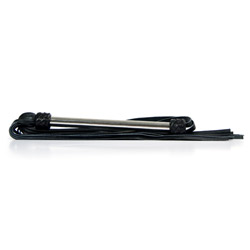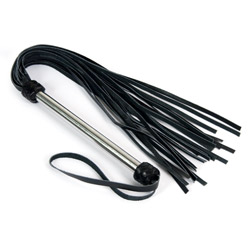 Summary:
While this flogger can pack a painful punch, it's also quite capable of soft and gentle sensations. Lightweight and very portable with the short length requiring close contact for use, this flogger is very easy to wield, and you'll find yourself hitting your aimed-for spot again and again. Just be careful with how much force you put into each one of your strokes - this one can really bruise!
Pros:
Can cause pain, Portable, Easy to wield, Bedroom-sized, Lightweight, Affordable
Cons:
Can cause pain and bruising, Slippery, Requires close contact for use
Best use:
Beginner-friendly and simple to use, this flogger is an affordable and gentle flogger that lends itself well to those who are new to kink and BDSM. The affordable price makes it a good intro toy for lots of couples while the calf leather is soft to the touch and doesn't provide too much pain. The handle is large enough for both male and female hands while the flogger is relatively small which allows for easy storage for couples who want to keep things private.

Shorter than most standard floggers, the Calf Leather Flogger with Metal Handle lends itself especially well to smaller distances. For those who use their floggers in a small area (such as a bedroom) or prefer to be virtually touching when they use the flogger, this will be a good purchase. Along those lines, it would be a good flogger for genital flogging because of the shorter length, gentler tails, and thinner tails. For those who prefer to use a St. Andrew's cross and do further-away dungeon flogging, the Calf Leather Flogger is not going to be the one you're looking for.
Design / Craftsmanship / Size / Material / Features:

This flogger was not designed to be your "be-all, end-all" flogger for the rest of your life. Instead, it's designed as a fun, affordable, and lightweight flogger to play with. As such, it's made from pretty basic materials put together in an elegant manner: calf leather and metal. The flogger has a pure metal handle that offers about 5" of grippable room. There is a calf leather knot at the base of the handle which also attaches to a wrist/hanging strap which is also made from calf leather. There is also a calf leather knot at the tip of the flogger that attaches the flogging strands to the handle itself. The flogger has about 25 strands of about 1/4" width flogger tails made from the leather.

This softened calf leather is notably soft. It's not as soft as suede, but this is a gentle material that many beginners may feel quite comfortable around. Unlike many leather floggers, this flogger doesn't seem to be shedding any leather fluffies, so your living room and bedroom carpet can be safe from vacuuming after using this for the first time. (Leather shedding in most flogger is normal and will stop after a couple uses)

Material:

Leather

/

Metal

Material safety

Length:

19"

Width:

1/4

Weight:

0.3 lb

Performance:

Most people will be impressed by how varied the sensation of this flogger can be. With a hard hit that only uses the tip of the flogger strands, you can definitely expect to cause some pain. With a gentler hit that mostly "flops" the tails onto someone's body, you can expect to cause them a pleasurable "thuddy" sensation. If the flogger had a bit more weight, size, and amount to the tails, it'd probably cause the "thuddy" sensation for most hits, but because of the smaller size, you can expect to get some harsher stinging sensations from it. For this reason, newbies should start off with barely using any force (mostly just "flopping" the tails onto someone) and building gradually to more intense floggings.

Because of the metal handle, be aware that this flogger can be difficult to hold with wet hands. Whether those hands are damp from a sweaty room or from bodily fluids, I'd recommend using the strap just to avoid any issues when you find the flogger slipping. Wiping the hands off before using is the easiest way to add a bit of safety.

With enough force and effort, this flogger could cause bruising. I doubt it would cause bleeding, but the intense stinging sensation with very, very strong hits could leave bruises. Be aware that you'd have to use enough force to hurt most people in order to do this.

Because of the light-weight size and shorter tails, this flogger is very new-to-BDSM-friendly for the wielder. While you'll want to do a couple practice hits on a non-human target first, most new people will have very little issue getting the flogger to go where they'd like the tails to go. As always, read and learn about flogging safety before picking up this BDSM toy for the first time.

Care and Maintenance:

Made from calf leather and metal, this flogger was designed to be simple to take care of. Never use harsh soaps (dish, hand, or otherwise) on leather. It will degrade the leather. Instead, use a gentle washcloth with warm water to clean off the tails of this flogger. The metal portion can be cleaned regularly with any materials. Make sure to thoroughly dry the flogger and allow it to air dry for full drying afterwards.

Remember that leather is a porous material. This means that it shouldn't be shared between multiple partners because of a slight risk of STD and other diseases transmission. Make sure you use your toys (especially BDSM toys!) safely to ensure the health of you and your partners.

For storage, this flogger comes with a hanging/wrist strap on the end of the handle. Use this strap to hang the flogger up somewhere to reduce the likelihood of any crinkles in the leather. For those that prefer to be more discreet, try to lay your flogger as flat as possible while avoiding crushing or bunching the leather strands together.

Packaging:

This flogger comes in an open-ended plastic bag. Just slide the flogger out of the bag, and you'll be ready to play. It doesn't have much packaging to it at all - which lets you get straight to the fun.

Other

Special Features:

Safety features:

Food-grade material / Latex free / Non-porous / Phthalates free